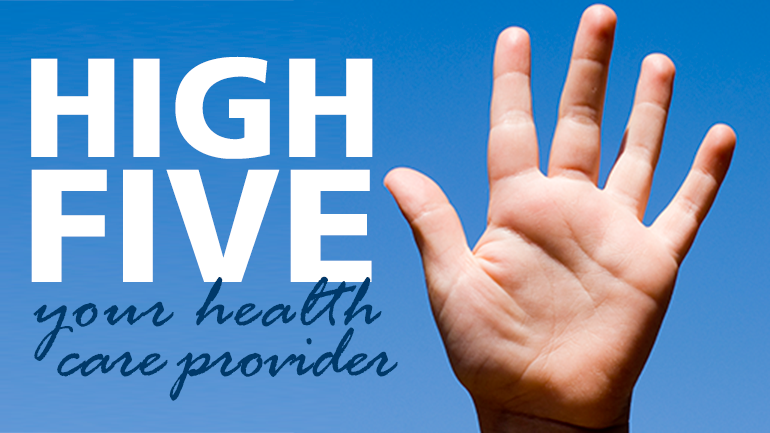 This week's High Fives go out to our amazing people at Langley Memorial, Surrey Memorial, Abbotsford Regional and Burnaby Hospitals.
Want to send a high five to your health care provider or Fraser Health team member? Leave a comment below or email feedback@fraserhealth.ca.
For Langley Memorial Hospital
My wife and I had to bring our 22-month-old daughter to the Emergency Department at Langley Memorial Hospital. This being our first emergency visit with our first child, to say we were stressed and anxious is an understatement.

We were privileged to have met one of your triage nurses named Emily. The impression one gets from nurse Emily is that she is very committed and happy in her profession. This was evident in her genuine empathy towards our family and the other patients in her care.

My family and I cannot express in words how much nurse Emily is deserving of praise for her professionalism and genuine concern for her patients.
---
For Surrey Memorial Hospital
In Surrey Memorial Hospital, the treatment and kindness that I am receiving from the staff is absolutely amazing. Please pass this message to all of them. Thank you.
---
For Burnaby Hospital
I just wanted to send a quick thank you along. I've always received fantastic care at Burnaby Hospital from the nurses and doctors, but the doctor I saw last night, Dr. Bob Best, was particularly wonderful.

He was attentive and friendly. He took the time to explain everything he did and the results of each tests. As an anxious person, being kept in the loop like that made a big difference to me. I am feeling so much better today thanks to him and I'm very grateful.
---
For Abbotsford Regional Hospital
I had surgery at Abbotsford Regional Hospital and received outstanding care.

The following people were very kind, calm, knowledgeable, personable and attentive.
Nurse Emma (responsible for check-in questionnaire)

Nurse Clarissa (inserted IV and monitored pre-warmer)

Volunteer Janet (helped with changing into gown and monitored comfort)
Surgery can be a stress-inducing experience, but under the care of these individuals I felt completely at ease and knew I was in good hands.

The staff that was directly responsible for my surgery were also fantastic. Unfortunately I was not able to remember all of their names, but there were four individuals who were informative and very professional.
Nurse Robyn

Nurse Bill

Anesthesiologist

Dr. Musto
I would like to extend my most sincere gratitude to all of these individuals for their attentive care.