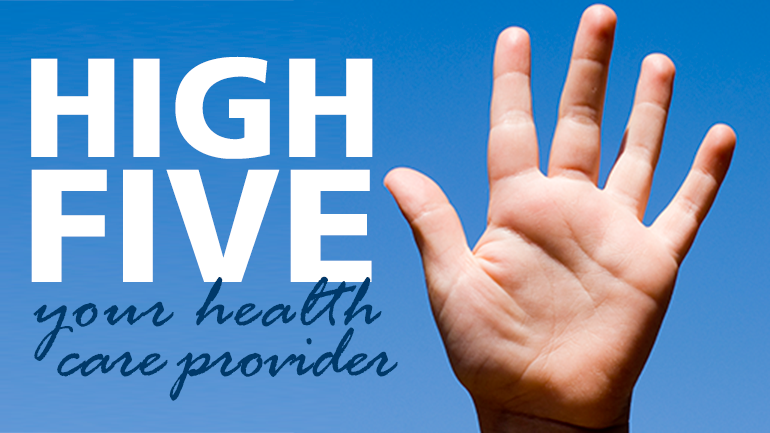 This week's high fives go to our amazing people at Abbotsford Regional, Burnaby, Delta, Langley Memorial, Royal Columbian, Ridge Meadows and Surrey Memorial Hospitals.
Want to send a high five to your health care provider or Fraser Health team member? Leave a comment below or email feedback@fraserhealth.ca.
For Abbotsford Regional Hospital
I had a total knee replacement at Abbotsford Hospital. The care and attention I received from the surgeon, the staff and the physio department was excellent. Everyone treated me with compassion and respect. They were all, without exception, kind, caring and helpful.
I wanted to send a big thank you to the hospital staff in the pre-operation area, the operating room, recovery, the ward and physio. You all shared a part in making my surgery and recovery a success.
Thank you.
---
For Burnaby Hospital
I would like to compliment Dr. Andrew Yu and his staff for their friendly and expert care which I received during my treatments at the Burnaby Hospital Pain Clinic. I am now almost completely pain free. Thank you very much.
---
For Delta Hospital
Last week, I accompanied a family member to Delta Hospital while she had blood work done.
As I sat and waited, every single staff member that walked by me as I waited in the hall, smiled at me and said good morning. Doctors, nurses, janitors, volunteers – absolutely every single person acknowledged me with a smile, or a nod, or a good morning.
What a refreshing change from the norm which speaks volumes about Delta Hospital and its staff.
Thank you for making me feel like there is hope for a brighter, friendlier world.
---
For Langley Memorial Hospital
I just wish to recognize two of your nurses on 2 North. I was in Langley Hospital's care in June. The staff were very good and two individuals – Ash and Sarah, stood above the rest demonstrating empathy, sincerity and professionalism.
---
For Ridge Meadows Hospital
I would like to send a great big thank you to the staff in Ridge Meadows Hospital. Thank you to doctor Michelle. The quality of care and compassion that I experienced was first rate. From the triage nurse, lab staff, unit clerk, patient care coordinator and physicians – the level of professionalism really helped put me at ease at a difficult time. Thank you for the seamless care I received.
---
For Royal Columbian Hospital
I arrived at the Royal Columbian Hospital emerg with a badly fractured wrist. The care by the physician who did a closed reduction was fantastic. In particular, I want to compliment and celebrate Wade. He is an LPN. He was kind, completely capable and his sense of humour really made me feel relaxed rather than afraid.
I subsequently did require surgery on my wrist at the Royal Columbian Hospital. That was also a positive experience.
At this time, it is Wade and his wonderful care of me that prompted me to write this letter.
---
For Surrey Memorial Hospital
I can't say enough about the excellent care provided to my mother by Karen yesterday on the Acute 3 ward in Emergency. Her kindness was so appreciated.
Karen was dealing with a very challenging patient in the room next to my mother's. I spent the whole day with my mother and not once did I see Karen lose her cool. Quite the opposite, she was kind, patient and obviously has a special quality as she was able to repeatedly calm the man with gentle words.
She never raised her voice, sounded impatient and never lost her lovely smile or her patience. She was quick to respond to her other patients' needs and inquiries in spite of having such a demanding patient as part of her load.
Talk about grace under pressure! Please know that you have a very special employee in Karen. She is a credit not only to Surrey Memorial Hospital but to the nursing profession entirely.