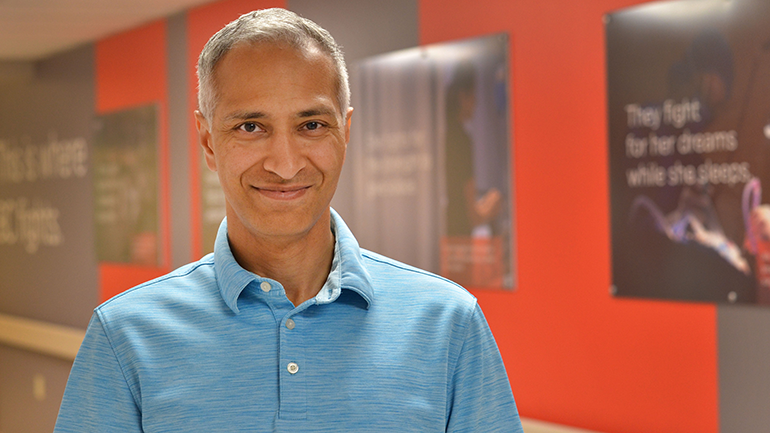 "I work with critical care and trauma teams. We come together to save lives; it's what we do best."
"I grew up in Vancouver: my brother survived a serious bicycle accident when I was young. It helped shape my career choice for trauma and anesthesia. Growing up I learned about giving back and helping others from my parents.
I work with critical care and trauma teams of nurses, care aides and physicians. It's exciting to be connected with the big vascular, cardiac, thoracic and neurology programs at Royal Columbian Hospital. I did my UBC medical residency here and never really left. It's my family.
We care for seriously injured patients after car accidents, gun shots and stabbings. The trauma team is top notch. We show up daily for each another and our patients. We come together to save lives; it's what we do best. It's humbling to help – whether you stock medical supplies, transport blood products or provide direct patient care, each of us plays a vital role in the health care system.
My passion for golf and giving back to the community and patients led to the co-creation of the Royal Columbian Hospital Foundation Making the Cut Charity Golf Classic -- seven years running. Our team has raised more than $350,000. At home, we skip the electronics at the dinner table. We have a family motto: work hard, play hard, and do what you love!"
~ Dr. Feisal Mohamedali, Regional Medical Director and Regional Department Head, Fraser Health Anesthesiology, Department Head, Royal Columbian Hospital Department of Anesthesiology and Perioperative Medicine, Trauma Physician, Royal Columbian Hospital Trauma Network
Read more Humans of Fraser Health stories: https://fraserhealth.ca/HumansofFraserHealth
Fraser Health is looking for anesthesiologists to join our teams. Read more on our medical staff website.