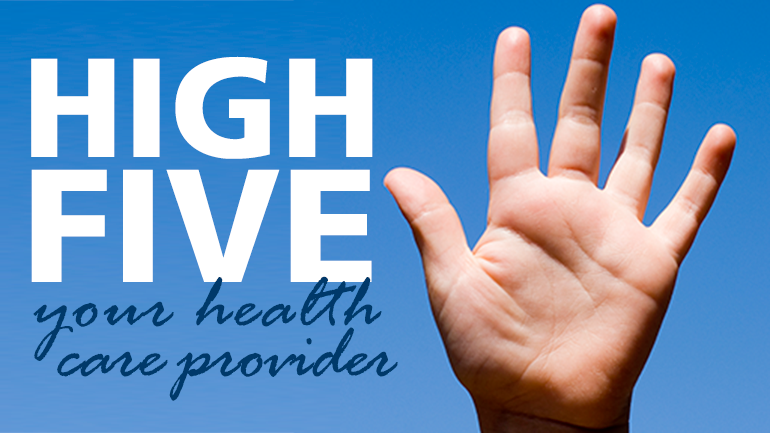 This week's high fives go to our amazing people at Abbotsford Regional Hospital and Cancer Centre, Burnaby and Eagle Ridge hospitals, Jim Pattison Outpatient Care and Surgery Centre, and Peace Arch, Ridge Meadows, Royal Columbian and Surrey Memorial hospitals.
Want to send a high five to your health care provider or Fraser Health team member? Leave a comment below or e-mail feedback@fraserhealth.ca
For Abbotsford Regional Hospital and Cancer Centre
---
Hello,
In December I had a relative getting care in Baker 2.
During their extended stay I had several interactions with a manager named Cole. He was most compassionate, knowledgeable and professional. I truly appreciated his efforts to keep me informed, along with his genuine empathy.
Please pass along my thanks
For Burnaby Hospital
I want to send a high five and thank all the staff at Burnaby Hospital's Maternity Clinic. Two nurses stood out the most, one of them was Joyce, the other was the nurse that delivered my baby.
Both individuals are important assets to your team. Their level or knowledge and care exceeded my expectations.
For Eagle Ridge Hospital
Hello,
I would like to give kudos to Giang Do. I don't know them but they were very kind and understanding when my Mum went to emergency and was admitted.
Mum was visiting from Australia and it was a very stressful time for us. Giang and all of the staff at Eagle Ridge Hospital were so kind and understanding. Please pass along our thanks. Lora Maxymowich [of the Finance team] was also very helpful.
For Peace Arch Hospital
Kudos to the team in Peace Arch Hospital Day Surgery. I got a call to come an hour earlier than scheduled as my doctor Sarah Fung was ahead of schedule, seems it was a trend as other patients were going up to the OR early as well. The staff in the Day Surgery remained calm and courteous throughout, assisting each other as needed. The good vibes continued with the OR and PACU staff as well. If a person could actually say they enjoyed going for day surgery then I felt that I was cared for in the nicest courteous manner by all. Thanks to nurses Joni, Christy, Anna, Dr. Gunter who granted my wake up request and Dr. Fung for the post-op handwritten note of reassurance. Merci.
For Jim Pattison Outpatient Care and Surgery Centre
I had a routine mammogram in December and required a follow up mammogram, ultrasound and MRI. Dr. Janzen and all the staff [of the Breast Health Clinic] are very compassionate and calm, they put me at ease – almost forgot why I was there. It also helps to have volunteers to direct you to the appropriate department.
Over all this place is very efficient and well organized. I appreciated phone calls giving me appointment dates and detailed instructions, i.e. which floor, desk.
For Ridge Meadows Hospital
I have gotten to know a lot of wonderful nurses and amazing doctors…Dr. Bartle, Dr. Tancon, Dr. Sawchuck, Dr. Inna Trinkokova, Dr. Rajani have been amazing with me and know what to do with me. They are very thorough with me because Crohn's disease can be dangerous and cause lots of issues, so they do everything and make sure I am o.k. before I go home.
Those doctors that I have listed are absolutely amazing and helpful when I come in sick and in pain, they have been able to reassure me that I'll be fine and take care of things right away.
For Royal Columbian Hospital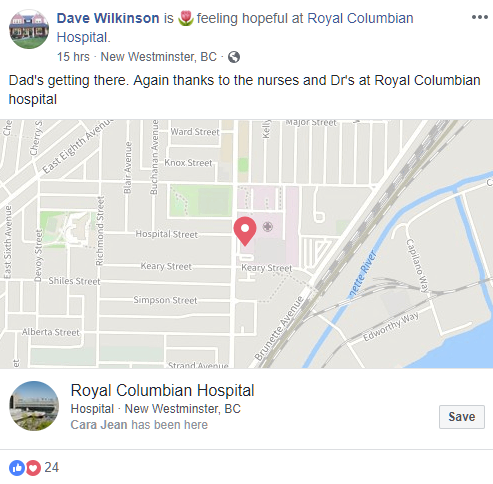 For Surrey Memorial Hospital
I just wanted to send a big thank you to the staff at Surrey Memorial.
We brought our 25-day-old daughter to Pediatrics Emergency. It was the most terrifying day of my life. I remember walking through those doors and there were a team of medical professionals ready to go to do anything to help our baby. Not only that, there were other staff members who were there to try and comfort my husband and I and help keep us informed on the status of her health while the team worked on her. They were calm and professional and I knew she was in good hands. All the while, they kept the lines of communication open and kept us with realistic expectations.
Once she was stabilized and being monitored, the nurses did what they could to make us comfortable while we waited to be transferred to the Child, Youth Services ward. They were so good at communicating with us and letting us know what to expect with her illness, symptoms and all the other tests they were doing to ensure they had an accurate diagnosis.
Once we moved to the Child Youth Services ward, the level of service and kindness continued. All of the nurses were so good to us. I felt that they cared about my daughter and she wasn't just another patient. We spent five nights in the Child, Youth Services. While I was still scared and distraught, I also felt safe and we were in good hands. They helped make the best of a horrible experience.
So thank you to Fraser Health and the staff in Pediatric Emerg and Child, Youth Services.