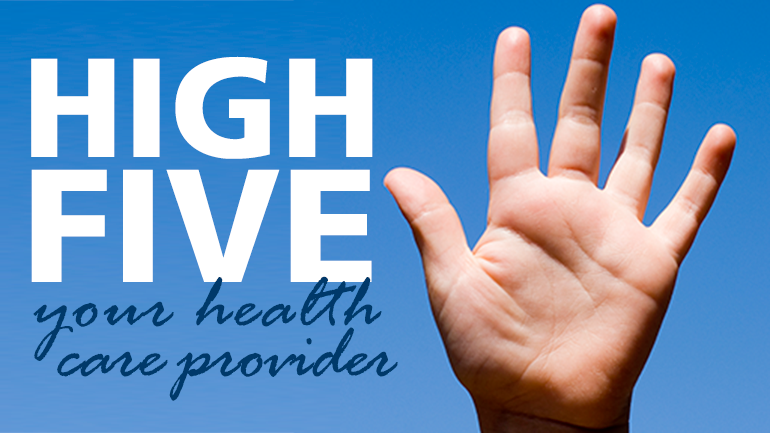 This week's high fives go to our amazing people at Royal Columbian Hospital, Surrey Memorial Hospital and Eagle Ridge Hospital.
Want to send a high five to your health care provider or Fraser Health team member? Leave a comment below or e-mail feedback@fraserhealth.ca
For Royal Columbian Hospital
My best regards and appreciation to Angela and all the entire team at SC3.
For Surrey Memorial Hospital
Earlier this month, I spent some time in the ER at Surrey Memorial Hospital due to a kidney stone. While I was there Dr. John Cheyne looked after me and got me back on my feet. I felt that I was in good hands under his care. He referred me to Dr. Paulus to ensure recovery and I have since been given the all-clear. I wanted to reach out and thank Dr. Cheyne for his bedside manner and for the work that he does in general.
I also appreciate the nurses who were involved during my visit.
---
I came into the hospital with what I thought was either the flu or constipation.
Turned out that I needed my appendix removed.
I don't remember anybody's name but I want to say thank you to everybody that helped me along the way. Right from the front desk at Emergency to the staff that tended to me pre and post op. Even the Imperial parking guys let me off the hook – amazing eh?
I know full well that each and every person has a life of their own and faces hardships daily that go unheard of. None of this affected the care I got while I was there.
For Eagle Ridge Hospital
We would like to send our thanks to the resident doctor and the nurses who worked Eagle Ridge emergency.
The staff took such good care of my mom who was hospitalized with serious symptoms. All the nurses were attentive, caring and friendly despite being busy. Especially the experienced nurse who seemed to be our primary and said she was working there as a casual. She took a great medical history and made my mom laugh while trying to find a vein for an IV. The resident doctor had great bedside manner, listening skills and explained a scary situation in a non-intimidating way. He prepared us for what expect and what to do in case symptoms started again, he answered all our questions and by the time my mom was discharged he had already spoken to a neurosurgeon and had the referral/paperwork ready to go
We are incredibly grateful and couldn't have asked for a better care team.
Thank you!!