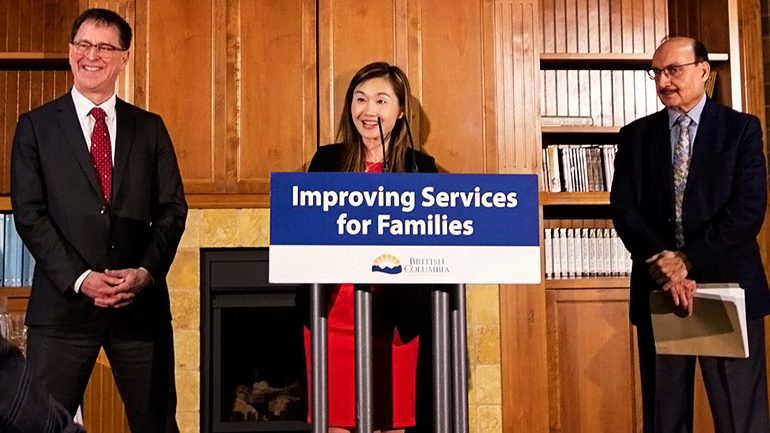 Seniors in Burnaby are benefiting from a nearly $4-million investment in 2018-19 to increase staffing levels and ensure seniors get the care they need in long term care homes.
BURNABY - Seniors in Burnaby are benefiting from a nearly $4-million investment in 2018-19 to increase staffing levels and ensure seniors get the care they need in long term care homes.
This initial investment starts year one of a three-year plan to increase the direct care seniors receive in long term care homes in Burnaby and around the province, to reach the target 3.36 care hours per-resident day, on average across health authorities, by 2021.
"Throughout the province, long term care homes have been waiting a long time for the help that they need to improve care for people," said Adrian Dix, Minister of Health. "For more than 10 years, the goal of improving care hours to the 3.36 standard had not been achieved. I am proud that under the plan that Premier John Horgan announced in 2018, our government is taking the necessary step to realize this target. More direct care hours mean seniors will receive more day-to-day care and staff will have the support they need.
"Our government is delivering on our commitment to improve seniors' care and have increased staffing for seniors' care in the Lower Mainland, with approximately 556,000 more direct care hours to be provided in Fraser Health this fiscal year alone. It is clear action is being taken to meet this target."
The nearly $4-million investment in care hours for Burnaby is part of the $48.4 million being allocated to health authorities in 2018-19 to fund over one million more hours of direct care throughout the province. This increased funding for long term care is the first allocation in the three-year investment of $240 million to increase direct care seniors receive to 3.36 hours per-resident day average by health authority, announced in September 2018. In 2016, the average direct care hours in British Columbia were 3.11 hours per-resident day.
In the nine homes that have received funding in Burnaby, approximately 45,000 additional direct-care hours were provided by the end of September 2018.
"People living in long term care and their families expect to receive the best day-to-day assistance possible, and this investment is a key pillar of the Province's strategy to improve supports for patients outside of hospital," said Anne Kang, parliamentary secretary for seniors. "Staff at long term care homes in Fraser Health work incredibly hard and care a great deal for the seniors they serve. These investments support them with the resources needed to increase the level of care they provide and continue making their facilities a place residents can proudly call home."
Increasing staff hours in long term care homes in Burnaby is just one of several health-care Ministry of Health Fraser Health improvements underway in the region. These include:
Dramatically increasing the volume of MRIs in Fraser Health. Over 8,500 more scans are being performed this fiscal, increasing scans to 63,000. The two MRI clinics purchased by the government will add 10,000 scans to the region next fiscal year.
The Burnaby Hospital MRI running 24 hours a day, seven days a week, which is an additional 75.5 hours per week. This increase in operating time is the largest increase in MRI operating hours in the province since Aug. 1, 2017.
Establishing the Fraser Health Hip and Knee program at Burnaby Hospital to increase the volume of hip and knee replacements in the region by 23% this fiscal year.
Expanding the day programs for older adults across Fraser Health with 369 new spaces weekly, including new weekend spots, to provide caregivers with increased support and flexibility when their loved one receives care.
Quotes:
Raj Chouhan, MLA for Burnaby-Edmonds –
"Seniors are important members of our communities, and they deserve to receive high-quality care when they move into long term care facilities. Additionally, the people who care for them need adequate supports so they can provide the best care possible. The Province is delivering on its commitment to supporting seniors across the province and the staff who work with them."
David Thompson, Fraser Health vice-president, community hospitals and programs –
"While this investment is significant, it is more than simply a number. It is about the people we care for, the community we care about and the people who provide care. This funding enables an increase in direct care hours, which in turn, allows staff to better support residents by spending more time with them each day, helping them with their daily care needs."
Quick Facts:
Long term care homes offer seniors 24-hour professional supervision and care in a safe and secure environment.
Health-care assistants are frontline care providers who work in a variety of institutional and community settings, including home support agencies and long term care homes.
In April 2018, the ministries of Health and Advanced Education, Skills and Training announced approximately $3.3 million to create new health-care assistant seats in 11 post-secondary institutions throughout British Columbia to increase staffing levels in long term care homes and community care sectors.
Approximately 50% of health-care assistants in B.C. are part time or casual.
Through the $240-million investment over three years, the average direct care hours in B.C. will increase from 3.11 per-resident day in 2016 to 3.24 by 2019, and will reach 3.36
by 2021.
Progress has been made, with almost 270,000 more care hours now being provided by converting part-time and casual staff to full time.
New funding of $48.4 million in 2018 will add more than one million hours of direct care.
Learn More:
For more information on new health care assistant seats, visit: https://news.gov.bc.ca/releases/2018HLTH0019-000666
For more information on increasing staffing in long term care homes, visit: https://news.gov.bc.ca/releases/2018PREM0072-001861
Contacts
Media and Ministry Contact
Ministry of Health
Communications
250-952-1887 (media line)
Fraser Health Media Relations
Media@fraserhealth.ca