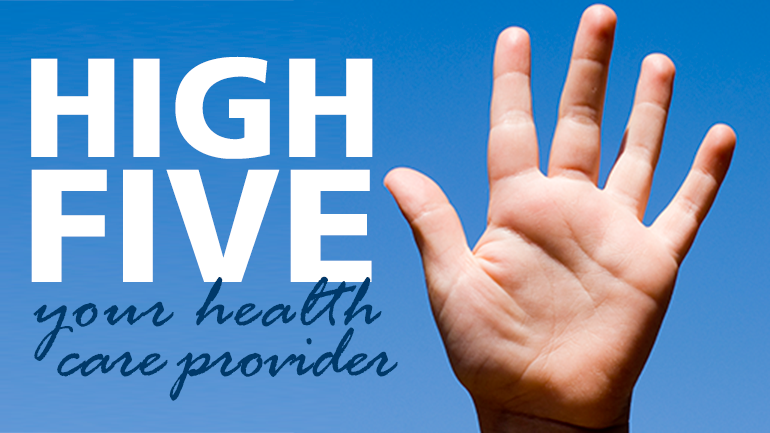 This week's High Fives go out to our amazing people at Chilliwack General Hospital, Delta Hospital and Surrey Memorial Hospital.


Want to send a high five to your health care provider or Fraser Health team member? Leave a comment below or email feedback@fraserhealth.ca.
For Chilliwack General Hospital
I was transported by Emergency Health Services to Emergency at Chilliwack General Hospital with a heart condition. I wanted to say I was totally impressed with my service by the paramedics and throughout my brief stay in Emergency. The staff were exemplary in all aspects of their dealings with me and I found them to be very attentive and compassionate. I especially want to offer praise to Cindy and Josh for their wonderful care and warm demeanour.
---
I am writing this letter of appreciation to say thank you for the outstanding care I received in the Emergency Department of Delta Hospital. I arrived via ambulance for a cardiac related issue, and I was immediately treated by the ER staff with the utmost care and professionalism. I spent the majority of the afternoon in the ER being assessed and treated, where at one point, I declined to a critical condition and the team went into immediate action to treat me and subsequently (from my point of view at least), saved my life.
On a personal perspective, I am a Police Officer (RCMP), and am used to being the one providing the service to the public, and can say that we in the public service should all strive to conduct ourselves to the level of which I observed and received from the staff in the ER on that date. Great respect and appreciation to them for their efforts.
Specifically, I would like to thank those who provided personal service to my care (realizing there were certainly others who took part in my care):
Dr. Yin Sia
Registered Nurse Rachel
Registered Nurse Amen
I realize that it takes a team to make a "unit" function smoothly, and thankfully, during my time, I can say that the team performed with the utmost politeness, professionalism and care. A heartfelt thank you to the team that took care of me. It was a job well done! Sent with the utmost respect and thanks.
---
For Surrey Memorial Hospital
I wanted to mention that I went to Surrey Memorial for a kidney biopsy. I was very fearful. Tears as well. My husband and I were extremely impressed with the radiologist – Dr. Sisler! What an amazing man he is. A truly compassionate, caring, person. He came and spoke with us for some time before the biopsy, explaining a lot of things that would happen. It relieved my fears, and finally felt like I had an idea what was going to happen. Our nurse, Ken was also a kind, calm, caring person. In fact, all the staff in this department were wonderful. Please give them a pat on the back for making a patient less fearful of the unknown.