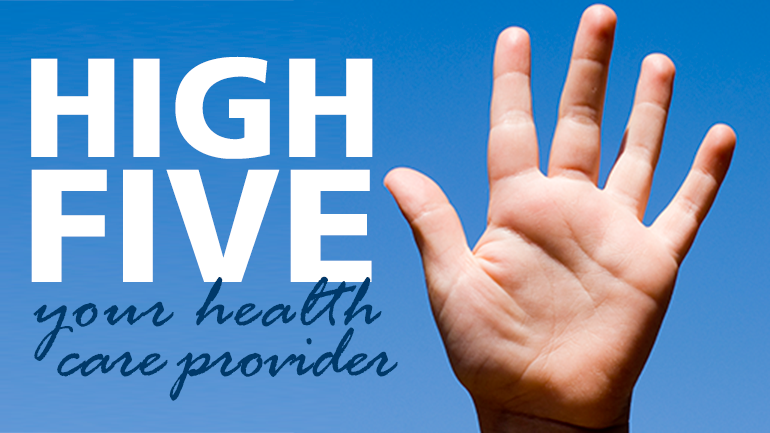 This week's kudos go out to our amazing employees at Surrey Memorial Hospital and Abbotsford Regional Hospital.
Want to send a high five to your health care provider or Fraser Health team member? Leave a comment below or email feedback@fraserhealth.ca.
For Surrey Memorial Hospital
I was in for a minor surgery done by Dr. Darren Lazare and team.
I want to say from the moment I walked in to the reception to the intake rooms, I had an absolutely incredible experience. Such incredible staff. Thank you all so much for the professionalism and kindness. You all made me feel comfortable and you were all so kind. The hospital was warm and inviting. I am grateful for all of you and your obvious love of your jobs. Thank you isn't enough. Diane my nurse was a special and kind, sweet person – thank you Diane.
The intern that was working for the anesthesiologist was an extremely kind and bright young man, very professional and made me feel informed and comfortable. You have an incredible future ahead. Wishing you the best in your career.
Another young lady Ruby doing her internship was very sweet and had a great smile and I can see she loves her career choice. Best wishes for your future.
The well-organized staff also had great rapport with each other. You could tell everyone enjoyed working together. But I just wanted to say that my experience was a 10 out of 10. A big thank you for my great experience.
---
For Abbotsford Regional Hospital
To the wonderful staff that assisted with my care in the trauma unit of the Abbotsford Regional Hospital – thank you. After suffering a concussion, I called an ambulance knowing it is important to be assessed. From the paramedics to your team, I have to say I was treated with such care and compassion that I felt safe and in good hands. I was happy I made the decision to go to the hospital. From the bottom of my heart – thank you. This is the first time I have experienced this quality of care.