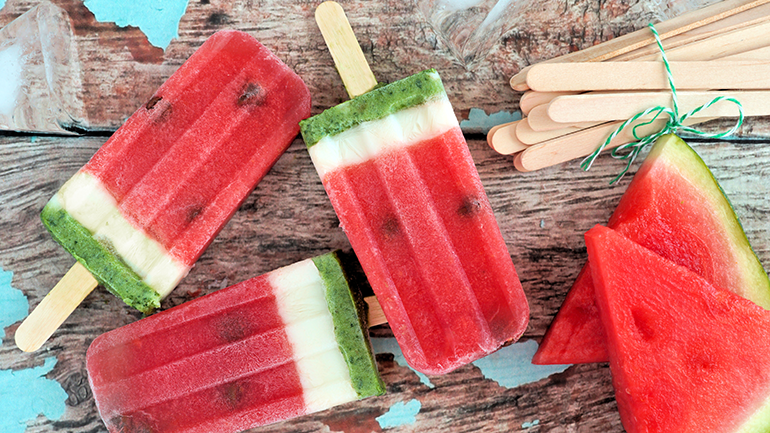 Find healthy summer snacking tips.
Finding it hard to keep up your energy in sunny summer weather? Before you grab an ice cream cone or iced frappuccino for a temporary boost, test out these five healthy summer snack tips to keep you energized on hot summer days.
1.
Cool off with fresh and frozen fruits and vegetables

What's more refreshing on a summer afternoon than a chilled slice of watermelon, crisp cucumber sticks, cold bowl of gazpacho or sweet frozen grapes? Snacking on vegetables and fruit is not only hydrating, it also helps you achieve a healthier eating pattern. Need more ideas? Half Your Plate provides plenty of recipes for vegetable and fruit snacks, including easy-peasy kale chips.
2.
Power up with plant-based protein

Plant-based protein foods contain more fibre and less saturated fat than animal protein foods. Some easy on the go plant-based protein snacks for your summer outings include nuts and seeds (plain or roasted without added sugar, fat or salt), roasted chickpeas and boiled edamame. Packing snacks for a hike or a picnic? Make your own no-bake trail mix, or try this 5-minute lentil hummus.
3. Select smart vending machine snacks
Vending machines sell mostly highly processed foods which contain salt, sugar and unhealthy fats. It's a better idea to plan ahead and bring in your own healthy snacks. If you must choose snacks from vending machines, select a healthier choice such as mixed nuts or sunflower seeds, rather than chips. Look for the "choose most" and "choose sometimes" green checkmark labels on snacks indicating healthier options.
4.
Snack mindfully

Savour your food and avoid overeating with these strategies:
5.
Hydrate great

Water is always the best way to quench your thirst. Stay away from sugary drinks, including fruit juices, sweetened iced teas, lemonadesand commercially-prepared milkshakes. Instead, try fruit-infused water. Popular combinations include mixed berries, cucumber, watermelon and mint. Have little ones? Here are some extra tips on healthy drinks for children.
Keep your energy up and enjoy all summer has to offer with these healthy snack hacks.
Visit our Fraser Health Children and Youth and School Health web sites for even more ideas to keep your kids healthy all through the summer season.