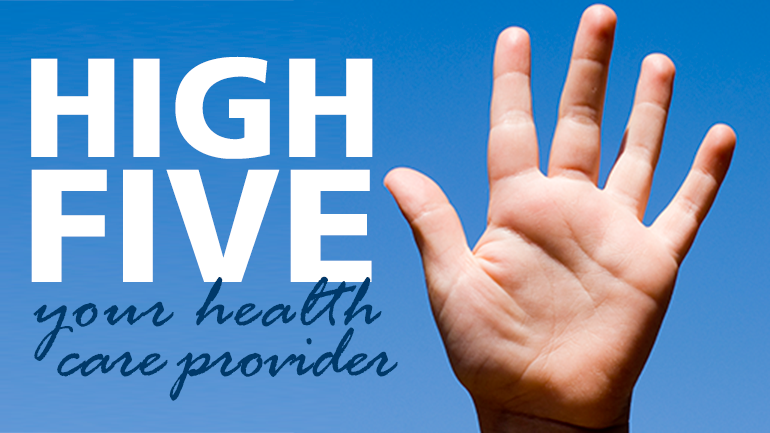 This week's high fives go to our amazing people at Burnaby Hospital, Chilliwack General Hospital and Royal Columbian Hospital.
Want to send a high five to your health care provider or Fraser Health team member? Leave a comment below or email feedback@fraserhealth.ca.
For Burnaby Hospital
I would like to compliment the pain clinic on the excellent service and care I received on my last two visits to Burnaby Hospital. Dr. Andrew Yu and Nurse Connie provided outstanding service. The treatment process was very good and their bedside manner was excellent. Friendly, on time and very professional. I was very pleased with the overall service. Keep up the good work!
---
One of your volunteers, Maria, helped me tremendously to correct my mistake in paying my parking. The parking manager, Hash, too was very patient listening to my report and they both helped me tremendously. I would like to thank them!
---
I had to access the Emergency Room (ER) at Burnaby due to a severe migraine. I wanted to praise Dr. Richard Trawick and the ER Registered Nurse (RN) Pam for the excellent care they provided me. The Emergency Room was quite busy and I was in tremendous pain. They made an effort to get me care quite quickly and Dr. Trawick's compassion and empathy was greatly appreciated.
---
For Chilliwack General Hospital
I would like to compliment and thank the ER staff for their wonderful care and prompt treatment that my mother-in-law received after falling at her care home, fracturing her hip.
I also want to say thank you as well for the support given to my daughter while she was at her bedside.
---
For Royal Columbian Hospital
I was a patient in the cardiac ward.
I wanted to pass along my sincere thank you to all staff in that area for their top skills, patience and for doing their jobs so well. I felt very well looked after.
I have been in your system on and off for years as a patient. I saw Fraser Health at its best in Cardiology.