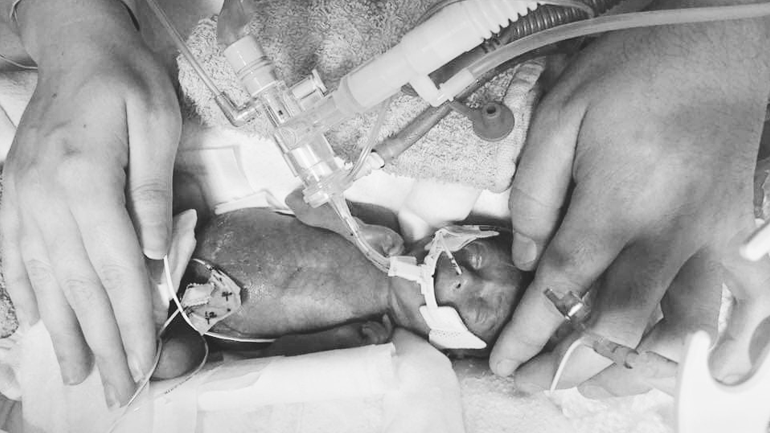 Parents can now hold their premature babies sooner thanks to an innovative project by staff at Royal Columbian Hospital's neonatal intensive care unit.
Royal Columbian Hospital (RCH) staff were recognized by Fraser Health at the recent Nursing Innovation Summit for their work in modifying equipment in the neonatal intensive care unit (NICU) that allows babies born prematurely – and require the use of a ventilator to breathe – to be held by their parents sooner.
Infants in RCH's NICU who were on a jet ventilator were being exposed to excessive noise and were not being held skin to skin by their parents for weeks or months. The jet ventilator is a lifesaving machine, but is a barrier to connection, the most important developmental need of an infant and their family. The specific barriers were the circuit box of the ventilator, which provides 420 breaths per minute, and the original tubing it comes with is very short in length.
RCH's NICU team created equipment and processes that were safe to support skin-to-skin care, decrease the noise exposure to the infant and promote a healing environment.
They created a shelf to hold the circuit box that makes the noise and lengthen the circuit tubing so it could sit outside of the incubator. They then created a shelf to hold the box.
The team also developed a safe process to transfer the infant for skin-to-skin care now that the tubing was longer and the box could be supported outside of the incubator.
In 2017, a mom in the NICU who was unable to hold her daughter for more than 30 days was finally able to do so thanks to a prototype of the new equipment and transfer process with the jet ventilator. She recounted how when she held her daughter for the first time, it felt like a piece of her had been replaced and her baby was back where she belonged.
The RCH NICU realized that this process and equipment they created was unique in the neonatal world. Most infants on a jet ventilator are never held, let alone skin to skin. Some, for their entire lives, would never be held.
The nursing team was the recipient of the FHA Nursing Innovation Grant and the RCH Foundation AIM fund to help improve their equipment and publish their work. They have collaborated with biomed, and created a new arm to support the box. They have presented at several national and international conferences.
RCH NICU is proud of their team and the commitment they have made to their patients and families in helping them find connection to each other in a difficult time in their lives.