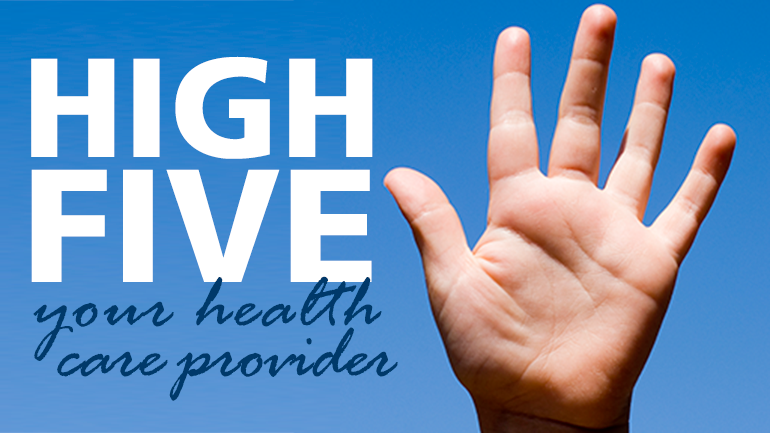 This week's high fives go to our amazing people at Abbotsford Regional and Burnaby hospitals, Delta Hospital IV Therapy Clinic, Eagle Ridge, Peace Arch and Surrey Memorial hospitals and the White Rock diabetes education team.
For Abbotsford Regional Hospital
The nurse at the Oncology Unit was amazing, really put us at ease. I believe her name was Gale Bowering – best and most helpful nurse ever. Thank you Abbotsford Oncology.
---
I was discharged from Abbotsford Regional following three intense months of hospitalization and rehabilitation, under Dr. R. Smith and his assistant, Mr. Shivie Sidhu, on Baker 3. Never in my thirty-five years working within our health care system as a medical-surgical sales consultant have I had the pleasure of being among such hardworking, dedicated and caring staff as you have at your facility, and I feel compelled to let you know. Nursing, nurse aids, wound care specialists, physiotherapy/physio assistants, lab and radiology techs, housekeeping, dietary, social workers and unit clerks all work so well together and should be highly commended. You and your colleagues at all levels should be held in the highest esteem, and are a prime example of what can be accomplished in our health care system. I am very proud and grateful to have been a patient at Abbotsford Regional Hospital and Cancer Centre.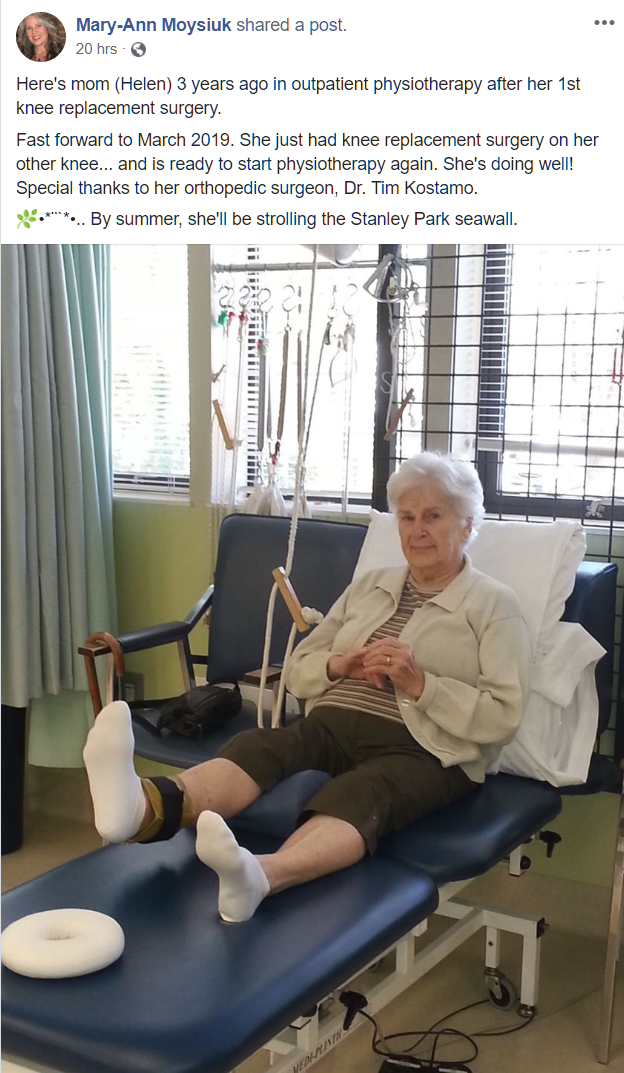 For Delta Hospital IV Therapy Clinic
I visited Delta Hospital following which I was placed on a schedule for a daily morning visit to the IV Therapy Clinic at the Delta hospital. My daily morning visits have afforded me the opportunity to experience and witness an amazing person (Mr. Matthew Wheeler) working and taking care of the patients concerns, aside from his obvious priority in taking care of the patients, he also looks for ways he may help or be of assistance to his fellow associates, nurses, doctors or administration staff and consistently offers his help in any capacity he is able and/or qualified to work in.
I've not only been impressed by Matt's stellar character, I also feel very inspired by Matt's evident sense of responsibility, accountability and first and foremost patient care. I want to be a better person just by watching Matt and seeing the positive influence it makes in everyone's day… it has been my experience that Matt helps to accommodate the next steps for each and every patient that enters the IV therapy clinic under his exemplary care. At the very least, I feel I am in good hands and I don't have to worry while Matt takes care to double check and provide the best patient care to everyone… Thank you Matt for all that you do to help those that need it in the IV Therapy Clinic and for helping in the many extended ways that follow the patient's visits. You make a positive difference.
I just wanted to express my gratitude toward a specific employee. Earlier this morning I had a contrast imaging appointment at Eagle Ridge Hospital, in the Medical Imaging Department. I was taken in for the procedure by an employee named Vanessa. Throughout the entire procedure, Vanessa was kind, compassionate and made me feel reassured every step of the way. As a health care professional myself, I was impressed by the way she handles her patients to make them feel safe. I would like that this message gets passed back to Vanessa, so she knows her great work is acknowledged and appreciated. She is a valuable team member to have in the Medical Imaging Department and should be recognized for it.
Compliments to Sean. He introduced himself, explained the scan and talked me through the process. Very professional and reassuring for the middle of the night. Thank you.
---
Good morning, Lori. I wanted to sincerely thank you for everything you did for my father while he was in Peach Arch Hospital. I feel that you went far and above all of my expectations to assist me with this process as it was very difficult for me to be on my own dealing with it all. Having this peace of mind is immeasurably valuable to me, and without your support and persistence, this transition to care wouldn't have gone this smoothly. Thank you for all you did for my father, your support of me and for all the other patients and families you support through transitions such as this.
For Surrey Memorial Hospital
I was in Surrey Memorial Hospital. Emergency for a day, followed by six nights in Oncology. One person stood out as exceptional - her name is Sasha. She was working in the Minor Procedure section working with a radiologist to insert 'drains' using Ultra Sound. I am 75 years old and was anxious as I did not know what was involved in the procedure - I'd been told it could take up to three hours. I was delivered in a cot to a corridor in the Angiogram area. Sasha walked by and said hello, said she would be back for me in a minute. She took me into the room, explained the simple procedure, took time to answer my questions, in an excellent, caring and open manner. She cheerfully and patiently explained each step, checked to see that I was comfortable as she worked quickly and competently. If the interaction had been videoed, it would have made an excellent teaching tool for perfect patient support. Sasha is definitely a 12 out of 10. Hopefully you will be able to identify her, and give her a Thank You from me, and also give her the recognition she deserves.
For White Rock diabetes education team
I just wanted to take the time to thank you for employing both Heather and Paula in the White Rock Diabetes facility. I was recently referred to them and was stunned at their knowledge, patience, understanding and kindness. Not at all what I had imagined. It is amazing that such kind and caring support is available. They both did a great job of helping me. I am surprised to say that "I am looking forward to seeing them again to discuss problems and progress." Hopefully, the latter. Thank you again.