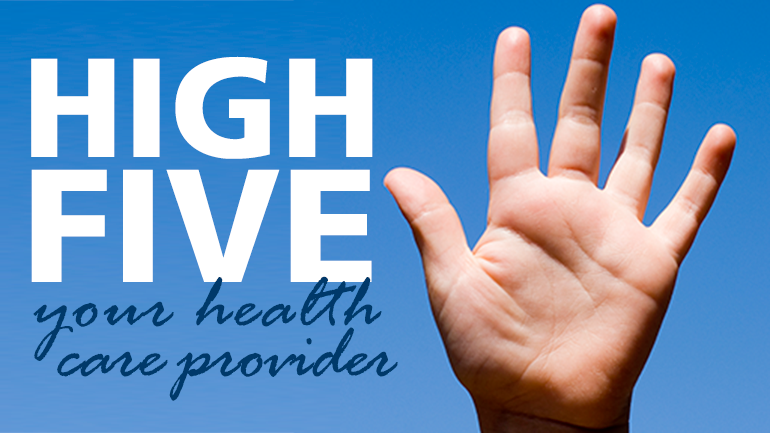 This week's high fives go to our amazing people at Abbotsford Regional Hospital and Cancer Centre, Ridge Meadows Hospital, Royal Columbian Hospital and Surrey Memorial Hospital.
For Abbotsford Regional Hospital and Cancer Centre
To the Emergency Department and Surgical Team at Abbotsford Regional Hospital. Thank you for the excellent care you gave my husband before, during and after his kidney stone surgery. It meant so much that although your caseload is full, your interactions with him were individualized – from answering questions about the surgery, to making yourselves available for helping him in the recovery area. You made a tough time a little easier.
For Ridge Meadows Hospital
I am sitting in [Ridge Meadows Hospital] Emergency Department and have been in the trauma room for a few hours now. I came in experiencing some severe chest and abdominal pains. While waiting for all of the necessary tests I have had nothing to do but rest and listen to the chaos the staff is dealing with. One particular nurse touched me so much with her kindness, sensitivity and compassion. While she was with me she was approached by several staff members for advice or assistance. I was honestly amazed how efficiently she dealt with their needs while at the same time made me feel like the most important patient in the ward. Her name is Rebecca. I am so impressed, I asked a staff member for the manager's card so I could share this. The reason I am writing this email is because more often than not we hear when people are NOT happy with medical care. This message is to tell you I am so grateful for the care I am receiving this evening.
For Royal Columbian Hospital
Comments made by Terry Beech, MP, Burnaby North-Seymour, on March 1, 2019 in the House of Commons:
Mr. Speaker, I would like to share my gratitude for the neonatal intensive care unit nurses and doctors at Royal Columbian Hospital. My wife Ravi and I welcomed our daughter Nova into the world on December 4, 2018. At birth, she was diagnosed with meconium aspiration syndrome, which meant she had to spend three weeks in the Neonatal Intensive Care Unit (NICU). Having our newborn daughter spend her first weeks struggling to survive was heartbreaking, but it made me realize just how intensive intensive care really is. It is 24 hours a day, minute by minute.
Thanks to their tireless care and positivity, Nova was able to come home just in time for Christmas. She is now happy, healthy and ready to take on the world.
We are endlessly grateful for the angels at Royal Columbian Hospital, Dr. Moodley, Dr. Kesavan, Dr. Cieslak, Dr. Stavel, Dr. Glass, and the dozens of nurses and staff who played a part in Nova's recovery, especially Danielle, Hannah and Vicky.
If colleagues know people who work at their local NICU, give them a hug. They are the best people in the world.
---
Just wanted to give a sincere thank you to Dr. Dion from myself and my mom, who she took care of, in [Royal Columbian Hospital] Emergency Department. Thank you kindly for your caring work and being so thorough. Glad to have doctors like you around!
For Surrey Memorial Hospital

---

Me and my family would like to thank you for your compassionate care for my husband and the kids' Dad [in Surrey Memorial Hospital's Palliative Care Unit]...You bring tears to my heart. Thank you.