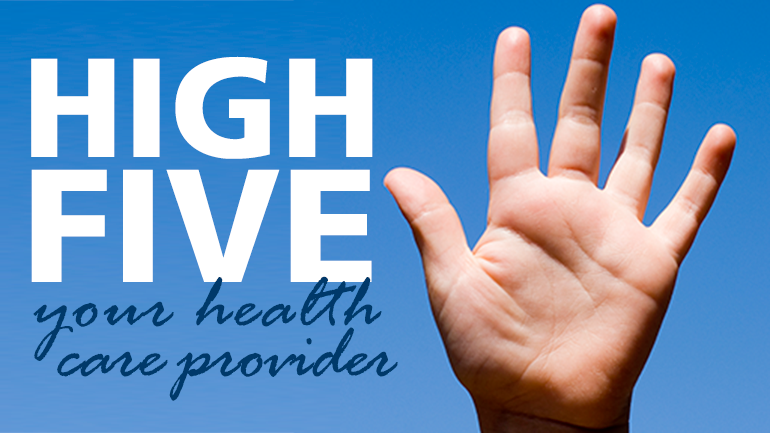 This week's high fives go to our amazing people at Peace Arch, Royal Columbian, Ridge Meadows and Surrey Memorial hospitals and the Pulmonary Rehabilitation Program in New Westminster.
I'm awaiting the doctor's review here in emergency at Peach Arch Hospital. I just wanted to mention that the triage nurse on shift here is fantastic.
He's a true gem for Fraser Health!
For Royal Columbian Hospital
To all of the health care professionals that provided care to my father,
I am writing, on behalf of my mother [as] my father passed away in the ICU of Royal Columbian Hospital. [We] would all like to extend our heartfelt appreciation for the exceptional care that dad received by the paramedics that transported him to the hospital, staff in the Emergency Department, gastrointestinal team, high acuity team, haemodialysis team and the staff of the ICU.
A special mention goes out to the paramedic who transported dad to the ER, and then later visited mom to see how dad was doing. Alanna, from the ward also gets a special mention. Mom felt she genuinely [provided] special care, which allowed my father to keep his dignity while he was slipping away.
The staff at the Royal Columbian Hospital provided exemplary professional care in the last moments of my father's life … Mom felt they went above and beyond to provide comfort and care. And for that, we are eternally grateful.
Thank you very much.
For Ridge Meadows Hospital
I was at Ridge Meadows Hospital ER. Again symptoms were the same but stronger. This time I saw Dr. Keith Tang. This doctor was exceptional. The ER was busy being a Stat and he was going to try and figure out what could be going on. He said this is a big puzzle and first we need the pieces to see how they fit. You will be here for a while as we run the tests. He was so kind, helpful and his bedside manner was caring and empathetic.
He was so intent on helping me. I cannot tell you how much I appreciated his attempts, and how much I felt better just knowing that he did all he could to try and resolve my problem … he treated me with compassion and dignity.
For Surrey Memorial Hospital
I spent six days at [Surrey Memorial Hospital] a few weeks ago.
It was very traumatic for me being away from my family. It was scary. I was almost on the verge of falling into a depression when a saintly nurse [Reetu] appeared one morning.
She had a smile non-stop, and always had a joke. [She] always made me laugh when she entered my room. [The] feeling lasted the entire day. I looked forward to her all day as she did her rounds. She is such a diamond in the rough. If I made the slightest hint that I needed something, it was done in a flash … even if she was not on my round that day.
For Pulmonary Rehabilitation Program in New Westminster
I took part in the Pulmonary Rehabilitation Program at the Ross Street location in New Westminster. The three staff who direct the program have completely changed my life, and the lives of all those who took part [in the program].
Being diagnosed with COPD was devastating for me. I spent almost ten years struggling to deal with it always being out of breath; I was depressed because I was no longer able to do all the physical things that made my life meaningful.
This program taught me that there are many things I can still do; how to actually breathe properly for my condition; and to take the time to rest when my breathing becomes difficult. My life is definitely not what it used to be, but thanks to the program, and the patient and friendly assistance of Karen, Paulina, and Dali, I have adjusted and am enjoying most of my life again.