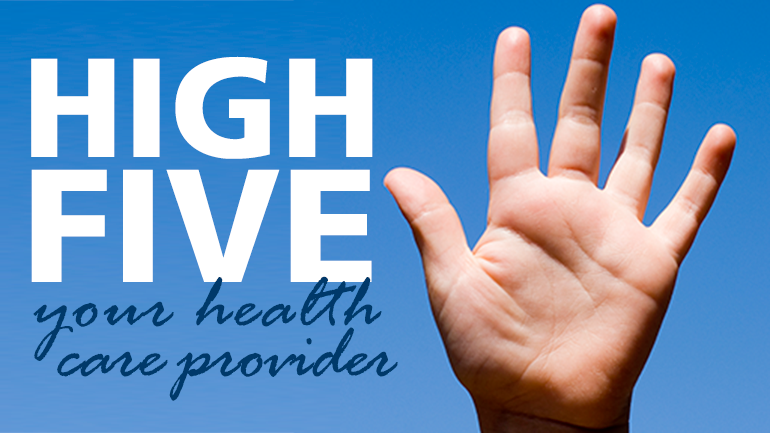 This week's high fives go to our amazing employees at Burnaby, Eagle Ridge, Mission and Surrey Memorial hospitals, and to employees at Jim Pattison Outpatient Care and Surgery Centre and Maple Ridge Public Health Unit.
Just in the waiting room for an X-ray at Burnaby Hospital.
The receptionist is so pleasant and helpful to all patients who pass through. Please pass on my commendations for giving an extra smile and helpful demeanour to patients.
I was at Eagle Ridge Hospital for a medical imaging procedure.
I suffer from severe anxiety and was terrified and somewhat embarrassed for this invasive procedure. I had a lot of sleepless nights leading up to it.
If it wasn't for Vanessa in Medical Imaging I never would have made it through without a panic attack. Her care was top notch. She was the kind of person you feel safe with and want to be best friends with. She is definitely in the right profession.
Thank you. Thank you. Thank you for helping me through this difficult day.
For Mission Memorial Hospital
I have had cause to visit your Emergency a few times. I would like to thank the staff for their wonderful attention to my [health] issues. Mission Memorial Hospital ER staff not only provide professional service but also have a great sense of humour. Thanks.
For Surrey Memorial Hospital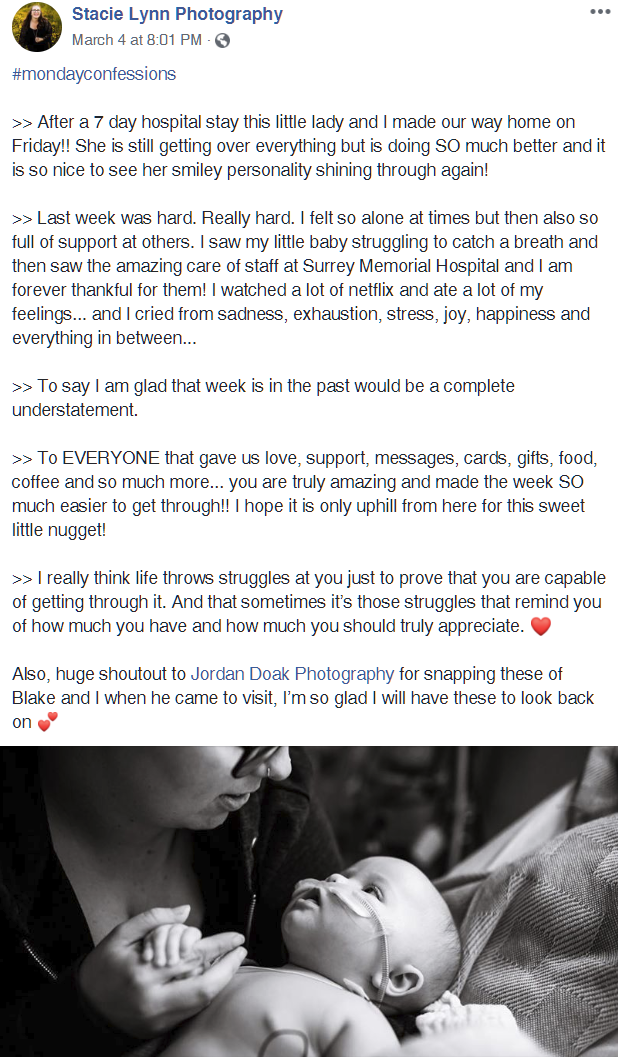 For Jim Pattison Outpatient and Surgery Centre
Hi there, I had a mastectomy and reconstruction surgery.
That morning, my husband [and I] arrived just after 7 a.m. for pre-admission. We arrived to the fourth floor and were greeted by a nurse named Julie, who was our pre-admin nurse.
The reason I'm writing to you is because she is probably the best nurse I have ever met ... [through my] diagnosis of breast cancer, surgeries, birth of my two children and 17 rounds of chemo treatment.
Julie exemplified, in my opinion, what being a nurse means. She was warm, welcoming, understanding and professional, yet personable. She took her time to ensure I understood what was about to happen and included my husband in all conversations … she spent time with us and answered all questions politely and with great knowledge.
She really made me feel comfortable and helped me relax before my surgery, which leading up to was a very stressful time for me and my family.
Nurse Julie deserves much praise for her demeanour and care that she provided that day. She really did make a positive impact on my surgery and my mental health going into surgery, which I strongly believe could have played a role in the speedy recovery I am currently experiencing.
Please pass this along to nurse Julie. She is just lovely and really made an otherwise gloomy and stressful day much easier to manage … we also had a nurse named Sarah that day who helped with post care, she was also very nice.
For Maple Ridge Public Health Unit
I recently called the Maple Ridge Health Unit to inquire about a vaccination for my child.
I was connected to Teresa.
She could not have been more helpful and pleasant to speak with. My questions were answered in the most professional manner. She was very knowledgeable and informative.
Teresa is someone who truly understands what good customer service is all about.
I just wanted to drop a quick email to let you know how I felt.
Keep up the great work!