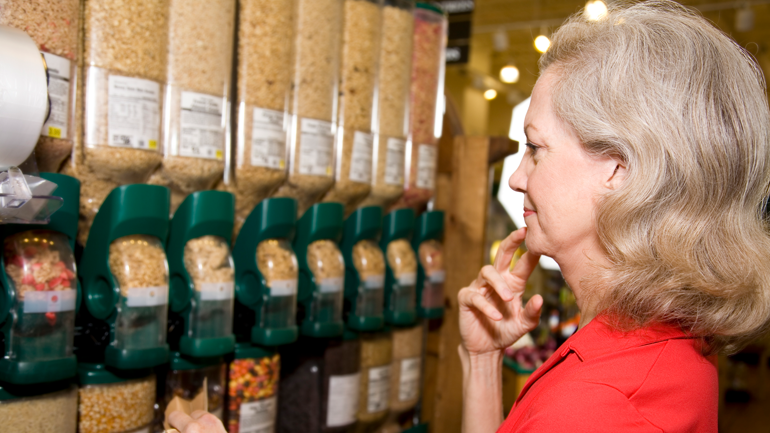 While healthy eating at every stage of our lives is important, it can be challenging to eat enough of the right foods as we grow older. Here are some simple strategies to boost your nutrition.
Eating well is important in any life stage, but it is especially important now as you get older. It could mean giving you the energy to do the things you like to do – like playing with your grandchildren, volunteering, or going for a stroll in the park. A healthier diet can even slow down chronic diseases and help you bounce back from a common flu or a hip surgery.
As stated in the Healthy Eating for Seniors Handbook, "Growing older means getting used to a body that is different than when you were younger." In this life stage, you may be living alone, or with a limited income or you may have some chronic diseases like diabetes. It may feel harder to prepare a nutritious meal. For many, the easier way is to rely on inexpensive convenient foods, like canned soups, frozen dinners, or even just some tea and toast.
But you don't have to spend a lot of time cooking to make a healthy meal. Keep it simple sometimes with these five meal ideas from the Healthy Eating for Seniors Handbook:
Peanut butter and banana on whole grain bread, with a glass of milk
Cottage cheese and fruit, with a whole grain bun
Plain yogurt mixed with granola and topped with fruit
Green salad with pumpkin or sunflower seeds, cheese slices or canned tuna and a piece of fruit
Half of an avocado spread on toast with an egg
The best place to get started is to be informed. The Healthy Eating for Seniors Handbook is a comprehensive handbook on senior's nutrition. You can find simple strategies to boost your nutrition, information on how to read nutrition labels, and how to avoid common diet pitfalls in seniors. There's also Canada's Food Guide, a simple and easy to read website about healthy eating.
If you like a more personal approach, you can call a Registered Dietitian at HealthLink BC to get a brief nutrition consultation. They can guide you to dietitians in your community for in-depth counselling.