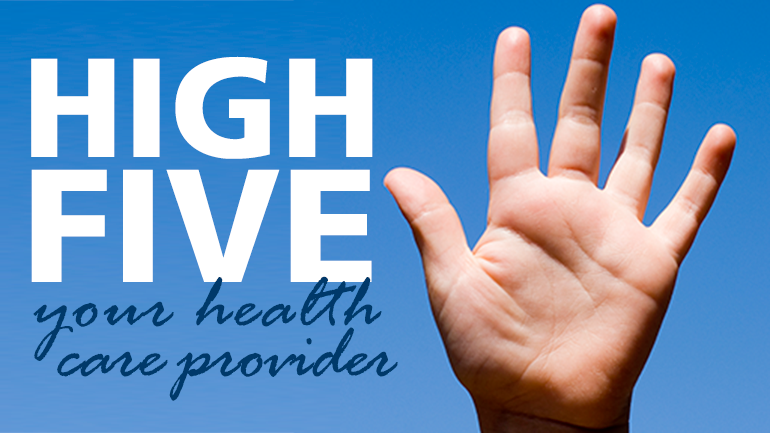 This week's kudos go to our amazing staff at the Jim Pattison Outpatient Care and Surgery Centre and New Westminster Home Health.
Want to send a high five to your health care provider or Fraser Health team member? Leave a comment below or e-mail feedback@fraserhealth.ca
For Jim Pattison Outpatient Care and Surgery Centre
I had a colonoscopy at the Jim Pattison Outpatient Centre in Surrey. This is the first time I have had any type of procedure, and the professionalism and friendliness of your team made my experience a positive one. I wanted to tell you that everyone, in particular the RNs, from the reception to post-procedure were fabulous. Unfortunately, I didn't get to know the names of everyone who helped me, but Anne in the preparation area was wonderful at putting me at ease. Please let the team know that their kindness and attention is greatly appreciated by me and I'm sure, the other patients who visit them.
For New Westminster Home Health
My mum has dementia (Alzheimer's Dementia) and we have been dealing with Fraser Health for a few years now. Over time, mum's file has changed hands at least three to four times now and currently we have Sarah Galt. Sarah is a PCN for the New West area.
I would really like to express my (and my brother's) gratitude to Sarah for her patience; understanding; empathy; willingness to listen and so very important to us...timeliness in getting to us, whenever we leave her message. Sarah's responsiveness is noteworthy, and she has a great way of putting things across, even when she is not giving you the best of news – her communication is definitely one of her strengths.
It means the world that someone cares enough about our concerns and our mum, to take the time to speak to us and also to understand that while mum is just one of many, many dementia patients, to us she is our mum and we just want the best for her.
Many thanks!