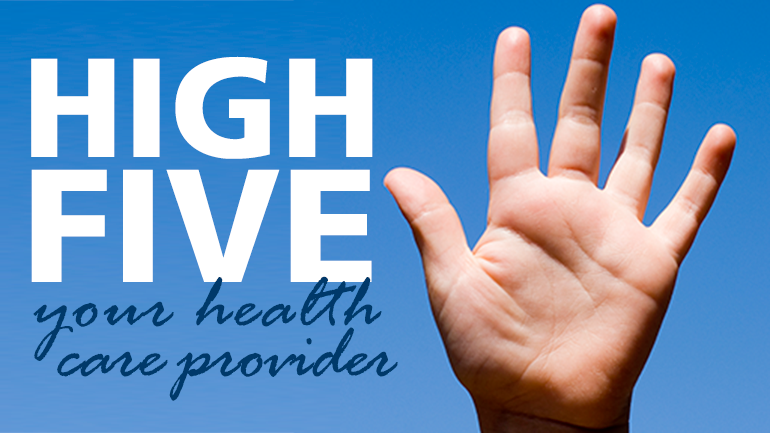 This week's high fives go to our amazing employees at Abbotsford Regional and Surrey Memorial hospitals.

Want to send a high five to your health care provider or Fraser Health team member? Leave a comment below or e-mail feedback@fraserhealth.ca
For Abbotsford Regional Hospital
Yesterday we were blessed to receive a visit from Abbotsford Regional Hospital's Spiritual Care program. Volunteer Karl spent quality time with my 94 year old father. We had a wonderful conversation, followed with Karl praying for my dear Dad. Please thank Karl on our behalf – he knew exactly how to pray for Dad who is very worried about his future, given placement in long term care soon.
Thank you for supporting the Spiritual Care Program, so needed in our society, especially for our aging population.
Blessings on Abbotsford Regional Hospital!
P.S. We appreciate the care dad received in the Emergency Department and the Acute Care for the Elderly program. Dad's nurse, Mary, is wonderful and so caring towards her patients.
---
I had elbow surgery in Abbotsford Regional Hospital. Rob was the RN who prepped me for surgery. His demeanour and sense of humor calmed me down, including while he put in my IV; which I was quite nervous about. Rob's kindness and positive attitude put me in a relaxed state prior to surgery.
Thank you Rob!
For Surrey Memorial Hospital
My mother was a patient at Surrey Memorial Hospital … my family and I are deeply thankful for the staff at the hospital, especially at the ER where my mom arrived and had to be resuscitated. We were able to spend extra time with her thanks to the effort of the team at Surrey Memorial Hospital.
For Surrey Memorial Hospital Surgical Unit 
Commendation to the night nurse who helped me through the night, as well as managing some concerns. She advocated on my behalf in a very professional way.
Commendation to the quality of breakfast and lunch. Best Hospital meals I've encountered –- much appreciated.