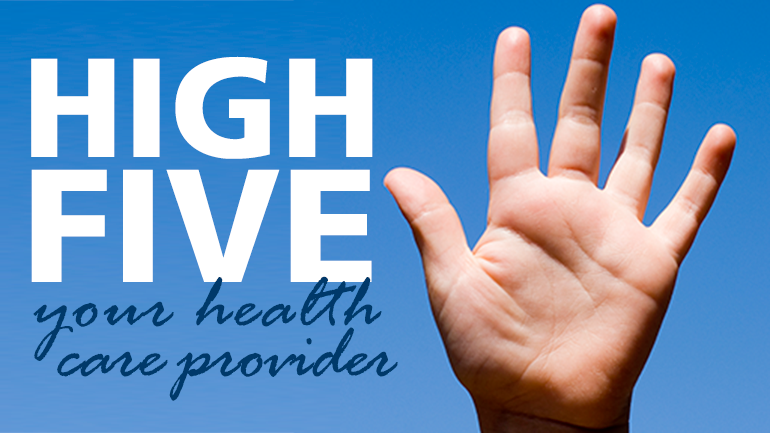 This week's kudos go to our amazing staff at Burnaby Hospital, Chilliwack General Hospital and Peace Arch Hospital.
Want to send a high five to your health care provider or Fraser Health team member? Leave a comment below or e-mail feedback@fraserhealth.ca
I recently had my first experience with Burnaby Hospital and it was outstanding. My daughter, was admitted and delivered my grandson. My husband and I arrived at the hospital to find my daughter relaxed and comfortable and engaged in conversation with Courtney, the nurse assigned to her. Upon our arrival, Courtney welcomed us into the room as she did with all the family as they arrived. It quickly became clear that Courtney is the nurse every patient hopes for. She is a true professional, very knowledgeable, patient and kind. My daughter could not have been in better hands. We were sorry to see her go off shift but fortunately she was replaced by Helen who, like Courtney, is also the nurse every patient hopes for – professional, knowledgeable, patient and kind. My husband and I couldn't have been more pleased with the care my daughter received from Courtney and Helen. On hand during her stay were Gurjit P. (a medical student), Lena and Paula; all of whom contributed positively to our experience. Please recognize these individuals for the fine work they do and the value they bring. Burnaby Hospital is lucky to have them.
For Chilliwack General Hospital
Karen, a nurse assisting radiology in Chilliwack hospital was so warm and friendly. She put me at ease for an invasive procedure I had to get done. She explained everything to me and held my hand. She was so wonderful and kind. Every time I have gone to Chilliwack Hospital, the nurses have been so wonderful I just think about their kindness after I forget whatever uncomfortable thing I had done. Karen is truly wonderful and Chilliwack is so lucky to have such kind, caring nurses.
---
I just wanted to take a moment to send my thanks and appreciation to a number of people who did such a great job taking care of me a week or so ago. In my twelve years of living in Chilliwack, I've only ever had a handful of experiences in the Chilliwack hospital, mostly visiting people, once for stitches for my daughter. However, it's often the negative view of a place that permeates conversations. I wanted to take this opportunity to yell out to anyone who will listen that I had exemplary service at Chilliwack General Hospital and wanted the staff to know that I appreciated each and every one of them for the great job that they are doing!
I had a scheduled surgery and though I was quite nervous heading in, my experience from start to finish was amazing! When I checked in, I was met by courteous staff who directed me to the lounge, then Stephanie came and took all my information and got me prepped and ready to go. From there, Lorna and Kierra took me to the operating room and made me feel calm and ready as we prepped for the surgery. Everyone was very kind, professional and easy going which helped to put my nerves at ease.
I'm not even sure who was with me when I woke up in the recovery room, but they were lovely and chatty and happy to help. Bright and cheery voices made it easier to wake up and check in with how I was feeling post-op.
I was then moved up to the fourth floor overnight for rest and observation and the care there was beyond compare! Any time that I needed something, they were right there with a smile. I had lots of kind and happy check-ins, assurances that things were completely normal and things were progressing well – the staff were so kind, concerned for my well-being, helpful, positive and they made sure that I was comfortable and well taken care of. I know that it is their job to check in and track my progress, but I really feel they went above and beyond. Special thanks go to Naomi, my night nurse, and to Allyshia and her charge Jacob (from UFV) for the daytime help. You rock!
While you face struggle, anger and frustration each and every day – I wanted you all to know that you are making a difference, that your level of patience with your patients is amazing and that your hard work and kindness is noticed. I'm well on my way to being fully healed now and that started with the incredible care that I received while in the hospital.
Thank you for everything.
On behalf of my mom, my dad and myself, I want to thank you for the extraordinary, compassionate and professional care that my mom received at Peace Arch Hospital.
Unfortunately, while on what was supposed to be a 'dream' vacation in Paris with my dad, my 82 year-old mom fell and fractured her ankle. When she went to the hospital in Paris, she, my dad and I were told by the attending physician that she needed surgery but that there was a wait time of seven to 10 days at the hospital there. The doctor said they could immobilize her ankle and the injury could be treated once she was back home in B.C.
Upon arriving at YVR, we went straight to Peach Arch Hospital ER.
We were fortunate that we were home and that Dr. Vic Bubbar and every single nurse, doctor and other health care professionals at Peace Arch recognized the seriousness of the situation and acted quickly, expertly and with great kindness and compassion.
Our family immigrated to Canada almost 20 years ago, but at her age, my mom has not acquired confident command of the English language and even though my dad and I were there to assist and translate as best we could, the real possibility of language being a barrier added stress to the situation. However, the team at Peace Arch was focused on my mom's well-being and care. She's back at home, on the road to healing and recovery, and we are so grateful to every individual that looked after her for the past few days.
Please extend our compliments and sincere gratitude to the nurses, doctors, physiotherapists, occupational therapists and support personnel at the Surgical Unit on the second floor at Peace Arch and to the team at the Emergency Room as well.