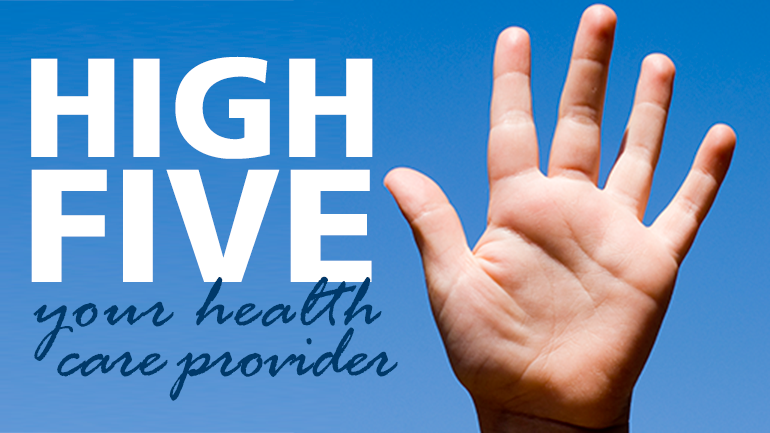 This week's high fives go to our amazing people at Eagle Ridge Hospital, Jim Pattison Outpatient Care and Surgery Centre, Langley Memorial Hospital and Surrey Mental Health and Substance, Use Urgent Care Response Centre.
Want to send a high five to your health care provider or Fraser Health team member? Leave a comment below or email feedback@fraserhealth.ca.
For Eagle Ridge Hospital
I found Dr. Ahuja and his staff to be extremely kind, compassionate, and understanding. He was incredibly professional, and communicated with me through each step of the procedure. I was visibly anxious and Dr. Ahuja was patient while providing information in a calm and respectful manner. This had a positive impact on my mental health, and made an uncomfortable situation much more bearable.
---
For Jim Pattison Outpatient Care and Surgery Centre (JPOCSC)
Every single person I dealt with, from check-in to discharge, exceeded my expectations during my outpatient hernia repair surgery at JPOCSC. It started with a wonderful greeting by one of the intake clerks with a smile and an invitation to approach the desk. She took my information cheerfully and did a great job of making me feel at ease. This person's behavior was a harbinger of what was to follow. Parvir was my Pre-Op Nurse. Despite having to complete all the paperwork and ask me a multitude of questions, she was patient and attentive. She took the time to explain the process and made sure I was comfortable. It was apparent to me that she genuinely cared about my well-being. While waiting to be taken in to surgery, Bel came to me and explained that she was an [Operating Room] Nurse. She went over some questions, ensured my identity, and asked if I had any questions. Her demeanour was warm, kind and competent.
Next, the anesthesiologist came over and went over my medical history. He spoke in plain terms and it was clear that he was also genuinely interested in my well-being. Later, in the OR, while waiting for Dr. Nguyen, he told me that he and the surgeon would be speaking in technical terms and not to worry, it was just the practice. When that occurred, I felt that I was part of the discussion, not simply the object. When Dr. Nguyen arrived in the OR, he made his way over to me right away. Just as all the folks I met that morning beforehand, Dr. Nguyen's manner was warm and genuine.
After I was transferred to Post-Op, my care was shared by two nurses. Both were excellent with me and I was told that I would not be "let go" until my oxygen level was a little higher-indicating once more that my well-being was a priority for them. During my stay in Post-Op they were careful to explain what they were doing and expectations for my recovery later on. When I was finally cleared to leave, both women took a moment to wish me well.
My final stop, I was met by another excellent nurse. She explained that my wife had been contacted and was on her way, ensured l was as comfortable as possible, and kept checking in on me while I waited. In the meantime, she attended to other duties and it was very clear that she is confident and competent in her work. I must tell you that if I were competing with you to provide health care services, I would try hard to hire this nurse away from you. With kindness is the term that would best describe how I was treated by every staff member. I feel fortunate to have received such excellent care. Both my husband and I commented in the days that followed that we would remember [Kristin] as a major contributor to the positive and calm experience of bringing our daughter into this world.
---
For Langley Memorial Hospital
I want to thank Dr. Sandu for his friendly, bedside manner, but also a THANK YOU for ordering my son's ultrasound that helped figure out the problem.
I also want to thank the nurses in the Emergency department and to Dr. Lord and their Operation Room team for giving him the best treatment.
We are grateful to all.
---
For Surrey Mental Health and Substance Use Urgent Care Response Centre and Substance Use Services Access Team
Unlike most medical facilities, when I come here, I feel welcome. This place is so different, and I can feel it right from the time I enter and meet the person in front, everyone is so friendly and open, and I feel no barriers between me and staff…at [the Urgent Care Response Centre (UCRC)], I feel being treated at the same level as an equal human being. In most places I have to wait, and sometimes up to two weeks before I see a professional, but when I came to UCRC, my concerns were addressed on the same day. For people affected by substance use, it is so important to get support in the moment, because if the support is delayed, the opportunity is lost and it might not come back again.