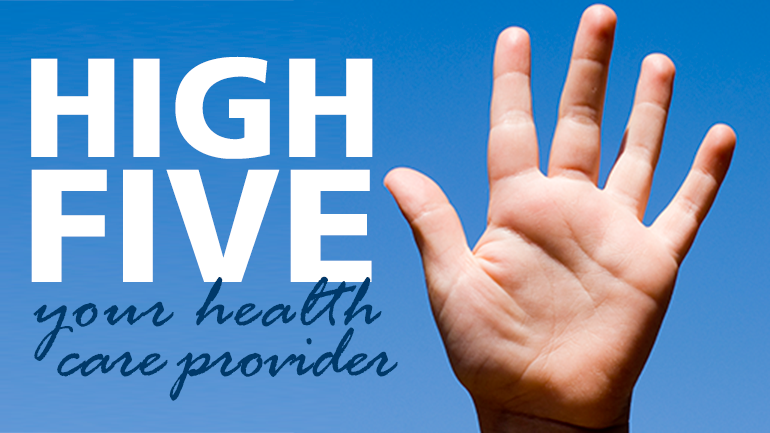 This week's high fives go to our amazing people at Abbotsford Regional, Burnaby and Chilliwack General hospitals; Jim Pattison Outpatient Care and Surgery Centre; Ridge Meadows Urgent and Primary Care Centre; Peace Arch and Surrey Memorial hospitals.
Want to send a high five to your health care provider or Fraser Health team member? Leave a comment below or email feedback@fraserhealth.ca.
For Abbotsford Regional Hospital
I wanted to give a big shout out to the staff as I was truly impressed with their professionalism, dedication, and care. From the security guard, Navdeep, to my wonderful nurses, Heather, Julie, and Rosalee, as well as my amazing operating room nurses, I was so well cared for! Dr. Wickham and my anesthesiologist were reassuring and it was such a positive experience all around.
Thank you to everyone for a job well done!
---
For Burnaby Hospital
I was impressed with the nuclear medicine and cardiology department by their efficiency, professionalism and helpfulness of both the office and technical staff. This was a lengthy procedure, however, it was very well organized and staff were so knowledgeable and kind.
I am grateful – thank you to all of you.
---
For Chilliwack General Hospital
A minor issue took me to the Chilliwack General Hospital ER recently.
I haven't needed its services for many years, and I was pleasantly surprised at the changes in procedure.
Kudos to the staff. Everyone from the clerk who took down my complaint, to the nurse who determined the extent of my issue and made the decision to proceed and directed me to a separate waiting area, and to the doctor I saw who wrote out a prescription.
Thank you, all of you, including the lovely volunteer lady, who led me in the right direction.
- The Chilliwack Progress, November 22, 2019
---
For Jim Pattison Outpatient and Surgery Centre
I came in quite distraught and Asmi understood my dilemma and we decided to postpone my appointment for a week. I left the building but before I was outside I heard my name being called and it was Asmi who had an alternative solution. I was dumbfounded at the extra care shown – how did she find me in the maze of hallways and people? She did not have to do that but she did.
Kudos to her!
---
For Ridge Meadows Urgent and Primary Care Centre
I would like to give kudos to the amazing staff [at Ridge Meadows Urgent and Primary Care Centre] on Remembrance Day.
My toddler had been ill and it wasn't an emergency and I knew about the new urgent care centre that had opened recently. I went there and the staff were amazing! The nurse listened to everything I had to say and asked a few questions. The doctor confirmed my mom-gut. Again, she listened to me and let me explain everything. She was kind and knowledgeable and took the time to explain what was happening. We were in and out so quickly. What a great addition to our community.
I hope I don't have to use it often but I know that if I do we will be in great hands.
---
For Peace Arch Hospital
The nurses have been immensely kind towards me throughout my treatment. Thank you.
---
I wanted to acknowledge three nurses who were absolutely amazing. All of the nurses were spectacular, but the following three really made my stay comfortable.
Danielle - She was fun and great company and gave me the option of having a conversation or not.
Jules - She always got the baby to cooperate. She was hilarious and even checked in with us after delivery when she didn't need to.
Susan - This was the boss woman I needed for when I delivered. She was confident in the exact ways I needed. I would like to thank her for walking into my room and making decisions to get things started. She is energetic and experienced and exactly who I needed during delivery.
Thank you all for being so wonderful to us. We received exceptional care and really did enjoy our time there with such qualified, confident staff.
---
For Surrey Memorial Hospital
Thank you to the Intenstive Care Unit (ICU), Respiratory Therapy (RT), Social Work (SW) staff for the care provided to a young patient in the ICU who passed away. In particular Arpana, Kristie, Val, Kim & Julie (ICU Nursing), Steve and Karen (RT), Meena & Jessica (SW).
The family was profoundly grateful for the care that their son received from everyone in ICU, and that their experience during the worst time of their lives was made bearable by the kindness and respect to both them and their son. As the patient's mother said "I want everyone to know, everyone who was working in that ICU over those days that my son was there, that we saw them. We saw the work you do, and we will never be able to tell you how much we value you. You treated our son as a human being, even after he was declared brain dead. You talked to him while you provided care, and talked to us through this whole ordeal."