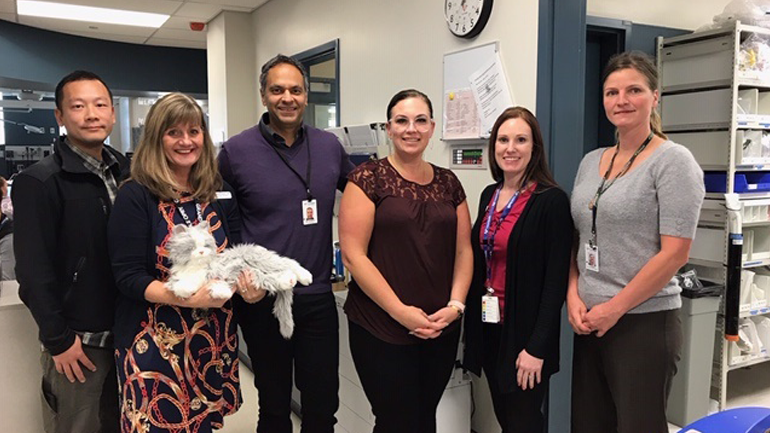 The Chilliwack General Hospital Senior Friendly ER team: (left to right) Dr. Shelter Lee, Laura Clarke, Geriatric Nurse Clinician, Dr. Ritesh Parekh, Kimberley Choi, Manager of Clinical Operations, ER, Amanda McKnight, Clinical Nurse Specialist, Corrie Ouellette, Geriatric Nurse Clinician.
Chilliwack General Hospital is improving care for frail older adults and better diagnosing delirium through a new Senior Friendly Care initiative in their Emergency. Learn how your site can embed Senior Friendly Care too using new resources and tools from the Regional Older Adult Framework.
What makes a senior friendly hospital? Senior Friendly Care, of course. Oh, and fluffy cats.
The cats – interactive toys designed to calm elderly patients with delirium – are just one of the tools a team at Chilliwack General Hospital has been using to improve care for seniors, starting in their Emergency Department, as part of a new Fraser Health region-wide Senior Friendly Care initiative.
"Our interactive cat has calmed at least a dozen, if not more, elderly patients with behavioural issues with delirium or dementia," says Dr. Ritesh Parekh, an internal and geriatric medicine physician at the hospital. "Reducing the use of restraints and anti-psychotic medication is the result."
Dr. Parekh, along with Clinical Nurse Specialist Amanda McKnight and Kimberly Choi, Manager of Clinical Operations, are part of a 10-member working group collaborating to embed Senior Friendly Care in their hospital, beginning with Emergency. Starting with resources Dr. Parekh secured from the province's Specialist Services Committee Facility Physician Engagement fund, the group launched online education modules on identifying and treating delirium, along with talks and education on frailty, mobility, falls prevention, training in confusion assessments and other aspects of geriatric care.
"I had an 'aha moment' with a staff member who truly didn't realize delirium is a life threatening event – it's really a medical emergency," says Kimberly Choi, Manager of Clinical Operations, Chilliwack General Hospital. "The moment a patient has delirium, their length of stay increases exponentially. Identifying delirium early affects their stay not only in the ER but also if they're admitted to a unit."
With Senior Friendly Care training in the ER, she says, all staff "understand the importance of getting that patient up and mobilizing, of good oral care, and of identifying delirium early."
Staff are focused on the six patient safety priorities, getting seniors moving, reducing reliance on catheters (preventing UTIs which adds bed days), and stepping up mouth health assessments and care to help reduce seniors' their risk of pneumonia. In addition to the calming cats, their ER also stocks noise-cancelling headphones, hearing aids, hand-knit mittens for cold hands and other comfort items.
Improving care for seniors is one our Fraser Health Together priorities and one every facility can work on.
The Frail Elderly-Older Adult Network Team has created a Regional Older Adult Framework to guide us in embedding Senior Friendly Care in our work. The team has resources available to support all of our hospitals embed Senior Friendly Care into our patient protocols, research and education practices.
The goals of the Framework are to achieve the best possible health outcomes for older adults in Fraser Health and to support the development of quality senior friendly health care services and policies.
In Fraser Health, our seniors population is growing rapidly and expected to increase by 47 per cent – for a total of 442,500 seniors in our communities – in the next ten years. Already, older adults account for 40 per cent of visits to our 12 acute care sites and make up 23 per cent of Emergency visits.
Many older adults will develop complex chronic illnesses like frailty and dementia. There are already an estimated 24,000 individuals with dementia in our health region: that number is projected rise to 35,400 seniors affected in the next decade. Our care providers will need training in caring for people with dementia and diseases that usually develop later in life.
The six guiding principles* of the Framework are:
Support diversity resilience, autonomy and quality of life
Empower and inform older adults, families and care partners
Ensure person and relationship- centered care and partnerships
Promote safety and security
Provide accessible care and services for older adults
Foster evidence informed practice
There are six domains and it is important to ensure we meet older adults' needs across all of them:
Culture
Partnerships
Policy and guidelines
Physical environment
Healthy aging, healing and reablement
Education, academics and research
Among the resources available for employees are:
The Regional Older Adult Framework
A Self-Assessment and Action Planning Tool
The Frail Elderly-Older Adult Network will support implementation of the Framework and development of a region-wide Senior Friendly Care lens through education, coalition-building, fostering communities of practice, and maintaining a hub of tools and resources. Members are available to collaborate with teams on planning and knowledge exchange.
"The first step is you need people who are engaged and committed who want better care for our frail elders," Dr. Parekh says. "We're working together in teams and collaborating with nurses, physicians, primary care and community health. Patients don't want to be in the hospital. We're trying to move frail seniors out of the hospital smoothly so they avoid complications and long stays."
To learn more about the CGH program contact Dr. Ritesh Parekh at ritesh.parekh@fraserhealth.ca.
To learn more about the Regional Older Adult Framework contact: Marie Blair, Clinical Nurse Specialist at marie.blair@fraserhealth.ca.
*Principles adopted form the Ontario Senior Friendly Care Framework (October 2017.)