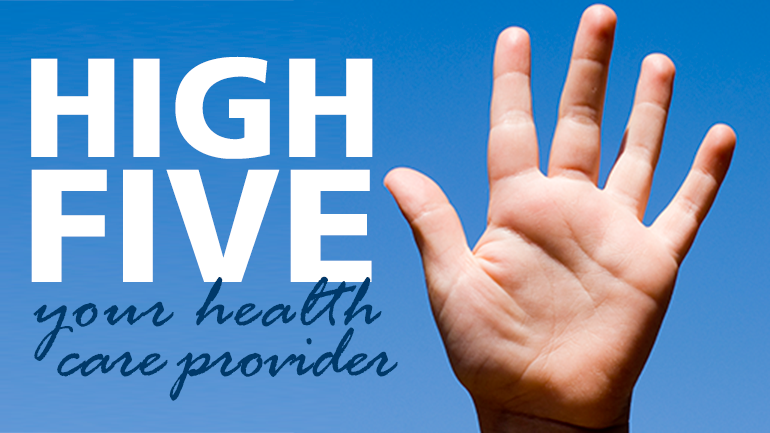 This week's high fives go to our amazing people at Royal Columbian, Ridge Meadows, Burnaby, Abbotsford Regional and Surrey Memorial Hospitals and Delta South Mental Health and Substance Use Centre and Cartier House Care Centre.
Want to send a high five to your health care provider or Fraser Health team member? Leave a comment below or email feedback@fraserhealth.ca.
For Royal Columbian Hospital
I would be remiss if I didn't send my highest compliments to the maternity staff that took care of us during our visit. We met so many kind and warm nurses and health care providers during our stay. They were everything that my husband, my baby and I needed to get us set up for success and less nervous about leaving the hospital. The head nurses were amazing and each time we rang for a nurse, their empathy and kindness came through. The maternity staff showed kindness and understanding to make things right.
From a new mom, anxious about my new responsibilities and apprehensive about the delicacy of a newborn, thank you from the bottom of my heart. The staff on the maternity team are incredibly gifted, warm and perfect for their jobs. I rave about them to anyone that will listen and they really deserve the spotlight. Thanks again - you have great people at Royal Columbian Hospital and I'd go back just for them.
---
For Ridge Meadows Hospital
The care, compassion and complete attention to every detail from the moment my doctor scheduled me was outstanding and organized. I knew where to go, who to see and what to do. The hospital was clean and the doctors and nurses went above and beyond in my care. I could not have asked for anything better. Thank you to all the staff, the doctors, nurses and everyone who aided in my recovery.
You all deserve praise and thanks.
---
For Burnaby Hospital
From the first contact with admitting to my discharge, I experienced treatment that ranged from very good to excellent. I wish to make special compliments to several staff:
Admissions: Sasha
Nurses: Laani, Sharon, Christy, Calvin, Lakh and Anya
Physiotherapist: Demetri and Emily
Occupational therapist: Céline
Surgeons: Dr. Grunau and Dr. Roberts
Anesthesiologist: Dr.Chung
The porters and the folks who did my x-rays
I was very anxious since I had never been hospitalized but I received beyond "decent" care. Everyone was professional, genuine, caring and compassionate, which begins with listening. Some of these folks displayed a good sense of humour, which we know is a huge help for people in pain.
I received the extraordinary care at Burnaby General Hospital where I came in broken and vulnerable and left humbled and inspired.
---
For Abbotsford Regional Hospital and Cancer Centre
I just wanted to send a huge thank you to the amazing ER staff at Abbotsford Regional Hospital and the paramedics. I had numerous nurses tending to me and they were incredible. Corina had me laughing and it really helped. I commend them and they truly need to be appreciated for the job they do.
I know they have hard days in this line of work but their attitudes and kindness were surely appreciated. Thank you.
---
For Surrey Memorial Hospital
I wanted to express how grateful I am for all the wonderful staff that took care of me. I could keep going on about how caring, attentive and knowledgeable my nurse Maddison was. She went above and beyond my expectations, and kept a smile on our faces throughout my delivery. I would also like to thank all the doctors and staff that worked with me. In my life, I have never felt so much positivity and support.
Three weeks later, I still think about how incredible they were. Thank you, Maddison and the family birthing unit team.
---
For Delta South Mental Health and Substance Use Centre
I just want to say how much I appreciate the services at the Mental Health Centre in South Delta. The help that I found there was quick, on point and very efficient. I would like to thank everyone from intake, the counsellor, the group counsellors and the psychiatrist.
---
For Cartier House Care Centre
I thought I would be remiss if I did not send this note of commendation, on behalf of my family to express our sincerest appreciation and gratitude for the outstanding care and compassion Dr. d'Archangelo at Cartier Care Home. The care we continue to receive from Dr. d'Archangelo is beyond our expectations and professional expertise. He works hard and has a passion for patient care which surpasses anything I have seen and we are happy and blessed that he is her attending doctor.