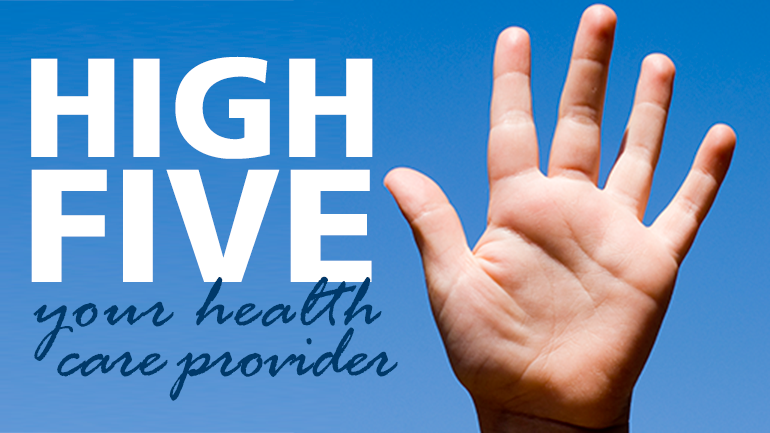 This week's high fives go to our amazing people at Langley Memorial, Royal Columbian, Surrey Memorial and Abbotsford Regional Hospitals.
Want to send a high five to your health care provider or Fraser Health team member? Leave a comment below or email feedback@fraserhealth.ca.
For Langley Memorial Hospital
I would just like to take a moment to thank the ER team at Langley Memorial Hospital whose amazing work got me back on my feet. A special Kudos to Dr. Hsu, who took the time to explain things in simple terms and set my mind at ease and the nursing staff, who were professional and had a great bedside manner and the other doctors involved. Thank you all.
---
For Royal Columbian Hospital
I would just like to say what an amazing team of caregivers my son had to look after him in his final days. My son was in an accident in April and passed away. He was an organ donor and until the moment that we had to say goodbye, they treated him like a friend. My family and I felt that the staff cared for us even after our loss and we even received a handwritten card telling us they were truly sorry for our loss that was hand signed by each and every one of them including the doctor.
Thank you Royal Columbian Hospital and the ICU team for helping us through the pain.
---
For Surrey Memorial Hospital
I was admitted for surgery and Dr. Ashrafi was my surgeon. I spent six days at Surrey Memorial Hospital and I would like to commend you on your staff of nurses. The care I received was amazing. The hospital was clean and smelled fresh. I was an active patient walking and enjoyed the outdoor deck.
---
For Abbotsford Regional Hospital
I was directed to go to Abbotsford Regional Hospital to receive an emergency ultrasound due to my doctor being unable to suddenly pick up my unborn baby's heartbeat. I was alone while waiting and in obvious emotional distress since I had never experienced this type of situation before. My name was called by a middle-aged man as he was the one who was going to be doing the ultrasound. He was compassionate and caring. He was an angel in that moment when I needed someone the most. He sat with me while I cried and was truly such a blessing in such a horrible moment. What he said to me stuck with me till this day in which I've been able to help other women going through the same as me. I wish I had asked for his name because he is an amazing human being who was a light on a very dark day for myself. This doesn't do justice to how he impacted my life in such a positive way.