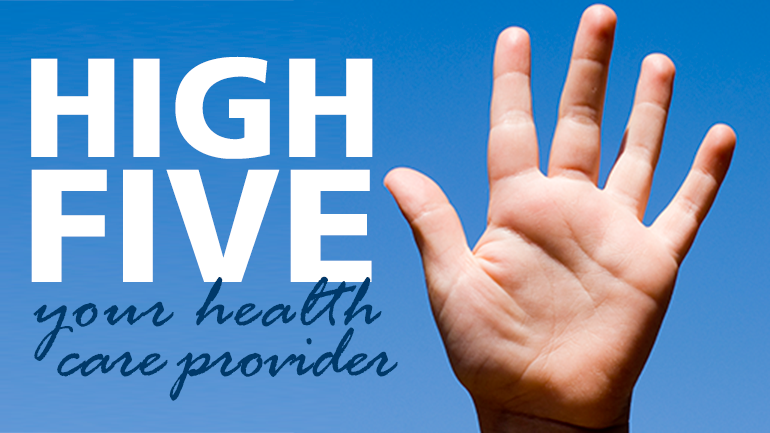 This week's high fives go to our amazing people at Ridge Meadows, Langley Memorial and Burnaby Hospitals.
Want to send a high five to your health care provider or Fraser Health team member? Leave a comment below or email feedback@fraserhealth.ca.
For Ridge Meadows Hospital
We are so lucky at Ridge Meadows Hospital to have such hardworking and skilled group of rehabilitation assistants. They have enthusiasm for the work they do and give excellent care to our patients.
---
Rino in Rehabilitation at Ridge Meadows Hospital. Thank you for lifting the spirits of patients and staff every day with your energy and enthusiasm.
---
Tina goes Above and Beyond [at Ridge Meadows Hospital]. She provides the best care for long-term care residents…is amazingly hard working … caring [and] supportive to her team.
---
High Five to physiotherapists Jeff and Rino at Ridge Meadows Hospital. They always bring an awesome spirit to the unit and are great team players.
---
For Langley Memorial Hospital
In the last 11 years, I have had three surgeries at Langley Memorial Hospital. I have a full and genuine appreciation for our health care system and the care that I have received, in particular, during the process of diagnosis and treatment of breast cancer.
I will forever be grateful for that experience and share that with anyone. I found the nursing staff to be friendly and helpful at all points during my stay. I felt cared for and that I was in competent hands.
---
For Burnaby Hospital
My mother-in-law was brought into the Emergency Department after a fall at home. She was seen immediately, the tests were done promptly and a bed was found.
The staff recognized her frailty and the underlying health problems that caused the fall. They worked diligently with [us] to ensure that home care plans were [in] place before her discharge. The patient care coordinator has kept us in the loop about [our mother's] progress. We are so thankful that Burnaby Hospital was there to help our mom.
Thank you!
---
From the time I arrived [at Burnaby Hospital's] administration and registration desk, to the time I left [the hospital] I found the staff to be thorough in their jobs and caring for me.
Dr. Kostamo, the anesthesiologists, the recovery room staff and especially the day and night staff on my floor were polite, sociable and constantly checking up on me to see if I needed anything. The staff went out of their way … I left with a good impression that these people were nice and professional in their jobs. I joked with the staff on 4D that I was going to recommend this hotel to anyone. The truth is that if your hospital was a hotel, I really would recommend it.