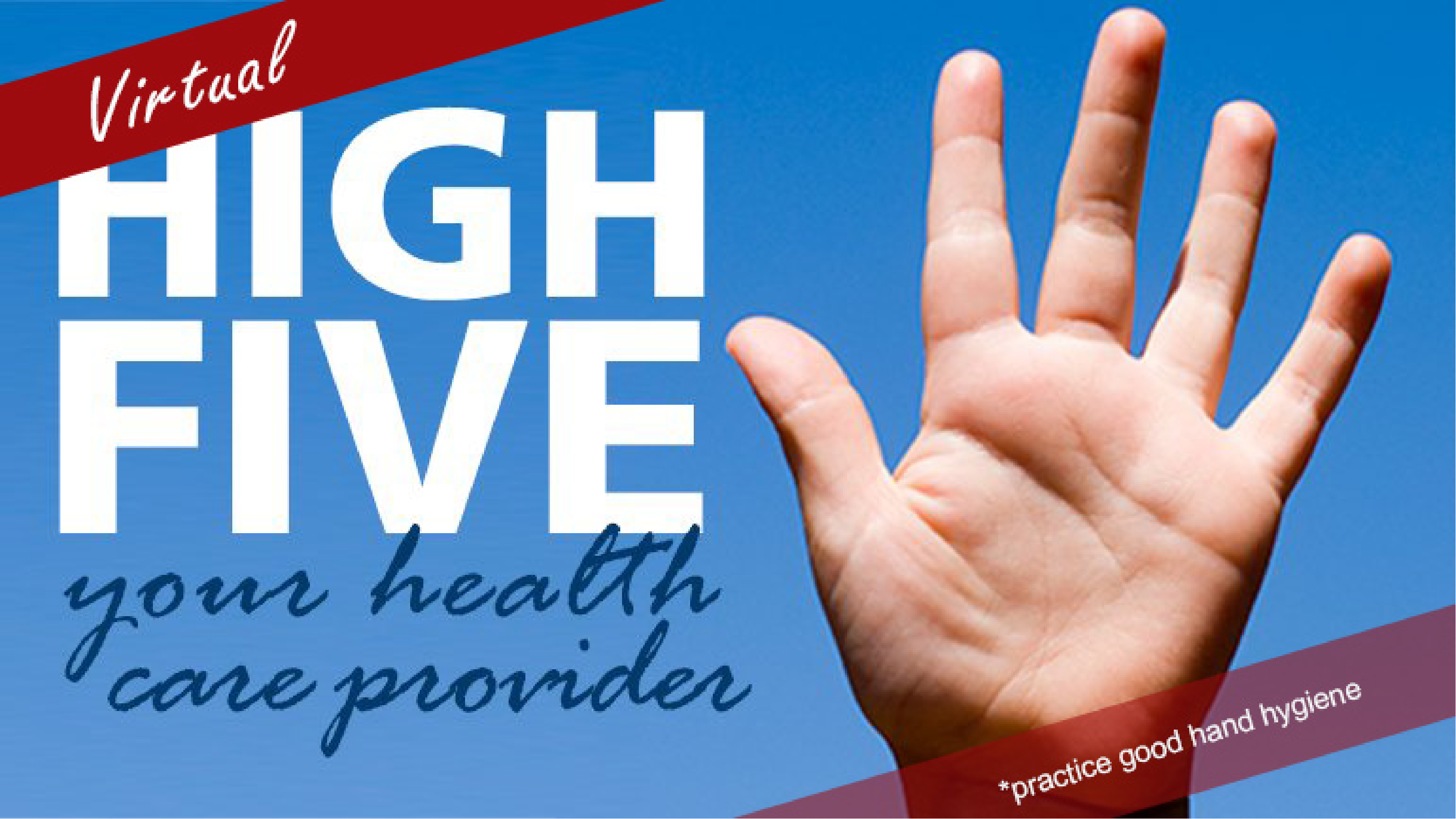 This week's high fives go to our amazing people at Royal Columbian Hospital, Langley Memorial Hospital and Delta Hospital.
Want to send a high five to your health care provider or Fraser Health team member? Leave a comment below or send us your story here.
For Royal Columbian Hospital
My stepson was transferred to the Royal Columbian Cardiac Intensive Care unit from Langley Memorial Hospital. When his mother and I were able to see him, we met the team looking after him, his primary nurse Terri and Dr. Reynolds.
The next day when his mum and wife took him off life support, we were well attended to by Carmen, Dr. Reynolds and the on-shift social worker, named Shelley. Simply put, all five of them personified compassion and professionalism. Royal Columbian Hospital can be very proud of that team. They helped a grieving mother and wife make the right decision and treated them with care and respect.
---
A huge shout out to the staff in Nuclear Medicine.
From the moment, l walked into the nuclear med reception l was impressed. All the staff on both days were well organized, punctual, professional and kind. The atmosphere was consistently calm and pleasant.
Thank you to you all for not only doing a great job, but for doing it under difficult Covid-19 circumstances.
---
For Langley Memorial Hospital
I want to express a sincere thank you, from my wife and I, to the Emergency Unit and the Cardiology staff at Langley Memorial Hospital for caring for me, in particular Dr. Hussein.
It has been exactly three months since my surgery. I went to Langley Memorial Hospital Emergency Department with chest pains. An internist named Dr. Hussein saw me and detected something serious.
Dr Hussein was thorough, informative and as a result, I was admitted to Langley Hospital and scheduled at Royal Columbian Hospital the following week.
I am successfully recovering from my surgery. Without the concern and attentiveness of Dr Hussein and staff at Langley Memorial Hospital, things could have been much different. I felt Dr. Hussein really cared about me as a person.

Thank you all for the difference you have made in my life. My family and I are thankful that people like you are here in Fraser Health to care for us when we need you.
---
For Delta Hospital
I was at Delta Hospital and was greeted by a friendly young lady at the entry. She provided me with a new face mask then directed me to a registration desk. After registration, she showed me the way to Surgical Daycare with clear instructions. I wish to compliment her for her professional and friendly service.
The staff at Surgical Daycare was caring, efficient and made me feeling comfortable in a stressful situation. They were Kal, Kathy and another young lady. I would like to recognize them for the wonderful work that they did for me today. I have no doubt that they are very kind and they would offer equally great service to other patients. I wish to offer them a sincere thank you.