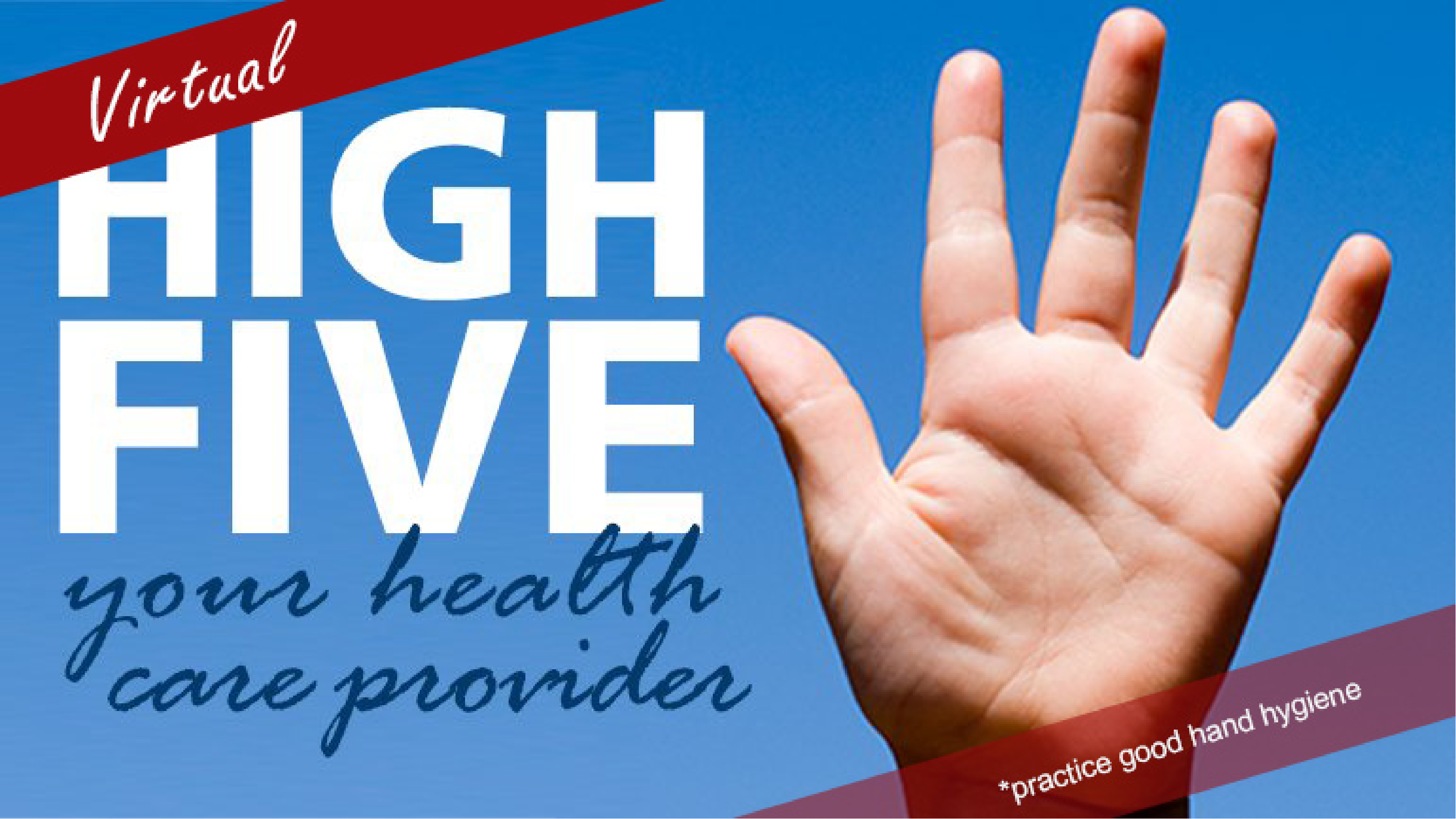 This week's high fives go to our amazing people at Abbotsford Regional Hospital and Cancer Centre, Eagle Ridge Hospital, Langley Memorial Hospital, the Jim Pattison Outpatient Care and Surgery Centre and Burnaby Hospital.
Want to send a high five to your health care provider or Fraser Health team member? Leave a comment below or send us your story here.
For
Abbotsford Regional Hospital and Cancer Centre
I would like to acknowledge the nursing staff and Dr. Mehin at Abbotsford Regional Hospital for the professionalism and care that they showed me right from the preparation through to surgery and recovery on Baker Ward. You should be very proud of your staff. Thanks again.
---
For
Eagle Ridge Hospital
I would like to send off a quick thank you to all the staff involved in my surgical procedure and in recovery at Eagle Ridge Hospital.
First off, I would like to thank my surgeon Dr. Boyer. This is my second surgery with Dr. Boyer at Eagle Ridge Hospital. Not only is he a great surgeon but a very caring doctor. My experience before and after the surgeries with him is a ten star rating.
Considering that we are in a pandemic situation, I was a bit nervous on how things would go entering the hospital. From the minute I arrived, your staff in admissions were attentive and caring from the get go. As I moved into the pre-op area, all my nervousness was gone. All of the staff were making sure all my needs were met quickly and with considerable care. I was amazed at how everyone was constantly wiping down every surface in the department. I do not think I have ever experienced the attentiveness of so many people working in a small area to manage work in harmony. I am not exaggerating when I say this. A big shout out to all.
Now, the surgical team along with Dr Boyer -- cheerful and a very organized group of professionals.
Dr. Dean Burrill, the anesthesiologist was fantastic, not only was I comfortable and awake during the surgery he was narrating and pointing out on the monitor for me to see. What an experience! So hats off.
Moving on to the recovery room, the same level of care and cleanliness was on going. I believe I was in there for a couple of hours or so and received no less than perfect care. I would like to say nurse Monica was a very caring and gentle person. Never in a hurry to get me out -- just took very good care. This sums up my latest experience with Eagle Ridge and all their staff.
One of the best, caring and clean hospitals that I have been in over the years. Keep up what you're doing, and please let all know how proud I am of all.
---
For
Langley Memorial Hospital
I checked into Surgical Day Care and I had the sweetest nurse, Michelle.
She was so genuinely kind, she could tell I was nervous and was asking me lots of questions to have a conversation to distract me, telling me about her own daughter in nursing.
When I woke up, I could not stop crying. When I was brought back to the Surgical Day Care, Michelle was there. I was embarrassed by how I was responding but Michelle did absolutely everything and anything to console me -- water, pain relief, a hand to hold. I have never experienced such amazing bedside manner, or just such compassion from a complete stranger in any circumstance. I truly believe this is how Michelle is as a human being, and I truly to this day feel so, so lucky she was there for me.

It has been over a month and I think about that kindness every day. Langley Memorial is lucky to have someone like her on staff.
---
For

Jim Pattison Outpatient Care and Surgery Centre
I was a day patient for a procedure that was not easy for me. I would like to say that all the nurses and doctors were amazing. So compassionate and professional during my stay.
The group of them deserve a ten-out-of-ten for the care they give. Amazing and caring individuals.
Thank you to all of you and happy holidays.
---
For

Burnaby Hospital
I had surgery at Burnaby Hospital.
All the nurses and staff in daycare and the recovery room were fantastic and super friendly. It was clear that they care about their patients and helping them feel as good as possible. I was struck by just how caring and helpful all the staff were.