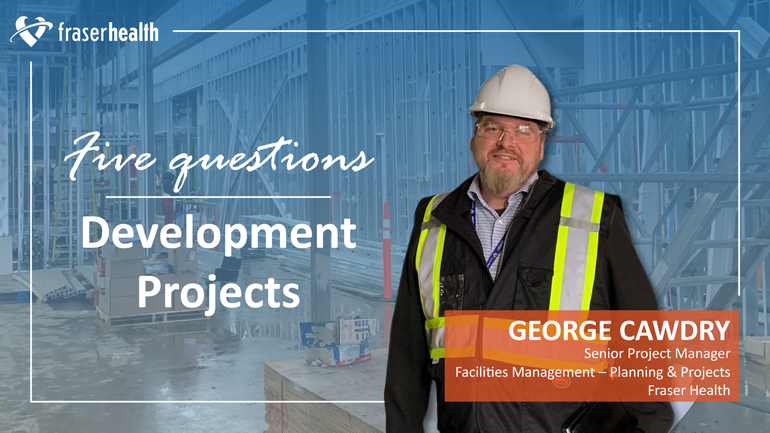 Langley Memorial Hospital's emergency department is expanding. In anticipation of the new department opening, we spoke with George Cawdry to learn more about this exciting project.
Q1: Tell us a little bit about your role.
I am a senior project manager with Fraser Health's facilities management team. In a nutshell, that means that whenever a renovation, expansion or new building is required, we manage the design and construction process from concept to completion.
I have always been involved in project management. I was a professional building designer before I came to Fraser Health about 15 years ago. Langley Memorial Hospital has been one of the sites I have done projects with since I started at Fraser Health.
Q2: What about the new emergency department makes you excited?
For me, it is thinking about my family, a friend or even myself as a potential patient. Knowing that I helped to build a new emergency department with the space and resources that better supports the doctors and nurses in providing the best care possible is the most exciting for me.
Q3: Can you share a little bit about the design of the new emergency building?
The new emergency is actually a large extension to the existing hospital building that will make the department three times its current size. All of our new builds are designed under the LEED process, which stands for leadership in energy and environmental design. It is a way of building that focuses on efficiency and the use of sustainable, local materials as much as possible in the design and construction process. Our new emergency will support our patients and employees in a more sustainable and environmentally friendly way.
Q4: Can you share some interesting features of the new building?
The new air handling system we are installing to support the building is more energy efficient and will improve the indoor air quality for our teams and provide a healing environment for our patients. The LEED standard requires that the air inside the building is filtered and circulated a certain amount of times so that it's always clean. This is also an important part of meeting our infection control needs. We are also adding more hand washing stations and installing furniture and equipment that meet high standards for infection prevention and control to help ensure a safe environment for our health care teams and patients.
Q5: What other hospital updates will we see in addition to the new emergency department at Langley?
One of the other projects underway at the hospital is the addition of the new MRI suite. This will have a very positive impact, as patients will no longer need to travel to other locations to get these important tests.
There will also be a parking lot refresh, new walkways and two separate roads - one for those visiting the hospital and the other for ambulances. This will help reduce some of the current vehicle and pedestrian traffic at the existing emergency department entrance.
Visitors to the hospital will also see a new main entrance and lobby that is modern, more spacious and easier to navigate.
____________________________________________________________________________
The expansion and upgrades at Langley Memorial Hospital are part of Fraser Health's commitment across the region to modernize our health care network, build capacity and improve timely access to quality, patient-centred care closer to home. Learn more about the Langley Memorial Hospital emergency expansion and upgrades project.
Come Work with Us
Check out current career opportunities at Langley Memorial Hospital and join this exceptional team.
Follow our progress
Stay up to date on all our expansion and renovation projects through the Fraser Health Facebook, Twitter and Instagram channels.