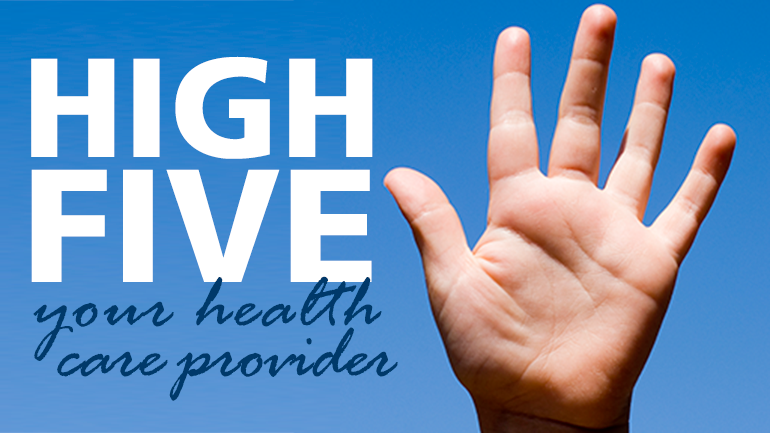 This week's high fives go out to our amazing people at Abbotsford Regional Hospital, Langley Memorial Hospital and Chilliwack General Hospital.
Want to send a high five to your health care provider or Fraser Health team member? Leave a comment below or email feedback@fraserhealth.ca.
For Abbotsford Regional Hospital
After a few minutes in the waiting area, I saw the triage nurse who immediately evaluated me and called the cardio technician, who was there immediately with a smiling face and happy demeanor. The lab technician was pleasant, happy and efficient. My nurse S ara came back and checked my vitals and Dr. Van Tonder explained my reports and ordered further tests to rule out other possibilities.
I was sent home with a clean bill of health and a referral to another service.
I would like to send kudos to everyone for their helpful services.
---
For Langley Memorial Hospital
Our family would like to acknowledge the staff on 2N at Langley Memorial Hospital for the great post-operation care our father received the weekend before Christmas. The medical professionals in our family went home at ease every day knowing dad was in your safe and competent care.
Special thanks to Dr. Cowie, who has set such a high standard of care and to nurses Eve on nights and Harman for the most impressive discharge teaching.
---
For Chilliwack General Hospital
I had day surgery and wanted to thank the entire staff involved for the outstanding care and kindness I received. From the reception to discharge, they were all professional, but caring.
Dr Goodman was my surgeon, and Wendy my lead nurse.
Thank you.
---
Unknown
You have an angel in your midst.
I was involved in a car accident and one of your off duty emergency nurses named Meghan stopped after seeing me struck down by the other motorist. With little regard to her own safety, she rendered first aid to my considerable injuries. I would just like to thank her again for her professionalism and selflessness. You have an amazing employee – sadly, I was taken to hospital before I could get more details.
Please thank her once again on my behalf.