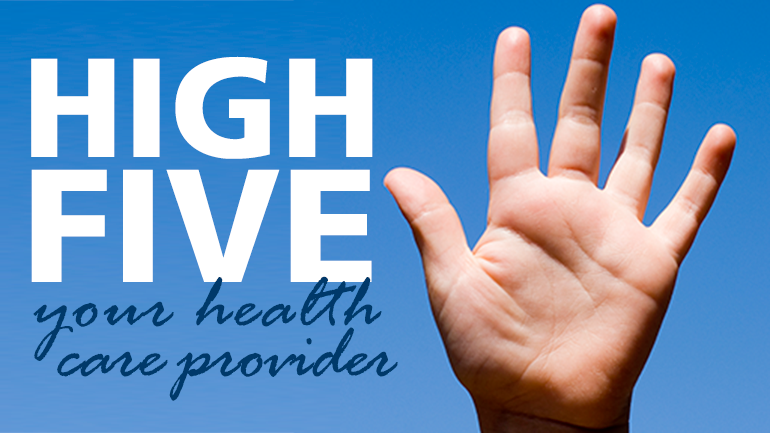 This week's high fives go out to our exceptional employees at Royal Columbian, Langley Memorial and Surrey Memorial Hospitals, as well as our staff at Abbotsford's Holmberg House and the Jim Pattison Outpatient Care and Surgery Centre.
Want to send a high five to your health care provider or Fraser Health team member? Leave a comment below or email feedback@fraserhealth.ca.
For Abbotsford Hospice's Holmberg House
I just wanted to compliment Denise, a registered nurse at Holmberg House. She is caring for my grandmother who is in palliative care. Denise had such a lovely manner and I could tell even through my short interaction with her that she truly cares for her patients.
As I live in Richmond, it is hard to stay long at my grandmother's bedside, but I felt reassured knowing Denise was going to check in on her. We are all lucky to have her at Abbotsford Hospice. Thank you very much Denise!
---
For Royal Columbian Hospital
I would like to thank and commend Jennifer, the registered nurse who took care of my mother. Not only is Jennifer obviously competent and skillful in her role, she is compassionate, caring and kind with her patients. She has an easygoing personality that eases the stress of both the patient and her co-workers.
Also, Dr. Latham has a fantastic bedside manner and made me and my mother feel less nervous and we knew we were in good hands.
---
For Jim Pattison Outpatient Care and Surgery Centre
Just a short note to express my appreciation for the excellent treatment that I received from the clinical and administrative staff. Dr. Shayan and Dr. Dixon and nurse Victor did an excellent job of the surgery and post operative care. Kudos to them!
Best wishes to the clinical and administrative staff at Jim Pattison Outpatient Care and Surgery Centre.
---
I visited Dr. Warren Davidson at Jim Pattison. I was extremely pleased with how helpful he was in explaining my concerns. I would absolutely rank him as one of the best doctors that I have ever visited. He was working on level 3B. He was very thorough in explaining everything. My wife and I left feeling much, much better and more content.
---
For Langley Memorial Hospital
I would like to say how impressed I was with the care and attention at Langley Memorial Hospital: from pre-admission and surgical pre-operation, to x-rays, blood work and physiotherapy. I would also like to thank the staff on 2 North, as they were amazing with their professional and cheerful attitude, and their understanding of patient needs.
My initial apprehension of going in for surgery was reduced by the treatment I received from all of the staff. If I ever need another hospital visit, I can only hope for the same level of service, that I received at Langley Memorial Hospital.
---
For Surrey Memorial Hospital
Three days ago I end up in the Emergency Room in the middle of the night with a very bad cold. It was very busy. We spent three hours there. During the wait, I was observing all medical staff and doctors. I was super tired, in pain and was very close to get frustrated with a wait time. But then the power of gratitude is much stronger than selfishness which often leads to complaints. I was really amazed how all these people work as a powerful team despite the middle of the night shift. All of them were calm and soft spoken.
They did all possible tests on me, which also made me feel well taken care of and gave me assurance that they really want to look at the whole picture and then make their diagnosis. Both of the doctors that I was able to observe, despite the fact that they had tons of work, were super calm and efficient.
I was and am truly grateful for all doctors and medical assistance staff who are working days and nights, long hours and under tremendous amount of pressure, to help every single person who is in need of any help. Some may say, it's their job but I'd say, it takes a big heart people in today's times to be genuinely caring about other peoples' lives besides their own, to do what they do.
---
Surrey Memorial Hospital is an amazing hospital with compassionate, caring people when you really need it. Humorous, sensitive and proactive skilled technicians, doctors, nurses, anesthesiologists and surgeons. SMH is where you want to be, if you have to go. Yes, it's a busy hospital, but they are never too busy to assist and support in your time of need when it matters most. I am so grateful for all these wonderful people. People always sat that I'm a special person because of the work I do with special needs children but the real special people are those that support us unconditionally in our time of need. Hope you don't have to go, but if you do, go here.