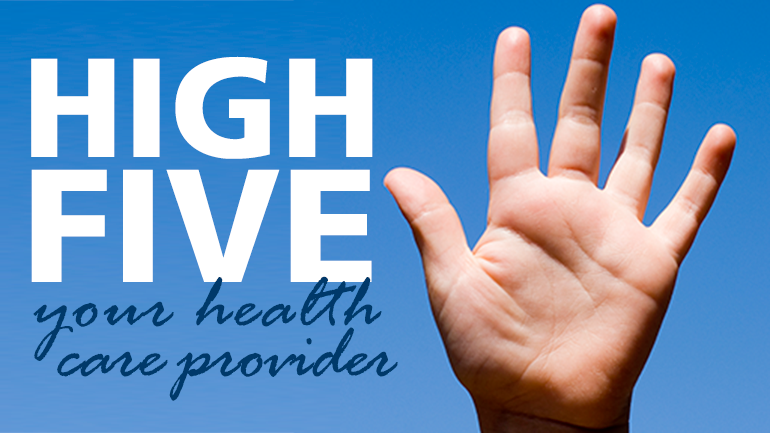 This week's high fives go out to our amazing people at Abbotsford Regional, Burnaby, Chilliwack, Peace Arch and Surrey Memorial Hospitals as well as Maple Ridge Home Health.
Want to send a high five to your health care provider or Fraser Health team member? Leave a comment below or email feedback@fraserhealth.ca.
For Abbotsford Regional Hospital
I hope to give a shout out and high five to the emergency room staff at Abbotsford Hospital. I went there yesterday and I have a variety of health problems. They did a variety of tests and started me on medication with immediate improvements.
The staff were good humored and professional despite the enormous workload. My gratitude and thanks to them!
For Burnaby Hospital
I just want to say how well everyone treated me. For me, every time I have been at the Burnaby General Emergency they have been great! Once you see a doctor, they do their utmost to help you solve your problem.
I would like to thank all the staff and the Emergency doctor who helped me out that night. Also, Dr. Dhaliwal for coming to the hospital on a Saturday night and Dr. Bhui who has been amazing! Thank you so much.
Our health care system may not be perfect but it is far better than most other places in this world.
For Chilliwack General Hospital
I worked a night shift with Tina at Chilliwack General Hospital during the terrible weather and roads. We were both due back the next night for another shift together. Tina graciously invited me to spend the night at her house instead of braving the roads back to Langley. The incredible thing is I have just came to Fraser Health and I had never met or worked with Tina prior to that night shift. She even made me a great "brunch" before we went back to work that next night. Hats off to Tina.
For Surrey Memorial Hospital
The reason I am emailing is to say thank you to all the wonderful doctors and nurses that took care of us when I delivered my 20-week baby. Walking into Family Birthing Unit, I have to say as sad as we were to hear we lost our baby, we did not feel alone. Every doctor and every nurse that saw us treated us with such care, respect and support and it made the whole experience bearable. We never felt alone once.
We were given room to rest and to cry openly when needed without being worried about upsetting the other patients. I thank the Family Birthing Unit for having thought everything out for parents like us so a difficult time is made a little bit easier.
Our nurse Shelley stepped in once the pain got bad and she is truly our hero. All our nurses were amazing but she stepped in during the hardest moments. She made the delivery feel peaceful and beautiful – I never ever imagined I would use those words to describe my delivery. Once my daughter entered the world, Shelley celebrated how beautiful she was and how every part of her was perfect and she described her to us with excitement and joy and that moment still brings tears to my eyes because I never imagined celebrating my baby's beauty. I also never felt ashamed if I wanted to hold her for hours and hours or take pictures. Shelley suggested the pictures and jumped right in making us feel okay to do these things. Shelley was a blessing to us during a difficult time and I cannot and do not know how to ever thank her.
The nurses and doctors took such wonderful care of us, explained all the steps, options to us, and did not shy away from anything and we truly appreciated that. This is why I wanted to write in and say that everything was perfect and this is what all parents suffering a loss like ours need. We cannot praise the Family Birthing Unit enough for the wonderful care that we received from the gentle touch of reassurance and sadness to the hugs from the nurses and doctors. They made us feel loved and cared for and not a burden to anyone. I hope you can pass on how grateful, thankful and appreciative we are for everything. I can now sit back and have faith in the world knowing there is beauty and kindness in the world.
For Peace Arch Hospital
I am filled with gratitude for all the amazing and wonderful people in the staff at this hospital. Every single person I met along my journey until my eventual discharge was so warm and attentive.
Fraser Health is to be commended for their exceptional hiring practices!
For Home Support, Maple Ridge Home Health
We would like to recognize Charlene Wuerch in helping ensure community health workers were able to safely see their clients during the snow last week. Charlene came up with the brilliant idea to hire a private driver to assist community health workers to see at risk clients in difficult to reach areas. Charlene also personally went out for several hours and drove community health workers to and from client visits in the snow. YAY Charlene, this team appreciates how you always go the extra mile!