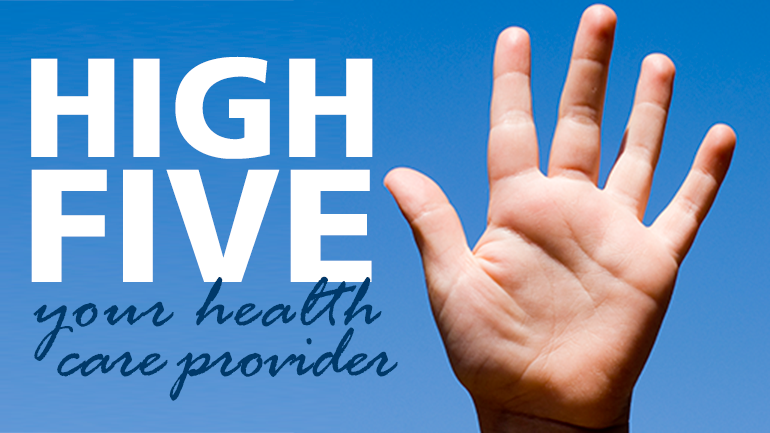 This week's high fives go to our amazing people at Burnaby Hospital, Surrey Memorial Hospital and White Rock Public Health Unit.
Want to send a high five to your health care provider or Fraser Health team member? Leave a comment below or email feedback@fraserhealth.ca.
For Burnaby Hospital
I came into the emergency for asthma exacerbation brought on by a respiratory infection. The emergency department was extremely busy, and I could tell how hard the staff was working. I was impressed by their kindness and efficiency. [While] I waited, I watched them interact with many people, and all of the staff were consistently compassionate, while efficiently assessing and triaging people.

My asthma attack was scary, but I felt safe there. The triage nurse helped streamline my care as much as possible while explaining findings to me and it was reassuring. The nurses and doctors in the treatment area were efficient and kind. Also, a special thank you to the person who found me some Jell-O when I got hungry.

Please let them know how grateful I am.
---
I had a chest infection and my concerned partner whisked me into the emergency on Christmas Day. The staff were fabulous. Thank you to all of you from the nurses, reception, cleaning staff to the doctors for all of your excellent care. You are amongst the top carers ever.

Thank you.
---
For Surrey Memorial Hospital
On Nov. 15th at about 11:30 PM my husband was taken to Surrey Memorial Hospital. He was examined in the ER and by 2:00 AM he had had a CT scan taken and it was determined that although there was no evidence of a stroke, he had had 2 previous ones that we did not know about. By 8:00 AM, he had been moved into a private room in the ER and later on was moved up to the [Critical Care] Tower, 8th floor, Pod 3 [neurology unit]. The service in the ER was very good and my husband was very well taken care of and he remained on the 8th Floor until Nov. 28 during which time it was diagnosed that in fact he had a 3rd stroke on the night he was brought in.
After that he was transferred to Laurel Place Rehab. I have to tell you that the care and attention he received while staying in Pod 3 was second to none. While the staff was very professional, which is to be expected, they were also friendly and cheerful which goes a long way to the patient's and family's peace of mind. They were also very respectful of my knowledge of this situation and helpful to me in terms of keeping me informed as to what was going on.
---
For White Rock Public Health
We would just like to give a huge compliment to Deanna at the White Rock Public Health unit today. My baby did not flinch or cry at all on her 18-month vaccinations and it must have to do with Deanna's technique. She is amazing and our family was very happy with the experience. I have had nothing but positive experiences with the nurses at this unit. Keep up the great work!