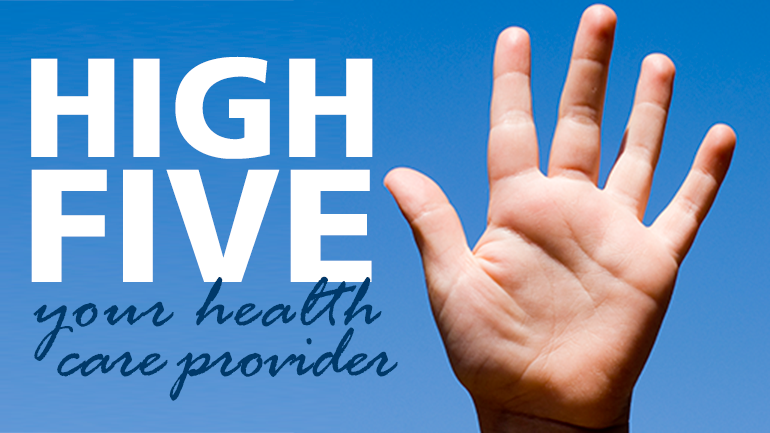 This week's high fives go to our amazing people at Ridge Meadows, Royal Columbian and Surrey Memorial Hospitals.
Want to send a high five to your health care provider or Fraser Health team member? Leave a comment below or email feedback@fraserhealth.ca.
For Ridge Meadows Hospital
I had a great experience in the emergency department at Ridge Meadows Hospital. Suzanna was working at registration and was putting stickers on the hospital bands for Christmas. I told her my son would be jealous of the stickers, so when I was getting checks done prior to admission she came back with a blank hospital band with a sticker to give my son. He loved it!
Also thank you to my emergency doctor and nurse, who were so great and helped me feel much better that day. They put me at ease and got me feeling better in time for Christmas.
Thank you for all that you do!
---
For Royal Columbian Hospital
I would like to give a huge high five to the emergency nurses Cassie and Annika, and Dr. Al-Mudaffer and Dr. Smith for their quick response upon our arrival. They provided excellent care to my son this past weekend. Thank you so much for everything!
---
For Surrey Memorial Hospital
I wanted to provide positive feedback about the level of service and care given to patients in the pediatric emergency wing. We were out of the children's emergency department in 45 minutes. It was amazing.
Thank you for working together to give us all such good care and attention. Keep it up!
Keep up the great job!
---
I wish to extend my thanks to all those who helped my brother recover from his surgery.