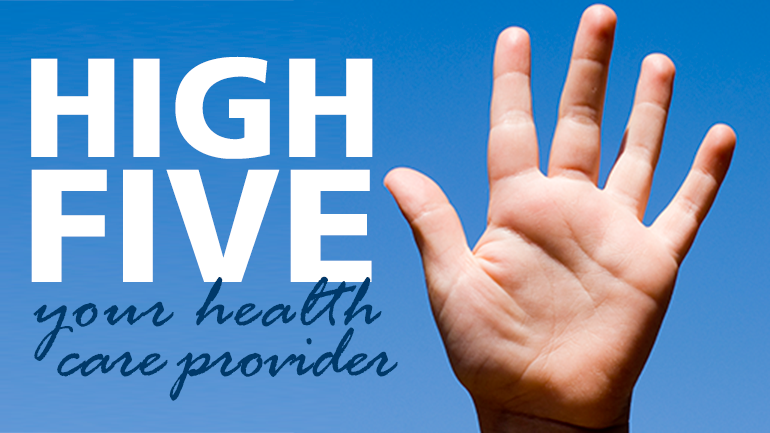 This week's high fives go to our amazing people at Abbotsford Regional Hospital and Cancer Centre, Royal Columbian Hospital and Creekside Withdrawal Management Centre.
Want to send a high five to your health care provider or Fraser Health team member? Leave a comment below or email feedback@fraserhealth.ca.
Abbotsford Regional Hospital and Cancer Centre
I was discharged from the hospital this morning and after processing the experience I must give my gratitude to all the staff who helped me especially the nurse and Dr. Landsiedel.
This was by far the best experience. The professionalism, tact and genuine nature of the staff was truly incredible. A nurse kept checking in and doing my vitals. I never felt like a bother, and that she really did want to help even at 5 a.m.
I also want to note how well the team worked together and were all so friendly to each other.
Kudos to the team, thank you so much.
---
I wish to draw your attention to the very kind, compassionate and competent care we have received from Jillian the social worker. Jillian was extremely helpful in assisting my brother with all his important documents necessary to put his affairs in order. We called upon Jillian to assist with a variety of tasks and she was completely reliable in every sense of the word. She was attentive to the details and I believe exceeded what we could reasonably expect.
He reports receiving excellent care from all the staff at Abbotsford Hospital and we thank everyone for their compassion and high level of medical efforts on his behalf.
On behalf of his family, we are grateful to Jillian.
---
Royal Columbian Hospital
I just wanted to commend the hard work and kindness given to my brother during his appointment in Medical Imaging. He was anxious prior to his appointment but through the amazing care that the technologists and student provided, he was able to get through it.
But above it all his wife and along with the family would like to thank Helen, Vanesa and Jael for giving that kind of care to allow him to push through his anxiety. They exemplified amazing patient care, which showed through the efforts of Helen and Vanesa in ensuring the proper environment for him, and the student who had calmed my brother down during a panic attack in the middle of the procedure.
This teamwork is exactly what we need during this time and is inspiring to know that Royal Columbian Hospital has such staff. The department should be very proud as they have made coming into a hospital feel safer.
---
For Creekside Withdrawal Management Centre
I was in your Creekside facility and just wanted to pass on thank you and say how impressed and grateful I am for your services, especially the staff. They were so patient, insightful, funny and caring.
A special shoutout to Kasandra who is in school getting her practical experience, I believe. She has something special in her future in this care. Her demeanour, connection, time, and humour were the best, and left me with a bright outlook upon leaving.
I hope I never have to be there again! However, if I do, I know you are all the best and probably do not hear it often enough.
Thank you.