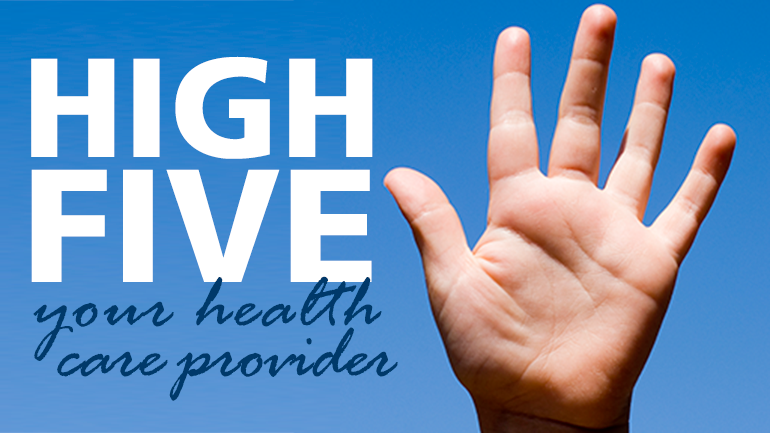 This week's high fives go to our amazing people at Chilliwack General Hospital, Eagle Ridge Hospital, Langley Memorial Hospital, Mental Health and Substance Use program and Royal Columbian Hospital.
Want to send a high five to your health care provider or Fraser Health team member? Leave a comment below or email feedback@fraserhealth.ca.
For Chilliwack General Hospital
I am writing this letter of appreciation for the staff at Chilliwack General Hospital. Yesterday I attended the hospital arriving just prior to 12:30 p.m. for day surgery on the second floor. From the moment I checked in to being permitted into the hospital, I was treated like absolute GOLD.
Every staff member I had from pre-admittance, to post-recovery treated me like I was their only patient. I wasn't anxious at all going into surgery due to the calm demeanor and care I had from the main nurse who supported me. As I was leaving, I thanked her and mentioned how her calm demeanor meant so much to me and how much I appreciated all of them taking such good care of me. Even in the surgical room the nurse rubbed my arm and told me they were going to take very good care of me.
It makes me teary writing this as it's a time in history where no one is allowed into hospital with a person undergoing surgery, and the staff filled the void with love, compassion and care. I kept thinking and watching the staff interact with other patients and with one another. This is what the media and people need to see.
My only regret was not getting everyone's names as I would have written them all thank you cards today. If you have any way to look up who cared for me and to extend this sincere appreciation, that would mean so much to me.
Thank you to you and your staff for all you do.
---
For Eagle Ridge Hospital
At this very moment, I am sitting in day surgery and I overhear a patient's concern. Not only did they take care of the problem, they took care of the patient! The nurses were all visibly touched by her pain and were genuinely concerned about her.
In a time when we must all distance, it is refreshing that people still care enough to make a difference
---
@goertz_ingrid: @Paulatics Same. My mom recovered from her stroke at Eagle Ridge Hospital in Coquitlam B.C. Amazing hospital and the hospitalist was always in touch and reachable. Great at connecting the dots and relaying them to family.
---
For Langley Memorial Hospital
I stayed at Langley Memorial Hospital.
A number of nurses were very good but one really stood out. Her name was Sue. She was attentive and showed genuine care. I think she should be recognized for being a great person and good at her job.
---
In the past week, I had two procedures at Langley Memorial Hospital.
I would like to commend the staff for their excellent patient care. I am a senior and was feeling anxious, particularly today. Their caring professional manner made me feel more at ease, making my experience positive. As well, I found all areas clean and it was obvious the teams working were creating a good environment.
Thank you.
---
For Royal Columbian Hospital
Dr. Shahzad S. Karim and his team saved my life on June 4, 2020. I underwent a seven-hour surgery at Royal Columbian Hospital to repair my damaged aorta. The surgery was called aortic dissection. He saved my life. I'm only 50 years old. Anyhow, I would appreciate it if you could communicate my gratitude to
Dr. Karim.
---
My daughter was brought to the Emergency Department of Royal Columbian Hospital as she struggles with serious illness. Even though it was a very difficult night for both of us, all the staff we were in contact with made us both feel cared about and safe.
The staff that night and the next morning might have thought they have not done anything extraordinary, but their simple open and caring attitudes made all the difference and we cannot thank them enough.
Please pass along my kudos!
---
For Fraser Health
---
Teagan Rylie is an RN at your facility, she has forever touched my life, and changed my life, she has such a peace about her and both a calm soul, I truly believe she is one of your best!!!
---
For Ridge-Meadows community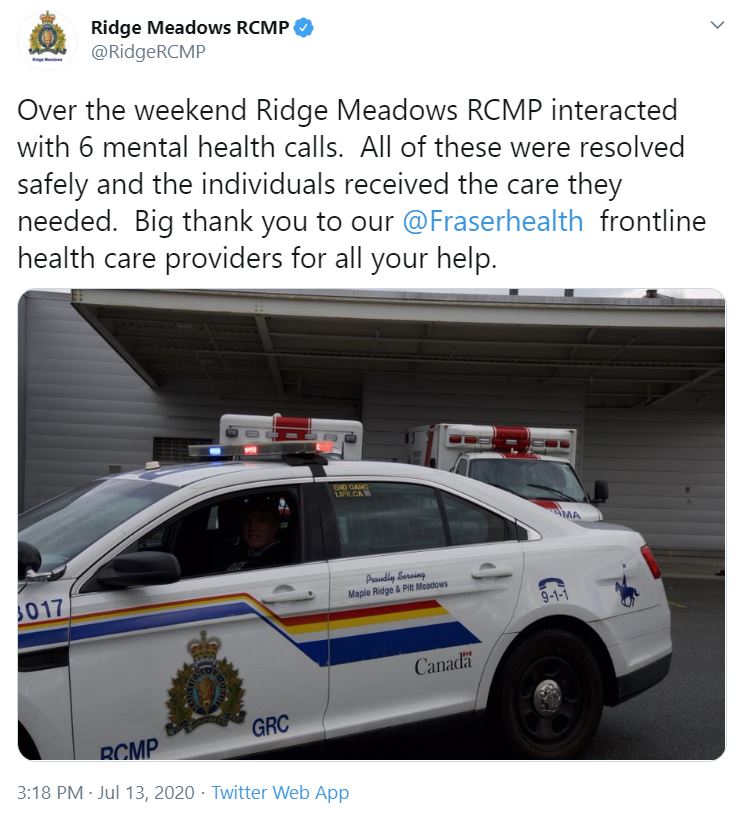 ---
For Mental Health and Substance Use program