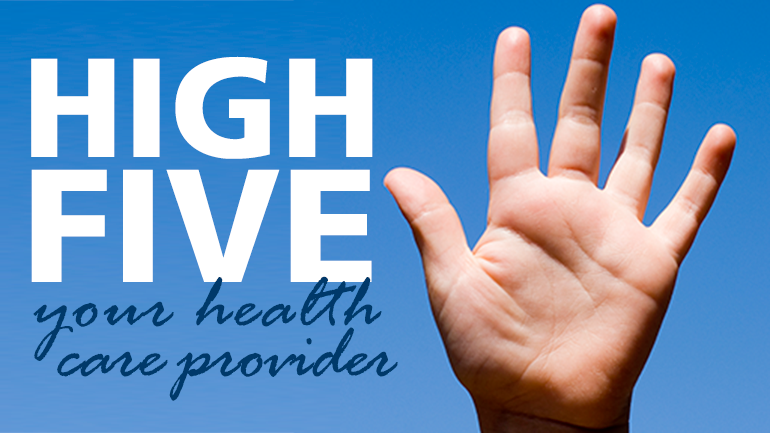 This week's high fives go to our exceptional employees throughout Fraser Health with a special mention to these locations: Maple Hill Extended Care Unit, Peace Arch, Eagle Ridge, Royal Columbian and Langley Memorial Hospitals.
Want to send a high five to your health care provider or Fraser Health team member? Leave a comment below or email feedback@fraserhealth.ca.
For Maple Hill Extended Care Unit, Langley
I would like to take this opportunity to convey my gratitude and appreciation for the team at Maple Hill Care Centre. My aunt was admitted. My cousin was notified that my aunt's time was limited and said we could come and say our goodbyes at her window.

My aunt was weak, but knew her family had come to visit. She used all of her energy to wave at us. My two children had made a poster for her, to express their love for her. The nurse took the poster and offered to hang it up on the wall -- that made their day! Thank you. That small gesture meant the world to my daughters, who spent hours making the poster.

We were able to read her messages from family in Ontario from the window and show her a video from another cousin living in Indonesia. I was amazed and grateful that your facility allowed my cousin, his wife and children to be with my aunt. As we live during this pandemic, it is unknown to the general public, what is permitted until you actually experience it. I am thankful and appreciative that my cousin was able and permitted to visit his mother every day since she was admitted to Maple Hill. Thank you. I am sure that her final days were bearable.

Words cannot express my appreciation and gratitude. Thank you a billion times. I am grateful I was able to say goodbye to my aunt during this pandemic -- even if from an open window. Know that what you do is valued.
---
For Peace Arch Hospital
I was incredibly impressed with the care my mom received, and so was she! It was very difficult for me to be unable to accompany her, but so many health care professionals stepped up to ensure that mom got amazing care and that I was always kept informed of any and all developments.

I would really like to thank Marie, the geriatric emergency nurse who phoned me within half an hour of mom arriving at Emergency and Dr. Shane, the hospital doctor who phoned me almost every day with updates.
Dr. Rahiminejad who also did his best to answer my million and one questions, and all the fourth floor nurses who looked after mom so expertly and carefully, especially Ellen, Elaine and Kelsey.

You are all very special people and I believe that you went above and beyond to provide my mom with fantastic care and to provide information and reassurance for her very worried daughter.

My mom and our whole family are so grateful for everything! Words really are not enough to express how we feel, but thank you so much.
---
For Eagle Ridge Hospital and Royal Columbian Hospital
I just wanted to thank the doctors and nurses I dealt with during a recent visit to the Emergency at Eagle Ridge Hospital. They were quick, professional and compassionate. When it turned out that I would have to go to Royal Columbian Hospital to see a surgeon, the team at Eagle Ridge Hospital contacted them and the doctors were expecting me. I received great care at Royal Columbian Hospital as well.

Thanks for all your efforts and stay safe.
---
For Fraser Health staff and medical staff
I just want say how much I admire the hard work of direct care workers and that their work is greatly appreciated.
---
For Langley Memorial Hospital
While in the pre-surgery daycare, I'd like to comment on two particular staff members whose approach to patient care was a game-changer. Being unable to bring a support person into the facility during COVID-19, I understand that the staff take on the emotional support role. I want to offer my appreciation and sincere thanks to two Fraser Health staff in particular.

Maureen got me settled and ready for the nursing staff. Maureen was kind, pleasant and personable. Her approach made me feel relaxed. I felt like she was authentic in her concern for my comfort.

The second staff member I would like to send my appreciation for was the nurse who took care of me, pre-surgery named Michelle. She spoke to me about my upcoming surgery and addressed my concern for being under anesthetic. Michelle was personable, competent and experienced and was able to hear my worries and respond in a way that reassured me that I was in good hands. She took the time to have a short but meaningful conversation with me, which made me feel like a person and not just some nameless patient in and out of this setting.

These both made my experience at Langley Memorial Hospital less scary and very manageable.