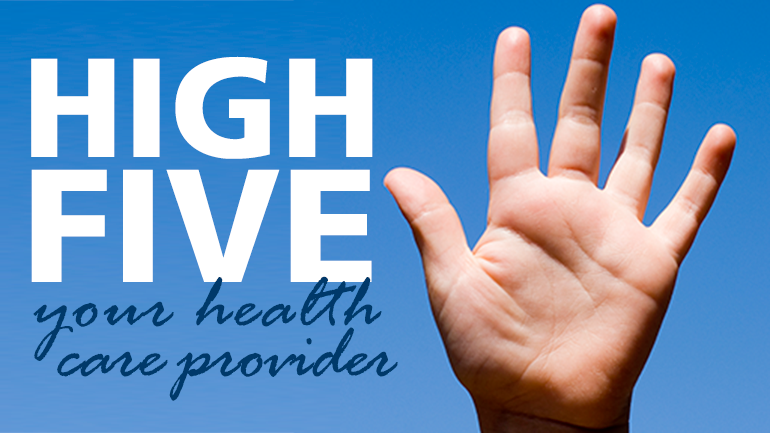 This week's high fives go to our exceptional employees throughout Fraser Health with a special mention to Chilliwack General, Royal Columbian, Eagle Ridge and Burnaby Hospitals.
Want to send a high five to your health care provider or Fraser Health team member? Leave a comment below or email feedback@fraserhealth.ca.
For Chilliwack General Hospital
Dear Chilliwack General Hospital staff,

My name is Bentley, [I'm] an 11 year-old who loves dinosaurs and art. I hope you enjoy this heartfelt letter for all of you, including the doctors, nurses and everyone else.

Thanks to your great effort, B.C. has been doing very well for the number of [COVID-19] cases. I have had worrying thoughts pop into my head that the world will end up very similar to your average landfill, like a post-apocalyptic planet. However, I know as a fact, that you guys are fantastic contributors to bringing the world back together. Your work helps settle my worries.

I thank all of you so very much; you all do incredible things. I thank you guys a lot for treating those infected with COVID-19. I want to thank the managers, as they are keeping everyone on track. I would also like to thank the janitors, receptionists and food workers; you guys are just amazing. You are holding all the other staff up, keeping them clean, organized and fed.
---
For Royal Columbian Hospital
Shout-out to the medical imaging X-ray team at Royal Columbian Hospital. They practiced excellent patient-centered care this morning and I was the happy recipient. I hope these three fine health care professionals train others, as they did an exceptional job. [They were] all amazing, thoughtful and caring. I really appreciated it.

I am a health mentor at UBC, teaching future health care professionals about patient-centred and collaborative care, as well as rare disease care, so I pay extra attention to how patients are treated when seeking care.

This team has demonstrated their mastery of these skills. They should be very proud.
---
For Eagle Ridge Hospital
Thanks to the Emergency staff at Eagle Ridge Hospital.

Everyone we dealt with, from the greeter and administration [staff] to the X-ray team and doctor, [they were] all friendly and professional. Thank you.
---
For Burnaby Hospital
I went to Burnaby Hospital last night and the staff were so kind, empathetic and comforting.

In particular, I would like to give compliments to the nurse who took care of me, Laurel, and to Dr. Armstrong. Both of you were amazing! Thank you for all that you do.