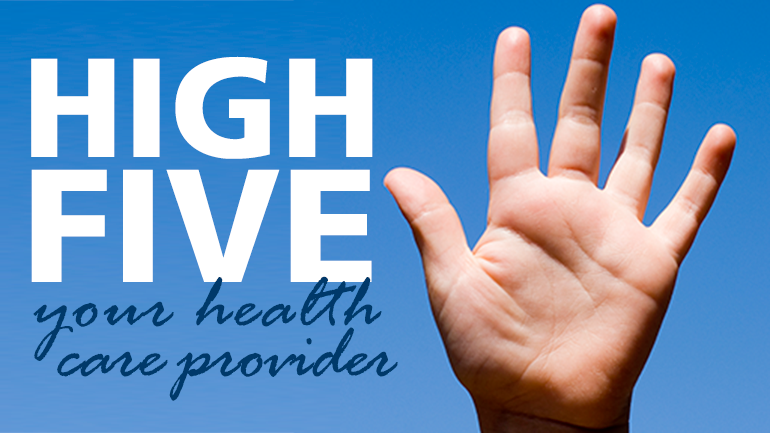 This week's kudos go to our wonderful employees at Burnaby, Surrey Memorial and Chilliwack General Hospitals.
Want to send a high five to your health care provider or Fraser Health team member? Leave a comment below or email feedback@fraserhealth.ca.
For Chilliwack General Hospital
I wanted to acknowledge the level of respect and care that Dr. Dhillon provided my client during her birth. I am a birth doula and work at hospitals all over the Lower Mainland. The level of respect for clients midwives, doulas, patient autonomy, informed consent and pleasant demeanour that Dr. Dhillon showed was amazing.

He came into the room with a smile and acknowledged my client, the midwife and myself. He was concerned for my client's privacy when other people were entering the room, and intervened only to a point and then handed care back to the midwife. Dr.Dhillon asked for consent from my client every step of the way. I hope that Dr. Dhillon will be teaching and training new residents as well as other obstetricians in the community.
---
For Surrey Memorial Hospital
My dad was taken by ambulance to Surrey Memorial Hospital and my mom found the paramedics, Dan and Kent, exemplary in their care. They talked to my dad through the transfer to the hospital and kept him in good spirits. The Emergency physician, Dr. Dyck, was very attentive and respectful, although it was clear he had a lot on his plate. Dr. Choong, the geriatric psychiatrist, was fantastic in the way he interacted with my dad and talked directly to him. His approach was compassionate and thorough.

My overall impression from this visit was extremely positive. The level of care and professionalism was excellent. I would ask that someone convey my sentiments to each of the above named individuals because it made a lasting impression on myself as well as both of my parents.
---
I was admitted to Surrey Memorial Hospital. I had the best of care from each person that attended me. I found the level of care professional and the food was excellent. The doctors were very good as well explaining to me what I did not understand.

Thank you for the wonderful care. The only thing that you can do now is to keep up the good work.
---
For Burnaby Hospital
My husband underwent a biopsy in the Medical Imaging Department with a wonderful Dr. Wong and a capable team. Understandably, my husband was apprehensive, but he was put at ease. Everyone was warm, supportive, and genuinely concerned for his well-being. They spent time explaining the procedure and what he should expect after. They did their best to help with his recovery by providing him a private space.

Please convey to Dr. Wong and everyone involved a sincere and hearty thanks!
---