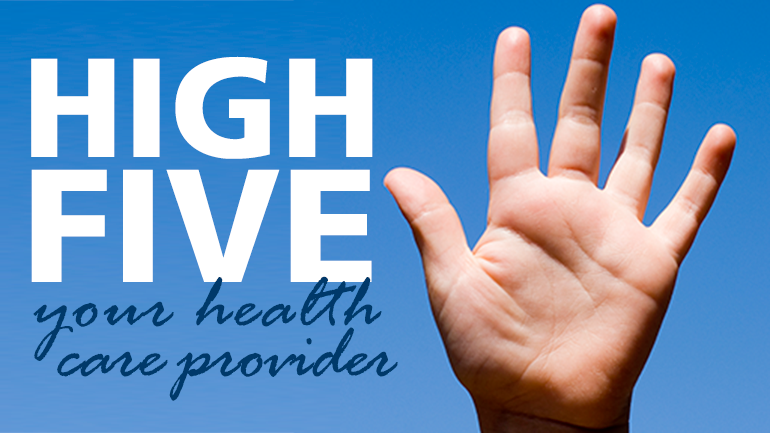 This week's high fives go to our exceptional employees at Eagle Ridge Hospital, Fraser Canyon Hospital, Royal Columbian Hospital, Surrey Memorial Hospital and Surrey Urgent and Primary Care Centre, as well as our staff at Baillie House, Long-term Care Home.
Want to send a high five to your health care provider or Fraser Health team member? Leave a comment below or email feedback@fraserhealth.ca.
For Baillie House, Long-term Care Home
High five to our outstanding social worker at Baillie House who goes above and beyond to make sure our residents and their families are well informed and cared for. She is also there for the staff whenever they need something to talk to. Deborah is always welcoming with a smile on her face! Thanks for your hard work.
---
For Eagle Ridge Hospital
I want to say that your team in emergency, and that extends to those that provide other administrative and ambulatory services such as lab, CT radiology services, ECG services, housekeeping services and portering, were exceptional!
You have a team of people who are genuinely kind, professional, ready to go the extra mile for their patients and [who are] tolerant. Your team shows resilience, respect, kindness, patience, teamwork and support for one another. It was a breath of fresh air to watch.
I want to extend my immense gratitude to Dr. Gall, Dr. Lith and the young doctor that diagnosed me. These three gentlemen are exceptional.
Further, my immense gratitude extends to nurses Ella and Julie who are the epitome of nursing professionalism, dedication and kindness. To Debra from housekeeping who was on top of her work, and every other doctor, nurse, lab technician and radiology technician who worked those long, busy days and demonstrated those qualities repeatedly, I want to say THANK YOU! You are an extraordinary team, and we are a very lucky community to have such dedicated medical professionals.
Rock star performances.
---
For Fraser Canyon Hospital
My nephew was very grateful to be treated kindly. He hates hospitals and is terrified of needles, but felt very comfortable with the doctor and the staff. We have never had any doctor spend so much time explaining flus, colds and infections. Very much appreciated and wanted to thank you all, so much.
May the Great Spirit watch over you always!
---
For Royal Columbian Hospital
Dr. Hannah Malcrides was terrific with our son. She was beyond expectations. We appreciate her work and the fantastic way she handles our questions and needs.
A big thank you.
---
For Surrey Memorial Hospital
Brought my daughter in for a very high fever. I was very happy with the level of care from all the nurses on duty, especially Lisa. She took such amazing care and was so sweet with my 5 year old daughter. Even my daughter commented to me on how nice Lisa was.
Thank you!
---
I was in emergency Wednesday night supporting my sister and her fiancé who was a patient in need of some help. It was in incredibly scary time for him and my sister and your night shift team was exceptionally caring, patient, and informative and put them at ease.
I have been thinking of the words to express how powerful and effective your expertise and behaviour was that impacted them both in such a positive way. It was a busy night in your unit and this was their first experience that could have gone many different ways. In the end he felt like whatever happened in your unit kick-started his healing journey. He has had two positive days and is no longer in the state he was in. He left with a plan and will see someone next Saturday.
They faced a high-risk of a different outcome that day leading up to coming in to get help. You saved Adam's life and brought great relief to his spirit and his loved ones. There are no words greater than 'thank you' that I can find!
We are so grateful for this experience, your team and this resource.
---
For Surrey Urgent and Primary Care Clinic
I would like to commend Fraser Health for a very helpful program that I recently attended.
I need to acknowledge the facilitators who were truly amazing.
Matt, Karen, Ann, Sue and Jenn were knowledgeable and very patient with us. The program started in late November and finished in February. I highly recommend this for anyone who suffers with chronic pain. Though it is not a cure for pain, it does help you cope with this crippling disability. I hope that you will take a moment to let these wonderful people know that they did a great job. They were very comfortable providing the program and in working together as a team.