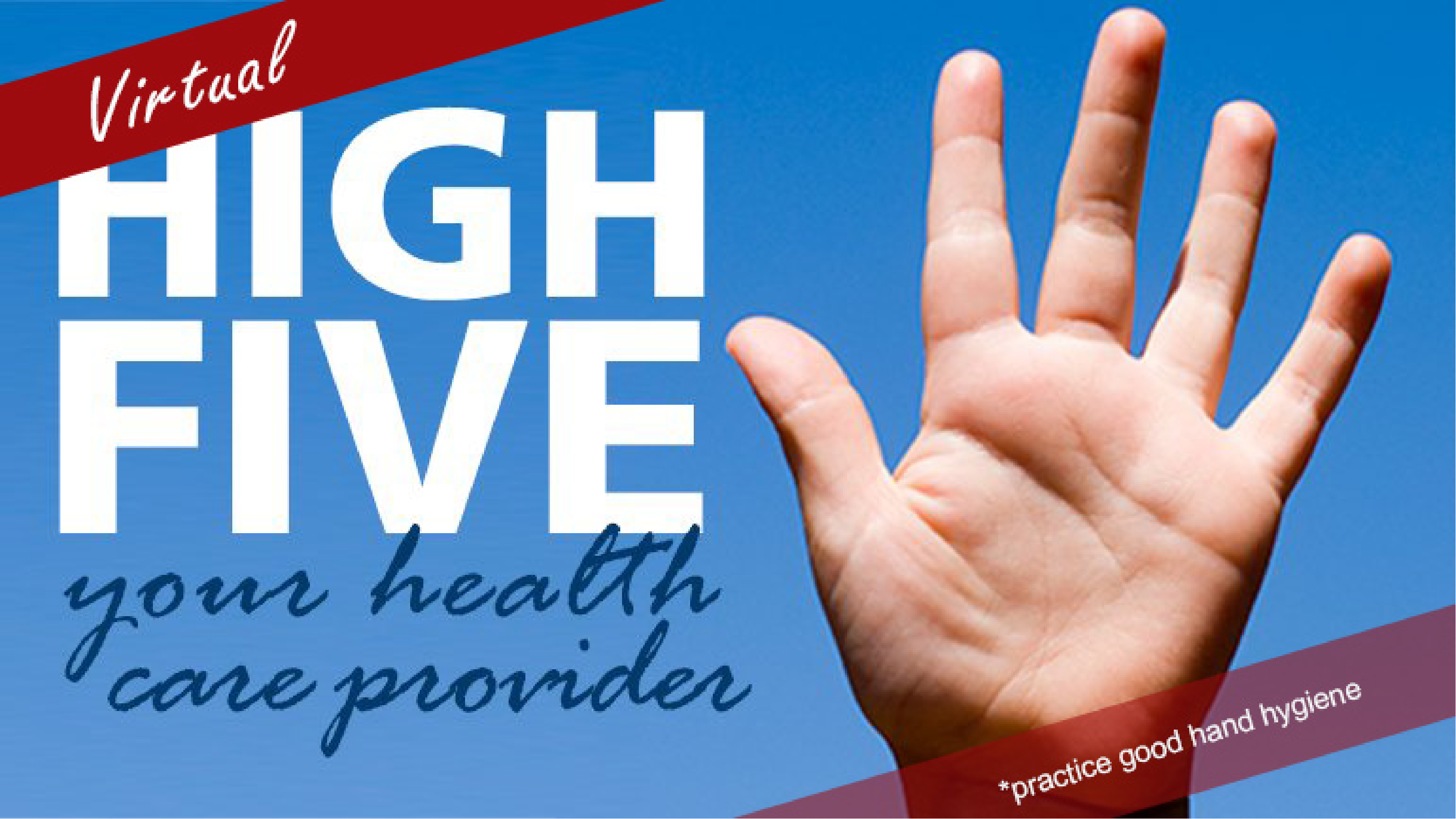 This week's high fives go to our amazing people at Abbotsford Regional Hospital, Ridge Meadows Hospital, Burnaby Hospital, South Delta Home Health, Surrey Memorial Hospital and Royal Columbian Hospital.
Want to send a high five to your health care provider or Fraser Health team member? Leave a comment below or email feedback@fraserhealth.ca.
For Abbotsford Regional Hospital
I took my 11-month-old son to the Emergency at Abbotsford Regional Hospital. I want to thank everyone. I saw how busy it was and how hard the staff was working. We got amazing care and help. Thanks to the triage nurse who even found me a phone charger to keep my husband in-the-loop, Dr. Dhillon, the pediatrics nurse, the pediatrician and his resident, the lab ladies, x-ray tech and the porter. Everyone was so professional, thorough and super kind in a stressful time! I know we do not always hear the positive, but I wanted to thank you.
---
For Ridge Meadows Hospital
I wanted to send along my appreciation to the staff who look after the wayfinding desk. I have been at the hospital every day since my son was admitted and the wayfinding staff, especially Martha, are amazing. They deal with what I have to assume are challenging situations for the people they assist. I know they have been extremely kind and helpful to me.
---
Kudos to Ridge Meadows Hospital; even in all that is going on, the doctors, nurses and the paramedics make life easier.
Had an incident last night where our family doctor told us to call ambulance service to take my husband to hospital. Of course, it was a moment of fear made easy by the paramedics on duty. The times I had to come to Ridge Meadows Hospital have always been pleasant. Thank you all.
I know how hard it is at this time. My husband is home now and singing Ridge Meadows Hospital praises.
---
For Burnaby Hospital
I am so pleased with the pain reduction I have experienced at the Burnaby Hospital Optimization Clinic with Dr. Andrew Yu. I was seen at Royal Columbian Hospital Emergency and from there referred to Dr. Yu's Pain Clinic. The results are wonderful and the excruciating pain is gone. My ability to walk unaided for short distance has returned. From where I was, to where I am now, is a miracle. I have my life back. Thank you to all the staff.
---
I need to say the nurses are good. Dr. Roland in the Emergency Section 3 at Burnaby Hospital was beyond outstanding. She listened to me, and I started to get better right away. I just want to make sure she gets credit, and an amazing thank you.
---
For Royal Columbian Hospital
I wanted to share feedback about my experience at Royal Columbian Hospital last night. The care I received was outstanding. The speed at which the team worked was phenomenal. They all introduced themselves to me, remembered my name and referred to me. They showed empathy, support, and care. They kept me updated on what is going on, asking me for many details, kept checking in with me. At the same time, they were training new residents. Everyone worked so well together. It was a high-functioning, well-oiled machine. They challenged one another, they answered questions, and they supported and cheered. All that while being very respectful to one another. From start to finish, which ended with a follow-up from Dr. Mitchell. Too bad I wasn't able to give them all a group hug. I know how hard they work, and sometimes it probably feels like there is not much gratitude, but there certainly is. They are a great team. Keep up the great work!
---
For Surrey Memorial Hospital
I just wanted to send a massive thank you to Dr. Mui and the entire nursing team in the Birthing Unit at Surrey Memorial Hospital. I was hoping to directly thank Dr. Mui myself after he helped deliver our first child.
From the moment we met him, I was very impressed with his professionalism, demeanour and calmness, despite being a young doctor. I thank him, and the entire nursing staff from the bottom of my heart and I feel blessed having this amazing team in our community.
Once again, thank you.
---
"Thank you to the hospital that took great care of me. They made me feel better and they gave me a popsicle and it made me very happy!"
I wanted to send his thanks to the amazing staff in the pediatric ward. Thank you guys, he's no longer scared of doctors!
---
For South Delta Home Health
I would like to extend belated thanks to Fraser Health for the wonderful care I received last spring from the home visiting nurses.
I had a wound, which they looked after, and they were all very thorough and considerate.