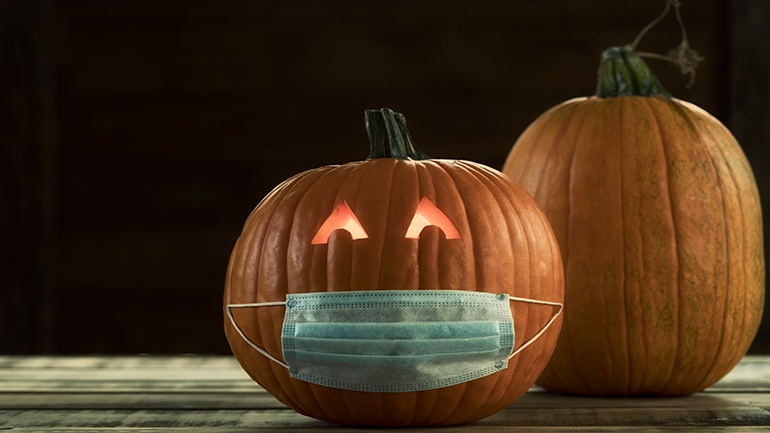 COVID-19 need not stop us from having a spooktacular Hallowe'en this year, but we need to use our COVID sense to do it a little differently.
First and foremost, to ensure a safe Hallowe'en this year skip the parties. From what we are seeing, even small gatherings can be risky right now. Instead, spend Hallowe'en with the people in household. Watch your favourite Hallowe'en movie, carve jack-o-lanterns, roast pumpkin seeds, or come up with your own fun ways to celebrate the spookiest day of the year. At this crucial time, we are asking people who reside in the Fraser Health region to take a pause and reconsider our social interactions outside of our households.
Ensure your safe six are always the same six. As much as possible, socialize with people outside of your home, such as public outdoor spaces like parks or licensed COVID-19-safe businesses. If you need to bring someone into your home, please ensure that they are part of your safe six, the same six – and that you are able to visit in a COVID-safe way.
Trick-or-treating is ok with a few precautions. Please keep to your local neighbourhood, and avoid busy and indoor areas (like malls) since there may not be enough space to distance. Keep hand sanitizer with you. When you get home, you don't need to clean every treat, but make sure you wash your hands.
If you are handing out treats to little ghosts and ghouls, get creative in ensuring everyone keeps a safe distance. If possible, stand outside your door or at the bottom of your stairs to hand out treats so kids won't need to touch the door or doorbell.
And remember, turn off your porch light and stay at home if you are sick or self-isolating.
For more tips on how to celebrate Hallowe'en safely this year, check out the BC Centre for Disease Control's guide on Hallowe'en.