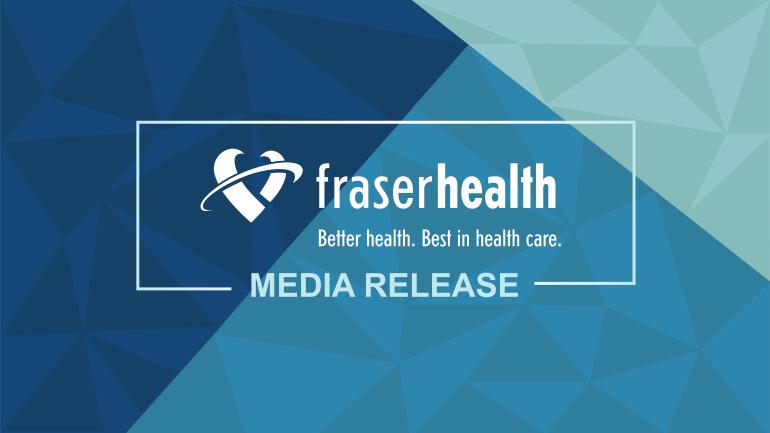 Newcomers to Canada living in New Westminster and surrounding communities will soon have more access to primary health care through expanded services at the Umbrella Multicultural Health Co-op Community Health Centre.
Community health centres are tailored to meet the health needs of the communities they support. The Umbrella Multicultural Health Co-op Community Health Centre is managed by the Umbrella Co-op, a non-profit organization that services a specialized population of immigrants, refugees and asylum seekers. Fraser Health, among other partners, supported Umbrella Co-op with planning for the newly expanded centre as part of the Province's overall primary care strategy.
"Our primary care strategy provides increased and improved access to everyday health care to people throughout the province, like those living in New Westminster," said Adrian Dix, Minister of Health. "We've listened to the people experiencing difficulties in accessing primary care, and we are enhancing services in Umbrella Co-op as part of our primary care strategy, making sure that no one is left behind."
Located at 715 Carnarvon St., Umbrella Co-op has 4.74 full-time equivalent (FTE) health-care providers. This includes general practitioners and cross-cultural health brokers who provide primary health care for approximately 400 patients every year. Cross-cultural health brokers are the first point of contact for patients who need to access services, but require some support to do so. They provide language interpretation, bridge cultural gaps between physicians and patients, help patients navigate the health-care system and support patients to access social services and programs that address social determinants of health, including housing, poverty, language barriers, social isolation and food security.
As part of B.C.'s primary care strategy, Umbrella Co-op will partner with Fraser Health to recruit 4.86 FTE additional health professionals over the next three years, including nurse practitioners, registered nurses, a social worker, a counsellor, a physiotherapist, a clinical lead and an additional 4.67 FTE cross-cultural health brokers. These new hires will support Umbrella Co-op to provide team-based, comprehensive longitudinal primary care, as well as increase existing health services that respect the diversity of culture and language in the community.
Once fully staffed, the centre will also provide services such as longitudinal care, physiotherapy, clinical counselling and a social determinants of health program. In addition, the existing mobile clinic service supporting Spanish-speaking migrant farm workers in the Fraser Valley will expand to travel once per week to isolated communities.
The team of health-care providers is expected to provide more than 25,000 patient visits per year and will work to attach more than 1,800 patients to a consistent primary care provider at the centre or in the community.
"We know immigrants and newcomers in New Westminster and across the Lower Mainland do not have access to consistent everyday health care in a culturally appropriate way," said Judy Darcy, MLA for New Westminster and Minister of Mental Health and Addictions. "That's why I am proud that our government is making a difference in minority communities by bringing Umbrella Co-op into B.C.'s primary care strategy. Thanks to new supports from the Province, more people experiencing language and cultural barriers will receive the care they need."
The additional supports will be implemented starting in December 2020. By next year, the community health centre will operate seven days a week, serving patients with extended hours and more access.
To support the improvements of the Umbrella Co-op Community Health Centre, the Province will provide annual funding of $1.66 million when fully established, as well as $271,000 of one-time funding.
Umbrella Co-op is the third Community Health Centre in B.C. to be announced as part of the Province's primary care strategy and the second one in Metro Vancouver. In June 2020, RISE Community Health Centre opened its main location in Vancouver.
---
Quotes:
Dr. Victoria Lee, president and CEO, Fraser Health –
"The Umbrella Multicultural Health Co-op Community Health Centre plays an integral role in community-based services in New Westminster, as they provide integrated, people-centred care that reflects the broader determinants of care. The clinic plays an invaluable role in our community in ensuring newcomers and other vulnerable populations have comprehensive supports needed to stay well and to manage their health concerns."
Esther Hsieh, executive director, Umbrella Multicultural Health Co-op –
"Umbrella Co-op is thrilled that the Ministry of Health supports the community health centre model and recognizes how our organization enhances health equity for racialized ethnocultural communities. We look forward to working with all of our partners, stakeholders and community members to expand our services to better meet the needs of people facing language and cultural barriers in New Westminster and its surrounding areas."
Quick Facts:
Umbrella Multicultural Health Co-op Community Health Centre will be a key clinical service model within the Fraser Northwest, Burnaby and future primary care networks. Together with local primary care networks and communities, the centre will work towards providing accessible, timely, comprehensive and co-ordinated primary health care services for newcomers to Canada located in New Westminster and the surrounding areas.
Umbrella Multicultural Health Co-op is a registered charity and is supported through project revenues, private donations and grants. It was incorporated in 2010 and was founded with the administrative support of the BC Multicultural Services Society, an organization dedicated to promoting access to health care and health equity for immigrants and refugees.
There are approximately 100 health authority-run community health centres and 30 community-governed community health centres in British Columbia.
These centres focus on integrating services and programs in primary care, health promotion and community well-being. They also work to address social determinants of health by linking with other social-sector agencies and services.
Learn More:

To learn more about the Province's primary health-care strategy: https://news.gov.bc.ca/releases/2018PREM0034-001010

To learn more about the Province's strategy to increase the number of nurse practitioners, visit: https://news.gov.bc.ca/releases/2018HLTH0034-000995

To learn more about the Province's strategy to recruit and retain more family medicine graduates, visit: https://news.gov.bc.ca/releases/2018HLTH0052-001043

To learn more about Umbrella Multicultural Health Co-op, visit: https://umbrellacoop.ca/
For media inquiries, please contact:
media@fraserhealth.ca