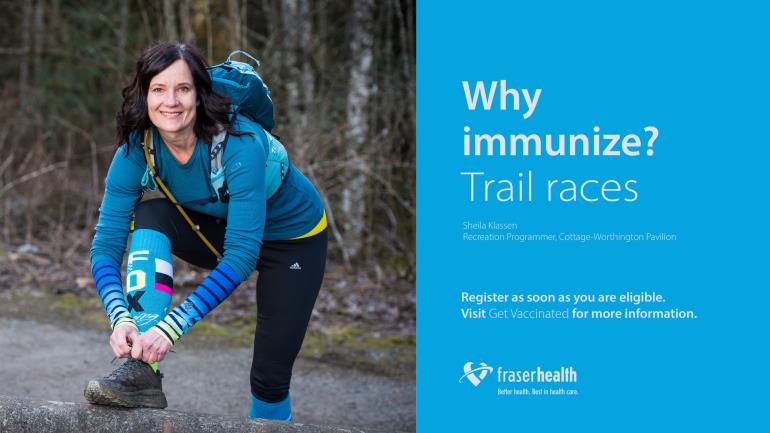 "I have lots of goals I would like to accomplish. I don't want to be stuck anymore."
"I work in a residential care setting and my mom is also in care. I have a tremendous love and responsibility for our seniors and my mom. I value their quality of life, especially during the years they live in a care home. They deserve to be surrounded by family and loved ones during this final stage of their life. It is heartbreaking to see them isolated. Families find it extremely difficult to see their loved ones declining through a window, Zoom or FaceTime. Families simply want to spend time with their loved ones and bring them comfort.
"I feel certain that it is my responsibility to do anything I can to bring them closer together, to enable that comfort. Everyone is wishing time away when we should be relishing it.
"Receiving the vaccine will enable togetherness. If we can come together as a society and combat COVID-19, we can provide our seniors with a sense of family again.
"I have always felt that I want to do the best I can. I value myself, my well-being and the health of the people around me. I am willing to protect others and myself by being immunized.
"I am a very active, adventurous person. I do trail races and ultra running, go backpacking and hiking. This involves travel and being around people, so I cannot wait to get out there and be involved in races again and see my friends. I have lots of goals I would like to accomplish. I don't want to be stuck anymore. I don't want to be missing out on the things that are important to me. I am really ready to start living again. We all have our list of losses. I'm ready for some gains.
"I actually had zero concerns regarding the vaccine. I just knew I wanted to get it. I felt comfortable and I trust the process. I trust that coming together and receiving our vaccine is better for the community, especially our vulnerable seniors.
"It was International Women's Day on March 8th and the theme for this year was 'Choose to Challenge'. There is no change without challenge. So I challenge you to receive your vaccine and help us be another step closer to living our life instead of missing it."
Why vaccinate? We all have our reasons.
Get registered so we can get back to the things we love soon.
Learn more at Get Vaccinated.