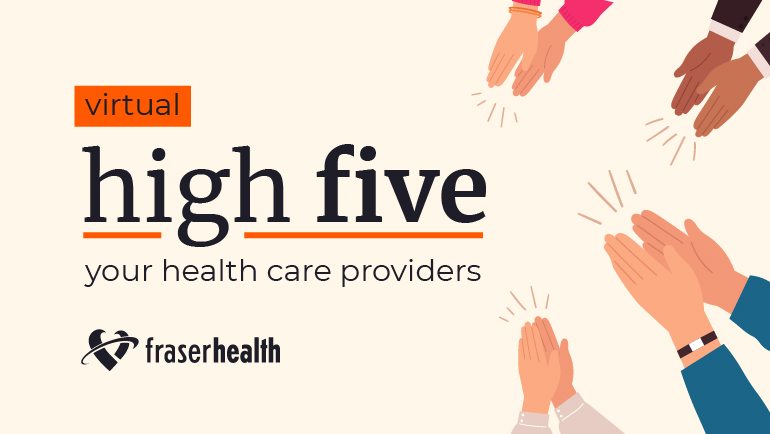 This week's high fives go to our amazing people at Delta Hospital, Jim Pattison Outpatient Care and Surgery Centre, Chilliwack General Hospital, and Surrey Memorial Hospital.
Want to send a high five to your health care provider or Fraser Health team member? Leave a comment below or send us your story here.
---
For Delta Hospital
I was a patient for day surgery. The whole experience left me with a tremendous amount of pride in our hospital and I'm very grateful to everyone I encountered. The day surgery staff were friendly and very professional - I can't thank you enough. I was quite nervous about undergoing the procedure but was made to feel comfortable and safe. Thank you again so much.
---
For Jim Pattison Outpatient Care and Surgery Centre
My doctor… and the two nurses who took care of me (at Jim Pattison Outpatient Care and Surgery Centre) were great. There was one nurse in the room during the procedure and another that helped me with tests. They were nice, patient, understanding and caring. They explained why they were doing things as well as the next steps. I just wanted to say that I felt really comfortable. Staff, keep up the good work.
---
I came in for a procedure. The whole process was very well organized. All the staff were super helpful and friendly but nurse Julie was on another level. She was outgoing, knowledgeable and put patients at ease with everything. Well done.
---
For Chilliwack General Hospital
Hi, I would like to compliment Danielle, licensed practical nurse, on her courteous and professional manner. She seemed to be one step ahead of doing her job. She had patience and was extremely helpful in answering any questions or finding the answers to my questions. You have a wonderful employee; she is definitely a keeper. She deserves to be recognized. Kudos to you, Danielle!
---
For Surrey Memorial Hospital
Thank you. Tears of gratitude stain this email. I am embarrassed and amazed with my experience. Embarrassed because mine was a self-inflicted injury caused by stupidity. Amazed at the passionate compassion of the Emergency Department staff despite the 'rain' of random concerns. Is that passionate compassion available as a prescription or over the counter?
---
I retired from the operating room. I want to send along a big thank you to the HR retirement staff. They were so helpful and knowledgeable every step of the retirement process. I felt confident with their direction and follow-up. Congratulations to the retirement staff for their wonderful friendly help.