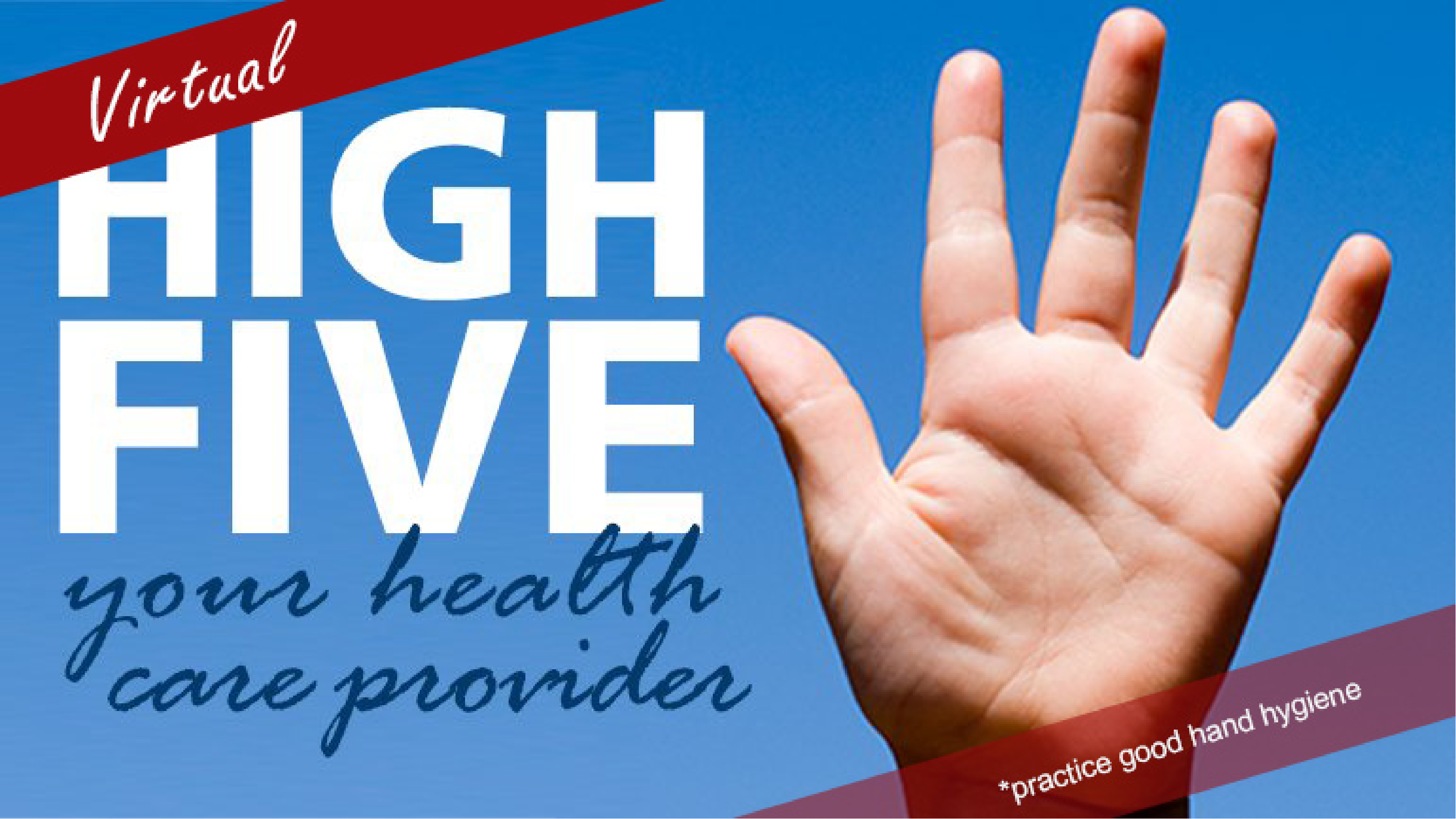 This week's high fives go to our amazing people at Abbotsford Regional Hospital, Eagle Ridge Hospital, Ridge Meadows Hospital, Royal Columbian Hospital & New Westminster Public Health Unit, Royal Columbian Hospital, Surrey Memorial Hospital, Mission Memorial Hospital, and Burnaby Hospital.
Want to send a high five to your health care provider or Fraser Health team member? Leave a comment below or send us your story here.
For Abbotsford Regional Hospital
A big thank you to the whole team who cared for me through my radical prostatectomy, including the pre-surgery intake nurse, Dr. Neville's team in the operating room, and the post-operative team. And, finally, the wonderful nurses on Baker 3 -- Shelly, Daniel, Kerre, Katrina and Melody -- with a special thanks to Chelsea and Hannah. What a great team!
---
For Eagle Ridge Hospital
I visited diagnostic cardiology today and due to COVID protocols, I needed to enter the hospital through the Emergency Department entrance to get to the main registration desk. I am a nervous person in terms of visiting hospitals. However, the people at registration helped me and welcomed me to the hospital. They were absolutely exceptional and very positive. I am very pleased and impressed with the hospital staff. Thank you so much all.
---
For Ridge Meadows Hospital
I was in the Intensive Care Unit of Ridge Meadows Hospital. The nursing care was excellent and, without exception, the staff were kind, compassionate, friendly, and always willing to go the extra mile. I spent one night in 2 West before being discharged and I had a similar experience there. The food was also tasty. Grateful thanks!
---
For Abbotsford Regional Hospital
I brought my 14 month daughter in to Emergency and I'm 30-weeks pregnant. I was very nervous coming in. Rosey and another nurse were beyond amazing. They were both so professional, caring, empathetic, compassionate, and made me feel like I was being heard. I came in last year and Rosey was our nurse that night as well. We had the same positive experience.
---
For Royal Columbian Hospital
I could not believe the service I was provided with, and the wonderful people who looked after me. They treated me like a queen and took care of my every need. I take my hat off to all the staff and thank them a million times over for how comfortable they made me feel and the excellent job they did.
---
New Westminster Public Heath Unit
We took our son for his 18-month immunizations and, given the current times, we were definitely nervous. Gurdeep was our nurse and I cannot say enough positive things about her. She was compassionate, caring, and down to earth. My son was even rewarded with baby shark stickers!
Gurdeep, thank you so much for your help and kind heart during our visit. You are truly the best. I wanted to say thank you to both these locations as we experienced nothing but caring, companionate staff.
---
For Royal Columbian Hospital
Just want to give a big thank you to all the friendly staff that guided me through my recent procedure. I wanted to recognize their excellent work that made my procedure a pleasure. I am truly thankful to them. Thank you.
---
For Surrey Memorial Hospital
I went for my first COVID-19 vaccine at Surrey Memorial Hospital and was so impressed with the organization and the efficiency of the clinic. Everyone was so compassionate and so patient, particularly in light of all of us asking the same questions over and over. I think they did an amazing job! Thank you.
---
For Mission Memorial Hospital
I ended up in the Emergency Department with some minor, but painful, burns. The nurses treating me were fantastic and the sense of humor of the whole team made my visit great. Thanks!
---
For Burnaby Hospital
With the COVID-19 outbreak at Burnaby Hospital, I was very concerned stepping foot through the doors. But Dr. Lee and Dr. Bhui -- and all of their staff on the fourth floor and check in -- were awesome! Thank you to all.