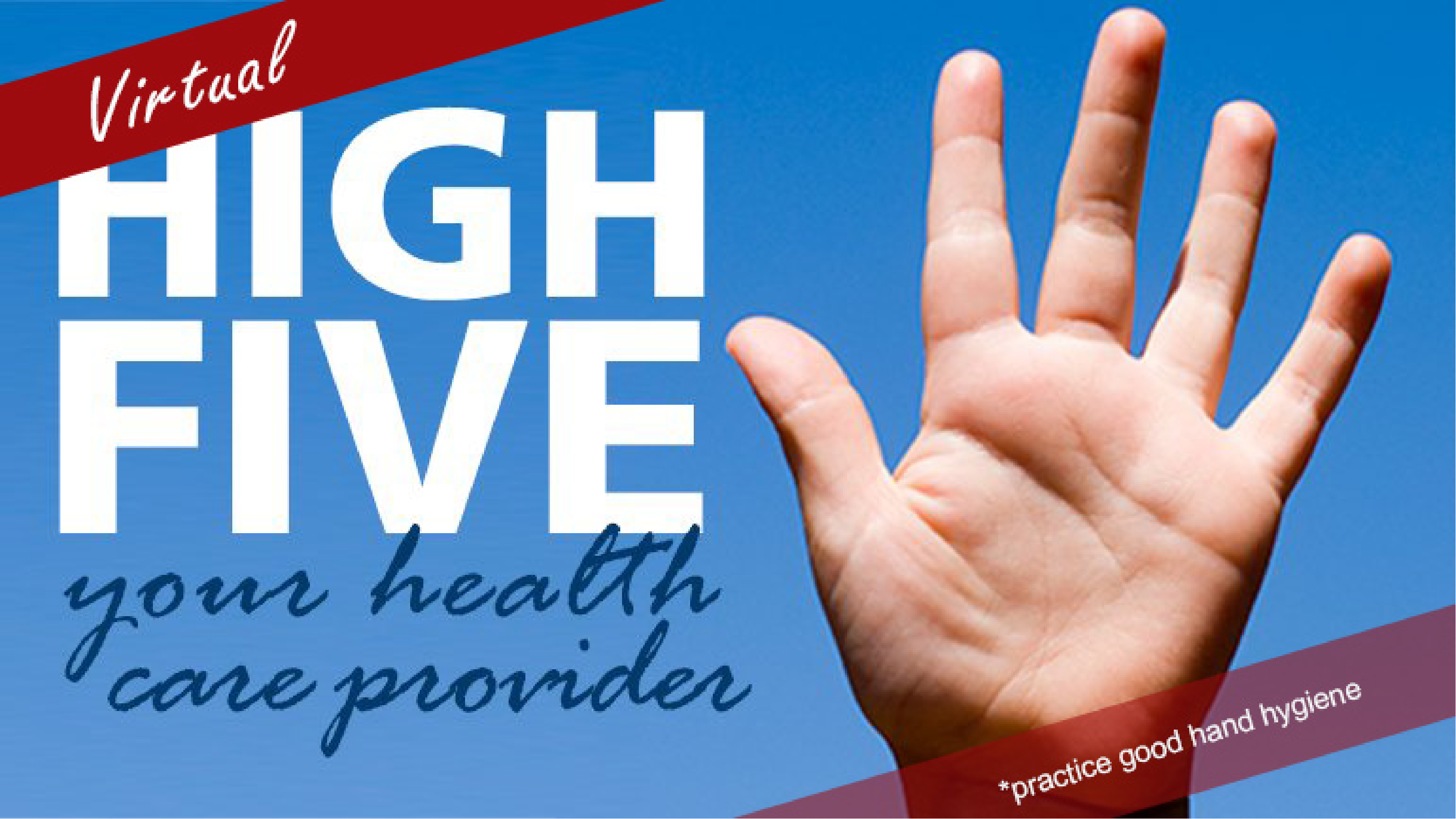 This week's high fives go to our amazing people at Abbotsford General Hospital, Langley Memorial Hospital, Ridge Meadows Hospital and Royal Columbian Hospital.
Want to send a high five to your health care provider or Fraser Health team member? Leave a comment below or send us your story here.
For Abbotsford General Hospital
I had a procedure done recently in Daycare and I wanted to thank the staff for their excellent work!
Everyone was positive, helpful and efficient. From the phone staff, registration, nurses and doctor - a very good experience!
---
For Abbotsford General Hospital
I would like to compliment the Emergency Department unit clerk, Shannon for her kind acceptance of my referral of a patient to her department Jan 1, 2021. She put me onto a physician in the department and after a short discussion, it was decided that even though it was not likely to be a serious event, the patient should be seen. I subsequently sent my notes to Ms. Shannon via email. Luckily, there was nothing significant and the patient returned home that evening. Thank you to all involved in this seamless, quality care. I will send this comment to Shannon, as well.
---
For Langley Hospital
I was admitted to Langley Memorial on the night of January 9th and discharged this morning on January 11th. I had appendicitis and was given a laparoscopic appendectomy. I just wanted to thank all the members who helped me. My ER doctor was amazing, I can't remember his name, but he was tall and had an accent (I think New Zealand?) and was so helpful and supportive.
The girl who did my ultrasound was named Lillian, and she was so kind and awesome as well. My nurse Sydney was amazing - she made me feel so safe and taken care of, especially since I had to wait a while for surgery and was in a lot of pain. All the nurses on that floor and my surgeon, Dr. Lord, were amazing. Also, the anesthesiologist Dr. Dmitri was so kind and cool and made me feel a lot calmer about being put under. My experience, although obviously painful and not something I would have chosen, was made so much better by my team, and I'm really grateful for it. Please let everyone know how appreciative I am.
---
For Ridge Meadows Hospital
I was dropping off a care package to my husband, who is in the psychiatric ward here, and with the rain and traffic it took me an hour to make the drive from Vancouver after finishing work and getting my son to a sitter. My husband is a critical level 1 suicide risk and today was the first day he was deemed safe to have "clothing privileges" which is a huge deal.
There was a young greeter at the door, with short black hair with the initials SB who was kind enough to take the care package and get it to him even though it was 6:50 p.m., and they were all ready to lock up for the night. I am sad I didn't get her name, but I hope that is enough for you to know who I am referring to.
It made a huge difference to our day as a family, and we are so grateful for her compassion and kindness. I did my best to thank her but as I sit here writing this I am in tears, so grateful that after this very hard time she went above and beyond to help a stranger.
---
For Royal Columbian Hospital
I was admitted for Vascular Surgery in January. I have to say that from my interaction with patient registration to my prep session for surgery to the anesthetist and the surgeon, to the recovery room nurse and the nurses in the ward over my two days and overnight, I have to compliment your staff for the professional and compassionate manner with which they treated me, and the others in this 4 bed unit.
Royal Columbian with surgeon Dr. J. Dunn, Nurse Practitioner Wendy, and Dr. Bowles of the Vascular Department I must say a very competent and compassionate staff of nurses for the two days and night I was in their care.