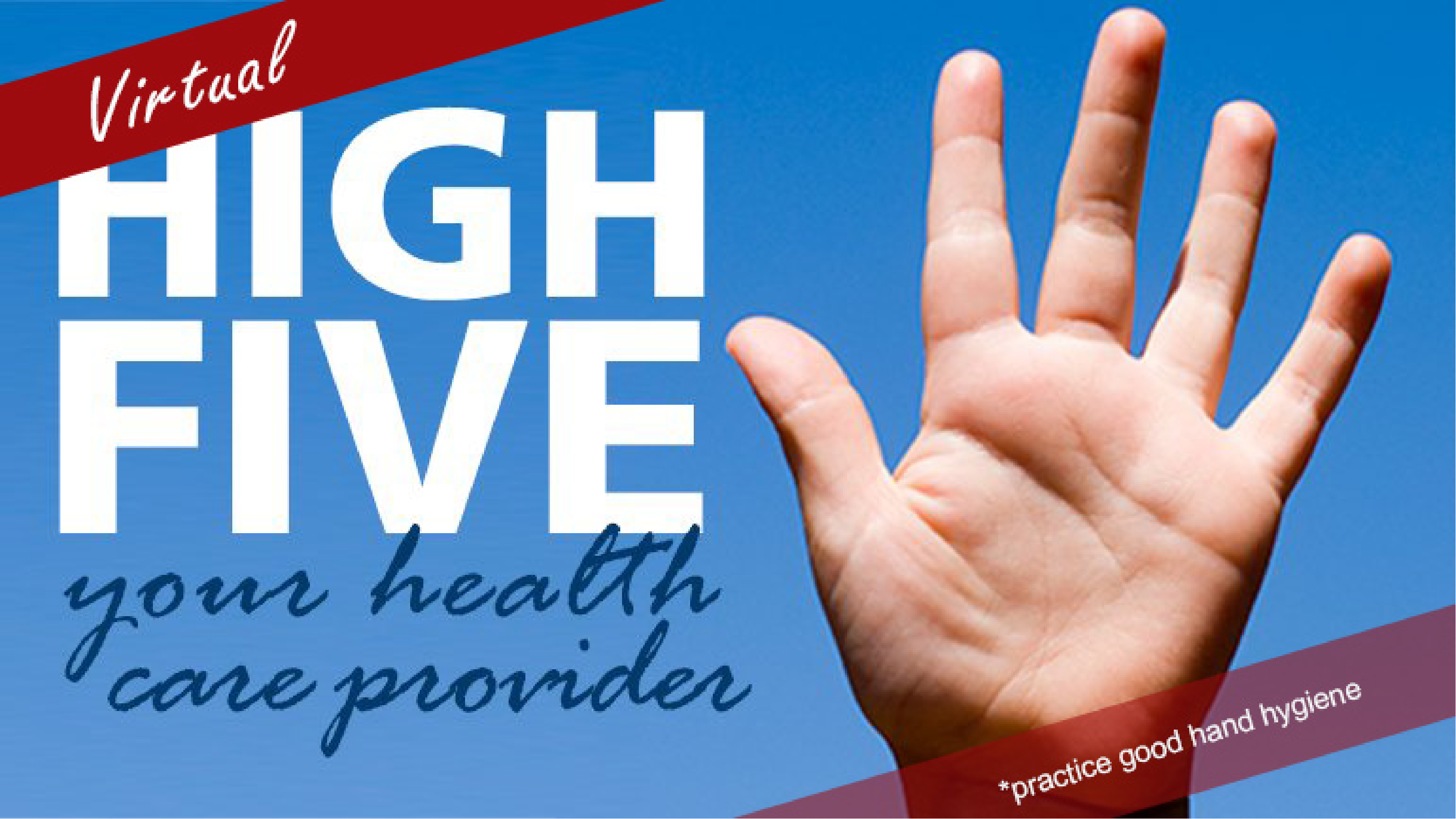 This week's high fives go to our amazing people at Abbotsford Regional Hospital, Burnaby Hospital and Peace Arch Hospital.
Want to send a high five to your health care provider or Fraser Health team member? Leave a comment below or send us your story here.
For Abbotsford Regional Hospital
I have three clients in my family care home. One of them needed hospital care with COVID. He was treated in the Intensive Care Unit and then on Medical Unit 2 at Abbotsford Hospital.
I have to say that both units' nurses were very kind and approachable. They let my client phone home whenever he needed to. They gave me appropriate updates about his condition. The speech pathologist called me as well with her plans for his nutritional intake. As well, as plans towards rapid discharge.
Kudos to the Intensive Care Unit and medical unit 2 staff.
---
For Peace Arch Hospital
I was in the Emergency Department about three days ago and the two nurses that took care of me were not just good nurses they were two wonderful gentle angels. I am sure that they were especially gentle because I am old enough to be their grandfather. Despite this disclaimer, it is important that they realize the difference it makes when care is not only efficient but also gentle and compassionate.
Their names were Emily and Anita. The Emergency Department at Peace Arch Hospital are to be complimented on fostering two such truly outstanding people.
Thank you both for your wonderful care of me.
---
For Burnaby Hospital
I was one of the booked elective surgery patients affected by the fire and outbreak in November who had their surgery cancelled and postponed.
Much to my surprise, I was called back and was admitted in December. My lead up to the surgery was so well organized and compassionate by all staff I encountered – in person and on the phone.
Kudos to the Burnaby Hospital Hip and Knee Clinic, the Lab, and X-ray departments. On admission, everything progressed smoothly with the preparation and great communication from all I encountered in the pre-op Surgical Day Care. I met some of my surgical team before heading to the operation room – Dr. Kostamo, the nurses, and my procedure was right on time.
Following the surgery, I was admitted to the Post Anesthetic Recovery (PAR) and I received exemplary care by knowledgeable staff, who fortunately also had a great sense of humour. After several hours it was determined that, I would need to overnight in PAR. Apologies were made by staff but you know, I felt so safe and so cared for, in the end I felt lucky to have been kept there in my safety bubble.
I am progressing splendidly at home and just wanted to express my thanks to everyone I met including porters and housekeeping for their compassionate and professional care, especially in this surreal situation of a pandemic we find ourselves in. I feel so grateful to all for their commitment to continue this service in these times.