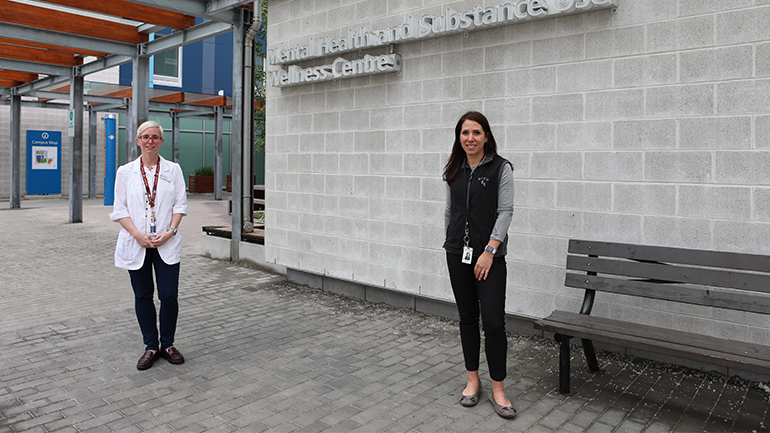 A new model of care has been launched at two hospitals within Fraser Health to improve the health outcomes of babies impacted by perinatal substance use.
Eat Sleep Console (ESC) aims to improve the health outcomes of babies impacted by perinatal substance use who are at risk of withdrawal by striving to keep the birth parent and newborn together after birth and promoting non-pharmacological care.
Work by clinical teams at Fraser Health's Maternal, Infant, Child, and Youth (MICY) program has led to a phased approach of this model at Abbotsford Regional Hospital and Royal Columbian Hospital, with further expansion on the way.

"We know that the bond between baby and birth parent is so important to a child's early development," says Sarah Kaufman, Clinical Nurse Specialist, Perinatal, who was instrumental in the launch of ESC. "This model builds on that by supporting both baby and birth parent together as a standard of care. Rather than being treated separately, birth parents come alongside their infant's journey, with the proper support, and the focus is on those skin-to-skin interactions that are so vital."
Eat Sleep Console is based on work done by the BC Women's Hospital and Heath Centre, FIR Square (Families in Recovery) which has shown that when this model is implemented it can lead to significant decreases in the use of neonatal pharmacological treatment, separation due to Neonatal Intensive Care Unit admission, and length of stay at hospital. In addition, birth parents have shown increased confidence and self-efficacy in caring for their newborns.

The focus now has been on educating and engaging staff on this new standard of care and gradually implementing it in an acute hospital setting. Numerous educational opportunities and training workshops have been provided to staff and practitioners in the Maternity, NICU, and Pediatric care areas of Fraser Health. Moving forward, a comprehensive evaluation will be conducted with the goal of expansion at additional sites. This is a collaborative approach as each facility will require different strategies for implementation.

"We know that people from all walks of life can struggle with substance use challenges, including new or expecting individuals," says Sarah Rourke, Clinical Nurse Specialist Neonatal Intensive Care, who co-led ESC implementation. "By transitioning to this new standard of care, we want to help individuals, in whatever stage of their journey they are in, have the best outcomes for not only themselves but also their babies."
Fraser Health's Maternal Infant Child and Youth program is thankful for the support from the BC Perinatal Substance Use Project and a BC Support Unit Planning Grant, in collaboration with Maxxine Wright Community Health Centre, Fraser Health Mental Health and Substance Use program, and the Mental Health Commission of Canada.