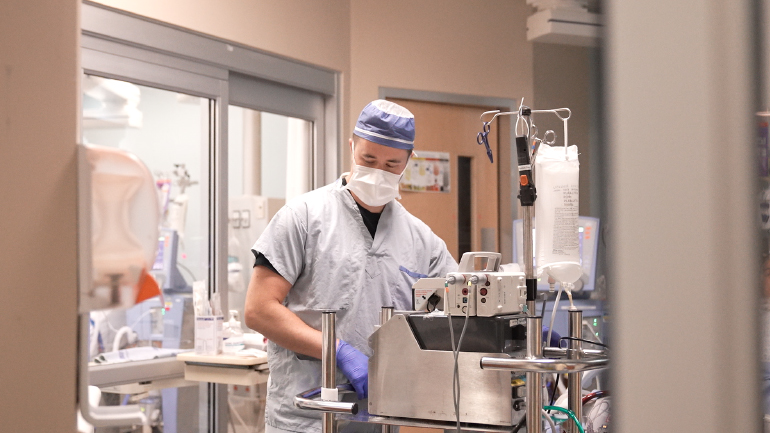 Perfusionists are part of our dedicated teams of health professionals caring for critically-ill COVID-19 patients at Royal Columbian Hospital. They operate the ECMO (extracorporeal membrane oxygenation) machines, which provide life-support to some of the sickest patients.
(Photo) Dave Wnuk, Perfusionist, Royal Columbian Hospital.
Some COVID-19 patients require ventilators to help them breathe and dialysis machines to filter their blood. Those who can't tolerate being on mechanical ventilation because it will further damage their lungs or they've been on it too long, may be considered for extracorporeal membrane oxygenation (ECMO).
ECMO is an advanced form of life support that does the job of hearts and lungs, pumping blood outside of the body so a patient's organs can rest and recover.
Royal Columbian Hospital is the designated ECMO site in Fraser Health with seven ECMO machines, including two portable units that can transport patients between acute care sites. In Fraser Health, ECMO is primarily used to support cardiac patients after surgery. It is also commonly used to support transplant patients, and during the pandemic, has played a role in supporting some of the sickest COVID-19 patients in our hospitals.
Ninety-three patients have been supported on ECMO in the past two years at Royal Columbian Hospital, including 16 COVID-19 patients. "Treating COVID patients on ECMO is different in that we've seen a number of patients on ECMO for long periods of time –well outside of the typical time frame," says Dr. Derek Gunning, cardiac surgeon, ICU intensivist and leader of the ECMO program at RCH. "ECMO can support our patients while COVID runs its course."
Perfusionists like Dave Wnuk work closely with the OR and ICU teams to support patients on ECMO. "I was drawn to the profession because it's interesting, detail oriented and technical. I like being in the operating room where we take care of open heart surgery patients and I also like being in the intensive care unit taking care of patients that might not normally survive, who we are able to support with external lungs and hearts."
Watch here to see how ECMO works.
The Royal Columbian Hospital Perfusionist Services team is hiring Clinical Perfusionists. Know someone who might be interested? Share these opportunities with your network.