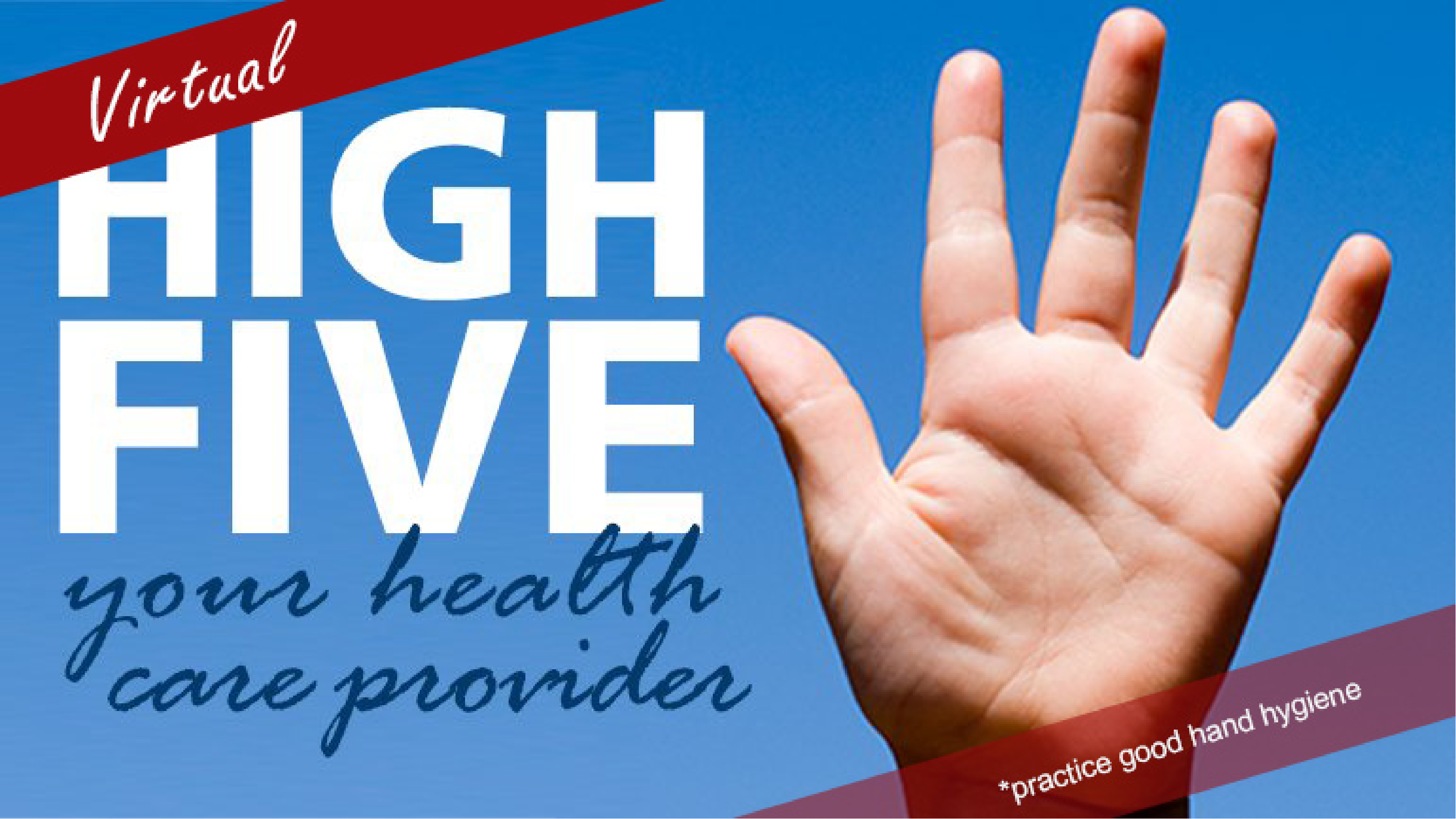 This week's high fives go to our amazing people at our COVID-19 Testing and Immunization Centres, Burnaby, Royal Columbian and Langley Memorial Hospitals, and at the Jim Pattison Outpatient Care and Surgery Centre.
Want to send a high five to your health care provider or Fraser Health team member? Leave a comment below or send your thanks using our online submission form. Read more kudos at fraserhealth.ca/highfive.
---
For Surrey 66 COVID-19 Testing and Immunization Centre
I had a kind and considerate attendant give me all my forms to fill out and register for the vaccination. She then did a great job vaccinating me. Your staff appear to take Dr. Henry's words to heart: Be kind, be calm, be safe. I felt all those things!
---
For Burnaby Hospital
I was admitted to Burnaby Hospital, Unit 2B, with a broken neck from a terrible motor vehicle accident. The 10 days in care and the 12 weeks of care at home put me back on my feet, allowing me to return to normal life. Dr. Fung, Billy, Loreto, Emily, Shaun and the entire 2B Unit – You are an AMAZING team and I am ever so indebted.
---
For Royal Columbian Hospital
I would like to thank the entire team for their service. From the nurse whom I first dealt with, to the X-ray technician and the two technicians in the CT scan room, and, of course, Dr. Choi. Dr. Choi was very thorough, professional and followed up with a phone call on an issue despite being extremely busy. First class staff and a fantastic Dr. Mark.
---
For Langley Memorial Hospital
I was treated with respect, and was impressed with the treatment I received from admissions, the nursing staff, and the doctor. Thanks to all of you for you kindness and help during a stressful time of my life.
---
For COVID-19 Immunization Centre – South Surrey Recreation Centre
All staff members were super friendly, caring and professional. Well organized and smooth sailing through the vaccination process. Thank you all for your time and dedicated hard work over this long year. Many virtual hugs and respect. Thank you!
---
For Jim Pattison Outpatient Care and Surgery Centre
My daughter recently had outpatient surgery at Jim Pattison Outpatient Care and Surgery Centre. Everyone -- from the greeters, to the nurses and anesthesiologist, to our doctor -- was fantastic, friendly and comforting. Our follow-up care by Dr. J. Kwak was awesome. We felt completely safe with all the COVID-19 measures in place.
---
Coquitlam COVID-19 Testing and Immunization Centre
I am an exhausted mom who has been a full-time caregiver to my husband and child who are isolated in our home after testing positive. I was in the line to be tested and my car died. The gentleman who works there said don't worry. He pulled his car over and jumped my car. I was about to burst into tears. If I could have hugged anyone, it would have been him.